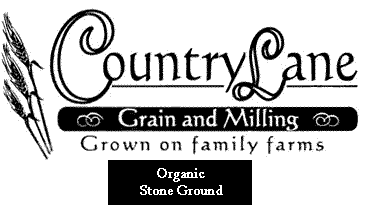 HOME PAGE | PACKAGED PRODUCTS | BULK PRODUCTS | CONTACTING US
CountryLane is a small family farm which has grown food organically in the Red River Valley since 1980. CountryLane is committed to:
building healthy soil
stewardship of the land and our children's land
healthy crops with natural resistance to weeds, insects, disease, and environmental stress
protection of our valuable water supply
CountryLane stone ground flour is produced by slowly crushing and pulverizing grain seeds between two millstones into a fine and nutritious flour. This method is a revival of the famous grist mills which, by 1900, had all but vanished throughout the country.
Stone ground flour contains:
all vitamins and minerals found in the whole grain kernel
delicate oils and vitamins which are protected by low speed, low temperature milling process
particles of bran which are flat and thin, easy to digest and utilize, in a flour that is very soft and smooth to feel
CountryLane has been authorized by the Province of Manitoba to operate a food handling facility and undergoes a yearly inspection by the Organic Producer's Association of Manitoba (OPAM) whose standards are equal to those of OCIA, OGBA, and FVO.
Enjoy the old-fashioned taste...