...

...

...
Welcome to Chelport Cavalier King Charles Spaniels, based in South Australia (SA). In the following pages I will introduce you to some of my beautiful "kids" - the four legged variety! Each of my Cavaliers is very special to me: each has their own unique character, and they have truly enriched my life with their individual personalities, loving natures and sense of fun. After 5+ years of neglect, I'm finally updating this site; however, I'm not sure I can ever change my favourite cover photo:
Baby James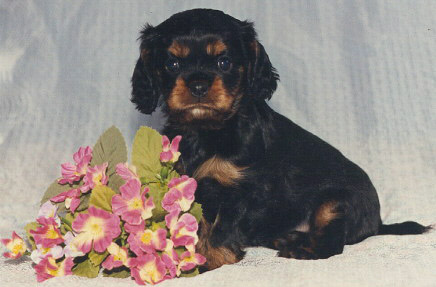 PHILOSOPHY
"Breed Less, and Breed Better"
At Chelport, I exhibit mostly wholecolour Cavaliers - that is, Rubies and Black & Tans. With fewer than one litter per year, I breed only when I want a new dog to show, and am dedicated to ensuring loving homes for those whose destiny is to be as a much loved pet. I carefully select the sires to suit my "girls", with the intention of producing Cavaliers which are sound in body and mind, are free of hereditary diseases, and of course, have breed type. To this end, all of my breeding dogs and bitches are DNA cleared of CC/DE and EF (curly coat/ dry eye, and episodic falling syndrome), checked annually for hearts (MVD) , cleared of eye abnormalities, are hip-scored, and assessed as "patellae normal". Incoming lines are checked thoroughly for any health concerns.
In the show ring, my dogs have consistently held their own, in a highly competitive show scene. I exhibit regularly, and all of my dogs are owner-handled. I am indebted to them for giving me some of the proudest moments of my life.
I invite you to browse through the following pages - I hope you enjoy meeting my special kids.
Cherilyn Alport
Thanks
I am indebted to the many friends I have made since being owned by my first Cavalier, over 30 years ago. It seems Cavaliers have a way of bringing people together. Special thanks must go to my Mum for her unwavering support of my "hobby", family friend Judy for introducing us to the breed some 40 years ago, to Karen, May and Marian for getting me started in the show scene, Sharon for her help and guidance (and for bringing Aztec into this world!), Barb for being a "good mate", and to Eddy Safianski for producing the original version of this website. Thanks also to my other true friends in the dog world - you know who you are - and to the Brothers Gibb for producing so many fine songs after which I have named many of my dogs (Chelport playlist).
(c) Copyright of all text and photographs on this site, unless otherwise noted, is held by Cherilyn Alport. Please respect International Copyright Laws, and do not use any text or pictures without permission from the owner.
CHELPORT Where Wholecolours are the Whole Story...

...
...
..

.

...
...
...

...
...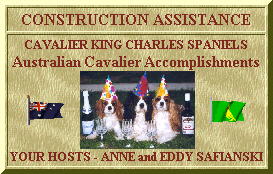 ...