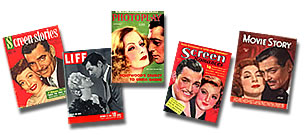 Click on the title to view the Magazine Cover
Where to find these covers?
If you want to shop online, check with Ebay Auction site for the vintage Gable Covers. If you are visiting Los Angeles in the near future, there are many celebrity memorabilia stores on Hollywood Boulevard. The price is a little stiff - vintage magazines run about 30-50 dollars. Online bidding seems to be the better way to go about it.
How many Gable Covered Magazines are out there?
I think roughly a hundred or so. Maybe more if you count in foreign magazines. The most frustrating thing with vintage magazines is that you don't know if the magazine included a featured article on the covered star. For instance, the 1936 Time had a Gable cover, but inside there was no feature story on Gable. It's a little frustrating when you run into things like that.
Background Information
In the Golden Age of the Hollywood studio system during the 1930s and '40s, news stands displayed a dazzling array of movie magazines. Their very titles -- Photoplay, Modern Screen, Movieland, Movie Mirror, Silver Screen, Screenland -- reflected a time that was both more innocent and glamorous.
Compare these to the celebrity publications of today and it becomes obvious that the agendas of then and now were diametrically opposite. Whereas today's tabloids aim to dig up and dish the dirt, in the old days the purpose was to cover up any mishaps or misdemeanors with a glossy technicolor sheen.
The earliest covers of these fanzines featured drawings and paintings of the stars, some of them done by such noted illustrators as James Montgomery Flagg, Earl Chandler Christie and Rolf Armstrong. It wasn't until 1937 that a photograph of Ginger Rogers was used. From then on, glamour portraits by Clarence Bull, George Hurrell and other masters of film photography were the norm.
During the 1930s, most of the covers featured the female sirens and sweethearts of the silver screen. They included Miss Rogers, Jean Harlow, Marlene Dietrich, Norma Shearer, Jeanette MacDonald, Joan Crawford, Judy Garland and Deanna Durbin.
During and after World War II male stars joined the ranks. They went from old favorites like Clark Gable and Errol Flynn to bobby soxers' delights such as Van Johnson and Peter Lawford.
And what was to be found between the covers? The content was a balanced mix of gossip (much of it "exclusives") dispersed by such doyennes as Louella Parsons and Hedda Hopper. There were also feature stories, "candid" photographs of the stars by day or at night, movie reviews and beauty hints. Interspersed with these were ads displaying the stars touting their favorite brand of cigarette or facial cleanser.
The fan magazine had its inception in 1909 when Eugene V. Brewster launched Motion Picture Stories, later renamed Motion Picture Magazine. But the man primarily responsible for the form and format of the genre was James R. Quirk, a newspaperman who became editor in 1915 of Photoplay, which had originated in Chicago in 1911. Once Quirk began feeding the star-obsessed public such articles as "Who's Married to Who in the Movies?," his success was assured. The value of vintage fanzines today depends largely on condition and the cover subject.
Credit: Linda Rosenkrantz, Copley News Service