AS SCARLETT AND RHETT, JOANNE WHALLEY-KILMER AND TIMOTHY DALTON ARE TAKING ON A LEGEND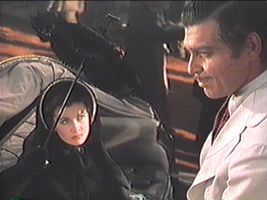 Author: CONNIE PASSALACQUA.
Source: Newsday, 11-10-1994, pp B04.
ALTHOUGH IT has been 55 years since the release of "Gone With the Wind," the film's characterizations remain so vivid that viewers of its four-part TV sequel, "Scarlett," (which begins Sunday night on CBS) will most likely have trouble swallowing the mini-series' casting. Can that really be Esther Rolle playing Mammy? And Stephen Collins playing Ashley Wilkes? Is that Ann-Margret as Belle Watling? Fiddle-dee-dee, as Scarlett herself might say.
Even if no one gives a damn about the supporting cast, what's crucial to the success of the mini-series is for the audience to buy Joanne Whalley-Kilmer as Scarlett O'Hara and Timothy Dalton as Rhett Butler. And despite their respective reputations as international film stars, Brits Dalton and Whalley-Kilmer know they can't really compete with the images of Clark Gable and Vivien Leigh in those roles. "For a while into the shooting, we kept saying `Clark-Vivien, Clark-Vivien, Clark-Vivien,' but we just had to learn to stop that," says Whalley-Kilmer crisply, in New York last week to promote the eight-hour sweeps-month opus Sunday and Tuesday through Thursday at 9 p.m. "We're taking on a legend," says Dalton, "and the comparisons are inevitable. You can't win, and you can't be as good. [Gable and Leigh] are embedded in cinematic history. But then again, this is an entirely different story."
The mini-series begins in Reconstruction Atlanta, just after emotionally battered husband Rhett Butler walks out on Scarlett saying he doesn't, you know . . . give a damn. And she spends the rest of the eight hours trying to win back her husband, visiting sympathetic relatives in picturesque Charleston and Savannah, and later settling in her ancestral homeland, the even more photogenic Ireland. Meanwhile, back in Charleston, Rhett revs up the plot even more by divorcing Scarlett, and remarrying.
Filled with soap opera-esque plot twists, the script for "Scarlett" lacks both the complex emotions and historical themes of "Gone With the Wind." Margaret Mitchell, who wrote the 1936 novel on which the movie was based, was an authentic granddaughter of the Confederacy. "Scarlett," on which the mini-series is based, was written in 1992 by veteran romance novelist Alexandra Ripley. "Scarlett" is more a bodice-ripper than a well-documented historical novel.
"It's not a bad book, but certainly not half as good as Mitchell's," comments Dalton, who read both in preparation for the mini-series. "When I first got the call to play Rhett," he recalls, "I thought, are they crazy? You know these [TV bio] movies where they play Princess Di or Prince Charles - and Clark Gable? Well, I thought, that's murder! It can't be done, even if you're Laurence Olivier! But then I realized it really wasn't."
Dalton's had practice taking over a film role made legendary by another actor. In "The Living Daylights" (1987) and "License to Kill" (1991), he played James Bond. But, he says, "that was a little easier, because I was not the first actor to play Bond. I was originally asked to play him when Sean Connery stopped, but I certainly didn't want to be the guy who took over from Sean Connery," he says, laughing. So he ended up stepping into the shoes of Roger Moore.
In playing Rhett, Dalton of course was attempting to play Clark Gable, but to do what Gable did - go back to the original novel and play the character Margaret Mitchell wrote. "He was kind of this laid-back, laconic kind of guy. So I tried that for a while. But then I realized Gable was brilliant in the part because he played it full of energy. So I tried that." Ultimately, Dalton says, he just had to find his own way.
Which is exactly what the actor's early background in the British repertory system taught him. Long before he made his international film debut in "The Lion in Winter" (1968) and became a sophisticated-teen heartthrob as Heathcliff in Wuthering Heights (1970), Dalton was making his way through theater classics, in roles routinely passed down from one actor to another.
"What I really like about Rhett Butler," Dalton says, "is that whatever he says or does, whatever he stands for, he doesn't make any bones about it. He's always straight." And it's in that spirit that Dalton confesses why he took the role: "It's certainly not a role that one would deliberately seek out. But if you're an actor, you can only deal with what's out there. Sometimes you have a lot of choices and sometimes you don't."
In contrast, Whalley-Kilmer says she was thrilled to be chosen as Scarlett, one of the 20,000 actresses executive producer Robert Halmi Sr. says he considered. He reportedly chose the deep-voiced, exotic-looking actress after he saw a tape of her performance as call girl Christine Keeler in the film "Scandal" (1989). "At first I was happy," says Whalley-Kilmer, "because it's a great, great role. But afterwards you have to think about the practicalities, and a few doubts do pop in." First, there were those comparisons to fellow-Englishwoman Leigh. Says Whalley-Kilmer, "At our first rehearsals of `Scarlett' in London, we all realized we were in essentially the same position. So we said, `Let's talk about it, we'll deal with that, let's go on.' And that's exactly what we did."
Looking back now, says Whalley-Kilmer, the most difficult part of the project was the rigors of six long months of filming: She appears in just about every scene. Although the actress had been on long, complex international movie shoots before (in her 1988 debut film, "Willow," and most, recently, this year's "A Good Man in Africa" and "Trial by Jury") she admits having been thrown by a much faster American TV taping schedule.
"The first month," she says, "it hit me like a ton of bricks. We shot many more scenes a day, which I was not used to. I didn't have two minutes to myself in any given day. I hardly had any time to get my head together before a scene. That, along with costume changes, wig changes, period accoutrements - fans, accessories." She adds, "It took me a while to hit my stride, get my rhythm working." Whalley-Kilmer notes that what first motivated her to become an actress was watching 1930s American movies on TV from the same era as the original "Gone With the Wind." "This is as close as I'll ever come to playing Bette Davis. I love the whole style of `Scarlett.' It's romantic melodrama - which I think is just as much a style as a Restoration play."
While the actress, who is married to actor Val Kilmer, says she would have rejected any offer to play Scarlett in a remake of "Gone With the Wind," doing a sequel offered her the chance to portray a character who matures psychologically on-screen. In "Scarlett," the once coquettish title character is in her 30s, with three marriages behind her. "She's growing and changing as we hopefully all do. She's coming to terms with things. She's learned compassion. Certainly, we can't all remain as we were when we were seventeen." But will Whalley-Kilmer and Dalton pull it off? "You worry about acceptance in any part," says Dalton. "But as I used to say with Bond, if you fail, you fail miserably. Because the audience around the world is just huge. But as we actors are gamblers, I admit there's also a certain perverse thrill to it." Still, he says, "I think there are a lot of people waiting to get us. They are sharpening their pencils, as we speak, don't you think?"