FRANKLY, MY DEAR...: FAULTS ASIDE, THIS CLASSIC DESERVES A WARM WELCOME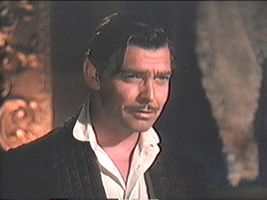 Author: Philip Wuntch, Film Critic
Source: The Dallas Morning News, 06-21-1998, pp 1C.
With this week's re-relese of the restored "Gone With the Wind,' two of our film critics sound off on why you should--and shouldn' t--give a damn
Old movies are like old friends.
In both cases, you're aware of their flaws and sometimes roll your eyes. You know all their best lines but laugh at them anyway. You tell yourself simply to concentrate on their good points, and you wind up having a good time. Above all, there's a feeling of kinship.
Gone With the Wind is a good old friend. It has a nationwide homecoming Friday, opening across the country in remastered digital sound and a restoration of Technicolor's dye transfer printing process, which allows clearer separation of colors and more attention to detail.
As with many longtime friendships, an emotional glaze covers some sore spots. Like the Margaret Mitchell novel, the movie is filled with racial stereotypes, a handicap too severe to be excused by remembering that GWTW was filmed 59 years ago.
At one point, Gerald O'Hara admonishes daughter Scarlett, "You must be firm but gentle, especially with darkies."
All the master-slave situations are handled with delicate gloves - white ones, of course. The masters are benevolent, and the slaves are loyal. But didn't Mammy or Prissy ever wonder if something better was possible?
Still, GWTW is not about to let reality interfere with a good yarn. Its premise is plainly stated in the movie's prologue, with such phrases as "ladies fair . . . land of Cavaliers . . . where gallantry took its last stand."
Gone With the Wind justifiably succeeds with the force of a myth. And there are two major myths at work here - the Old South and Old Hollywood. The Old South myth is still so fervent that Scarlett O' Hara's "I'll never be hungry again!" speech echoes through most beauty pageants south of the Mason-Dixon Line.
The Old Hollywood mythology has several participants. Producer David O. Selznick was a compulsive, fanatical showman with an eye for detail that even Titanic's James Cameron might applaud. Mr. Selznick navigated the search for an actress to play Scarlett, a ploy that in itself became a national pastime. So much was written about the film, even before it went into production, that some publications quit writing the full title and simply referred to it by initials. GWTW saves space but takes longer to say than Gone With the Wind.
And there's the myth of Vivien Leigh, the British actress who won the role of Scarlett. Talented, beautiful and unstable, she became the perfect subject for biographers of doomed divas. Since her 1967 death, almost as many books have been written about her as Judy Garland or Marilyn Monroe. And of course, there's the myth of Clark Gable' s Rhett Butler. Always the public's choice for the role, Mr. Gable delivers one of his most Gable-esque performances, aided by better dialogue than in most of his '30s flicks.
As played by the two stars, Scarlett and Rhett are vibrant enough to compensate for the monotony of Olivia de Havilland's Melanie and Leslie Howard's Ashley. Supporting roles are excitingly filled with Hattie McDaniel's Mammy, Thomas Mitchell's Gerald, Laura Hope Crews' Aunt Pittypat and Evelyn Keyes' Suellen. (You do wonder, though, if Tara matriarch Ellen O'Hara was such a prized example of Southern womanhood, how did her three daughters turn out so different from her? Scarlett is selfish but strong, Suellen is selfish but weak, and Carreen is a little ninny.)
Still, Scarlett strikes instant chords of recognition. When she and Rhett move to Atlanta during their post-Civil War period of extravagance, she gloats, "I want everyone who's ever been mean to me to be pea- green with envy!"
Guffaws of guilty identification usually greet the line. Most of us have expressed the same sentiment, even if we were in grade school or middle school at the time.
Scarlett's rebellious spirit is also appealing. Her battles with Mammy over proper exposure of unclothed flesh and her scandalizing Atlanta society by dancing in widow's weeds are among the film's memorable moments.
However, Rhett is more a wish-fulfillment character for both genders. Most guys wish they were as fast with a comeback as he is. And, at least 59 years ago, many women viewers may have fluttered when he euphemistically informs Scarlett that she needs to be kissed, "and often - by someone who knows how!"
Ultimately, the movie is the work of a master showman rather than a master director. The guiding force was always producer Selznick. Three directors worked on the epic - George Cukor, Sam Wood and Victor Fleming. Only Mr. Cukor had a reputation for artistry; the others were solid craftsmen.
The Selznick showmanship expresses itself in the opening shot, as the camera zooms down to the steps of Tara, where Scarlett the Southern Coquette flirts with the Tarleton brothers. Knowing that audiences would eagerly await the first glimpse of Vivien Leigh as Scarlett O'Hara, Mr. Selznick sought to extend their anticipation by delaying her initial close-up. When filming The Godfather, Francis Ford Coppola used the same approach, delaying our first glance of Marlon Brando's Don Corleone.
The burning of Atlanta doesn't rate as a great movie spectacle. But sequences of the ravaged countryside are memorable, and the crane shot of Scarlett wandering through the courtyard of wounded and dying Confederate soldiers is rightly a classic.
The movie also contains stirring intimate moments, as when Rhett and a reluctant Scarlett stroll through Atlanta, pushing baby Bonnie in her carriage. Looking after Bonnie's future standing in society, Rhett woos each Atlanta doyenne, while Scarlett forces a smile through gritted teeth. It's a clever vignette, told with forceful cinematic economy.
Both novel and movie have the perfect ending for what, essentially, is a very classy soap opera. The conclusion ensures that audiences will discuss the story at length. The sequels, both in print and on television, were self-defeating.
On its own, Gone With the Wind is an old friend worth keeping.