Frankly, Dears, You Should Still Give a Damn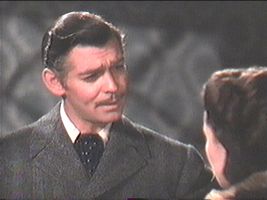 Author: Jack Mathews. STAFF WRITER
Source: Newsday, 06-26-1998, pp B02.
* * * * (4 stars)
GONE WITH THE WIND. (G) All Titanic phenomena aside, David O. Selznick's adaptation of Margaret Mitchell's sweeping Civil War romance is still king of the movie world. With Vivien Leigh, Clark Gable, Olivia de Havilland, Leslie Howard. Directed by Victor Fleming. 3:42 (violence, adult themes). At select theaters.
IT HAS BEEN six months since the opening of James Cameron's "Titanic," three months since its Oscar sweep and a week since its disappearance from the box office top 10. So, are you ready now for the real King of the World, producer David O. Selznick's "Gone With the Wind?"? Mentioning the two movies in the same paragraph may strike fans of both as irreverent, but there they are, bound for the moment by fate and film history. They are bookends to the era of the Technicolor epic, each the most expensive, troubled, hyped, discussed and successful movie of its time.
And though no one is saying so, "Gone With the Wind's" seventh national release is almost certainly coming now - a year-and-a-half before its 60th anniversary - to exploit "Titanic's" rediscovery of America's weakness for what was once called "sweeping romance." Sweeping romance is undying love set against great historical events, and the events of these films - the sinking of Titanic and the Civil War - were almost equidistant from their screen dramatizations. Survivors of the two disasters were still around when the movies were released, creating a broad contemporary framework and adding a distinct relevance to the fictionalizations.
"GWTW," adapted from Margaret Mitchell's 1936 novel, was an instant hit with the pre-World War II audience, and has found new fans in each of its six previous re-issues. According to Exhibitor Relations, an L.A.-based box office monitoring company, GWTW has sold about 50 million more tickets in the United States than has "Titanic." It's not "Citizen Kane," a groundbreaking stylistic masterpiece, but "GWTW" is the epitome of classic Hollywood storytelling, using every technological tool at its disposal to evoke atmosphere and period, while holding its focus on its central characters and their relationships. Cameron used the same formula nearly six decades later.
There, however, the comparisons between the two films end. The simplicity of "Titanic's" two-character story (everyone else in the film was a two-dimensional prop for Jack and Rose) makes Selznick's epic soap opera look like a collaboration of Tolstoy and Faulkner.
GWTW's three-hour and 42-minute running time is broken up by an intermission that separates the story's dramatic halves. The first half is set during the Civil War, mostly at Tara, the Georgia plantation of Irish immigrant Gerald O'Hara (Thomas Mitchell), whose household includes his vivacious, spoiled daughter Scarlett (Vivien Leigh), her sisters Suellen (Evelyn Keyes) and Careen (Ann Rutherford), and Mammy (Hattie McDaniel), Scarlett's protective slave servant. The second half follows Scarlett's post-Civil War life, as she tries to rebuild Tara and reclaim the glory of her pre-war lifestyle, using any means, or any man, to get what she needs, only to learn at the end that the man she really loves is the one fed up with her rejections. That fellow is Rhett Butler, the roguish blockade runner ordained by the novel's fans to be played by Clark Gable.
GWTW is not a great love story; it's a great unrequited love story. Butler, a philanderer, gambler and profiteer, spends the whole movie, which covers roughly 10 years, trying to discourage Scarlett's romantic obsession with Ashley Wilkes (Leslie Howard), a Southern gentleman committed to his selflessly devoted cousin Melanie (Olivia de Havilland). Scarlett eventually marries Rhett, after two other sordidly calculated marriages, because of his money, and only through a painful series of last-act tragedies does she finally know her heart.
By then, as all living souls must know, Rhett doesn't give a damn.
For its various revivals, "GWTW" has undergone several physical revampings, and was even blown up to 70-mm., cutting off a third its image, for its 1989 release. The version opening today has undergone a dye-transfer process to give it greater brightness and clarity, at the expense, some purists argue, of its original intentions.
It looks fine to me. Seeing it in a theater for the first time in more than 30 years confirms how technologically masterful "GWTW" was, and how wise Selznick's casting choices. Forget Leonardo DiCaprio and Kate Winslet; Gable and Leigh are movie stars! Rhett's cocksure insouciance was Gable's persona, and never has a star and role been better matched. And Leigh, the young British actress who won the most celebrated talent search in screen history, gave Scarlett a stubborn power that would surprise even Margaret Mitchell.
You will notice the static matte paintings that provide backdrop for many of the film's expansive scenes. If you pay attention, you'll even see that about half of those hundreds of wounded rebels lying in an Atlanta street are dummies.
"GWTW" frequently overplays its hand, with Max Steiner's soaring score almost lifting the actors off the ground, and you do have to remind yourself that many people didn't consider its depictions of black characters, particularly the simple-minded Prissy (Butterfly McQueen), to be offensive in its day.
"GWTW" converted eight of its 13 Oscar nominations, both records at the time, and Selznick's eagerness to take credit for every frame of his film's success may have been the model for Jim Cameron's Oscar night behavior. But in truth, "GWTW" casts a shadow from which "Titanic" may never emerge.