Melanie Remembers:
As a digitally remastered and restored version of 'Gone With the Wind': is released nationwide today, Olivia de Havilland, the lone surviving: star of the 1939 Civil War epic, remin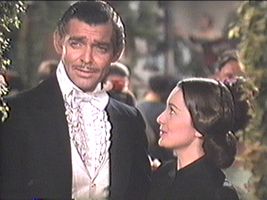 Author: Jill Vejnoska
Source: The Atlanta Journal and Constitution, 06-26-1998, pp H01; H01.
New York - She once was "traded" for Jimmy Stewart in a manner impersonal enough to make most modern-day ballplayers quake in their Nikes. She made a couple of visits to the Cyclorama, the first one when she was in Atlanta with Clark Gable.
She jeopardized her career in a landmark court case and provided Scarlett O'Hara's retching sounds when Oscar winner Vivien Leigh just couldn't manage to do it for herself.
Juicy tidbits all, and yet nothing Olivia de Havilland disclosed in a conversation here last week was anywhere near as fascinating as what she let drop about Hollywood back in 1939.
"The whole town was bored with 'Gone With the Wind,' " de Havilland, 81, recalled with just the hint of a twinkle in her eye. "They thought it was going to be the biggest flop in history, and they didn't care.
No film had ever cost $4 million before, there was not a chance we would ever recoup that, and no one (in Hollywood) was sorry."
It all seems somewhat unbelievable now, given "GWTW's" Scarlett-esque penchant for surviving --- even thriving --- against seemingly insurmountable odds. Producer David O. Selznick ran out of money midway through filming Atlanta native Margaret Mitchell's big, beloved novel, and some of the other films competing with it for ticket sales that year were "The Wizard of Oz," "Stagecoach" and "Mr. Smith Goes to Washington."
Yet even while she was filming her role as the loyal, long-suffering Melanie Wilkes, de Havilland sensed "GWTW" would somehow turn out to be different.
In fact, it's immortal. The sprawling Civil War-era epic de Havilland optimistically thought might stick around in the public's mind for as long as 10 years was recently ranked No. 4 on the American Film Institute's list of the all-time greatest American films. And today, nearly 60 years after it had its glittering premiere at Loew's Grand Theater on Peachtree Street, the digitally remastered and Technicolor-restored version of "Gone With the Wind" reopens in theaters.
If Georgians were beyond excited over the premiere (a minor player's arrival by train was as momentous as the Confederates' "firing on Fort Sumter," The Atlanta Journal wrote), the cast was feeling all that and more. Three days of events --- visits to the Cyclorama, the Junior League Ball --- culminated as 1 million screaming fans watched a motorcade to the theater on the icy cold night of Dec. 15, 1939. De Havilland recalls thinking that Selznick's decision to hold the premiere in Atlanta was "clever," but also "risky." "Oh, how you wanted the Southerners to accept it!" de Havilland said emotionally. "Because it was about their city and their ancestors." When the reviews in Atlanta were glowing, Selznick and company marched north.
"The next opening was in New York and those Yankees liked it, too," de Havilland recalled with delight. "So we got the South, we got the Yankees, and then the West Coast followed right along!"
For three decades, the two-time Academy Award-winning de Havilland has been the film's only surviving star. So you'll have to forgive her for having become a bit sentimental last week when she watched the sprawling epic for the first time in 10 years.
"It was really like a reunion," de Havilland said softly about seeing Leigh, Gable and her on-screen husband, Leslie Howard, in all their youthful glory. "It was thrilling to be with them again." Meanwhile, she'll forgive you for finding irony in the fact that Melanie was the only major character to die in the film --- a weak constitution having finally accomplished what the combined forces of Yankee invaders and Scarlett's jealously ingenious machinations could not.
For one thing, as de Havilland happily points out, she's still here. Just in from Paris, where she has lived for the past 45 years, she's coolly elegant in a silk print dress, her snow-white hair upswept in a smooth chignon. She's both a throwback to a more gracious era, changing her look frequently for the benefit of competing media outlets, and refreshingly modern enough to admit that she's having a blast with all this renewed attention.
"I want to be there for the 70th anniversary (of "GWTW's" release) and I'd like to make the 80th," de Havilland admits with none of Melanie's characteristic Southern reserve.
Maybe by then, one film scholar suggests, de Havilland's performance will have finally gotten its due. Leigh deserved the Oscar she won for her larger-than-life Scarlett, but Melanie really was the "hard part" to play, said Jeanine Basinger, author of "A Woman's View: How Hollywood Spoke to Women" and chairwoman of Wesleyan University's film studies program.
"Scarlett gets to be modern and selfish and mean and all those good things," Basinger said. "Melanie has to be virtuous and do the least rewarding part. Nobody identifies with her. Everybody identifies with the smaller, more jealous, sexier Scarlett O'Hara."
Everybody, it seems, wanted to play Scarlett. Selznick spent three years auditioning actresses for the role. Except de Havilland. Ask her if she ever wanted the career-making part and she barely gets out an urgent "Nope! Nope!" before launching into a description of her growing up years in Depression-era northern California.
"I knew that I was going to have to earn my own living and be self-reliant and independent and self-supporting," said de Havilland. "And when I made 'Gone With the Wind,' that's exactly what I was. So was Scarlett. So I was leading that life, and so that didn't interest me at all."
Noted film critic Molly Haskell says de Havilland's earlier roles as a Warner Bros. contract player made her about as unlikely a choice to play Scarlett as, well, Clark Gable.
"She wasn't the most beautiful. She was the nicest. That's what she played," Haskell said about the then 22-year-old, nonglamour queen best known for playing the sweetly virginal Maid Marian opposite Errol Flynn's dashing Robin Hood. "She was refined and ladylike, and women liked her because she wasn't the sort of person who would steal someone's husband."
But the seeds of change were already being sown when Warner Bros. grudgingly loaned de Havilland to Selznick for "GWTW." She received a supporting actress Oscar nomination (she lost to co-star Hattie McDaniel), but immediately after found herself back playing the same sort of roles at Warner Bros.
In 1943, de Havilland decided to sue to get out of her contract, which was a typical one for performers in that era. It represented a huge gamble on de Havilland's part. No other studio could employ her while the case was being litigated.
When she won the so-called De Havilland Decision, she recalled, she received cards of thanks and flowers from numerous other actors. Scripts poured in from other studios and by 1949, she'd won two best actress Oscars for "To Each His Own" and "The Heiress." "That decision was due to her courage and perseverance and her sense of self as someone who should not be owned," said Basinger, pointing out that Bette Davis had already tried to break free of the studio system and failed. "She's a woman with a lot of grit. I think you're dealing with a Melanie-like personality --- someone who puts her foot down and stays with it because it's right, not because it's easy."
Clearly, studio head Jack Warner had never really known what he was dealing with when it came to de Havilland. A few years earlier, when he was dragging his heels over releasing her to play Melanie, de Havilland had secretly invited his wife to tea at the Brown Derby. She'd begged her to speak on her behalf.
"He let me go," de Havilland recalled, a devilish grin giving way to hearty peals of laughter. "In exchange for Jimmy Stewart and a certain sum of money, of course. It was not altogether altruistic!"
It's an only-in-Hollywood type story about a movie which, de Havilland suggested, couldn't be more removed from the place. In the end, she said, "Gone With the Wind" has always belonged in and to Atlanta. That's why she and Leigh returned in 1961 to help mark the Civil War Centennial and why she whooped in delight last week at hearing about the oft-proposed "Gone With the Wind" theme park. And it's why she nodded understandingly when told of the legions of tourists who still pour into Atlanta looking for the mythical Tara.
Undoubtedly, Olivia de Havilland "gets" "Gone With the Wind." "It is a story of defeat and renaissance, of survival and rebirth," the film's last remaining and arguably its best-cast star said softly.
"That has eternal appeal.'' ajc.com Olivia de Havilland's first-person report on the filming of ''Gone With the Wind" was published in The Atlanta Journal on the day of the movie's world premiere. For her story and a scrapbook of photos, see ajc.com
Olivia Mary de Havilland
Born: Tokyo, July 1, 1916 (naturalized American citizen, 1941).
Residence: Paris.
Profession: Actress, two-time Academy Award winner (five nominations).
Personal: Married and divorced twice; two children (one deceased).
Moved to California at age 5 when her British parents separated.
All in the family: Lost her first Oscar race for best actress (for "Hold Back the Dawn") to younger sister Joan Fontaine ("Suspicion") in 1941.
Crossing the (Mason-Dixon) line: Played a (gasp!) Union Army hospital administrator in the 1986 TV miniseries "North and South, Book II.''