Fans, Stars Prove at Premiere: 'Gone' but Not Forgotten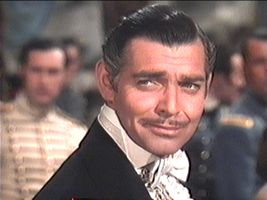 Source: Los Angeles Times (CA), June 26, 1998 p5.
Author: Bill Higgins
Since its 1939 release, "Gone With the Wind" has risen more times than the South. Rereleases, re-premieres, restorations and anniversary screenings are as much a part of the epic's saga as Clark Gable's caustic eight-word, relationship-terminating farewell.
The latest "renewed" version--enhanced color, digital sound, correct height-width projection--was seen during a benefit screening Wednesday at the motion picture academy's theater in Beverly Hills. It was hosted by New Line, which is releasing the film on 200 screens today. The funds raised will go to the Center for Motion Picture Study, the Film Foundation and the National Film Preservation Foundation.
The occasion brought out the majority of the surviving cast, with the most notable absentee being Olivia de Havilland, who was in Paris caring for an ailing ex-husband, Pierre Galante.
A pre-screening reception was held in the academy's lobby, where a sizable number of autograph seekers carrying posters, first editions of Margaret Mitchell's book, script fragments and programs from the 50th anniversary premiere besieged Evelyn Keyes (Suellen O'Hara).
Nearby, Greg Giese, who earned $99 for 11 days' work playing Melanie's newborn baby, said he enjoys rereleases: "It's the one reunion where I'm the youngest person."
One flaw in this version seems to be in the focus. The academy has one of the country's best projectionists, but a number of scenes were seriously blurred. How the film will play in theaters without this level of projectionist remains to be seen.
However, the film rises above any technical limitations.
As one woman said as she left at the end, "I've seen it so many times and it's always a bummer--Melanie dies and Rhett leaves Scarlett."