GWTW Oscar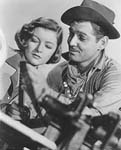 Michael Jackson Pays Record Price For GWTW Oscar
NEW YORK (Reuters) - The record price for Hollywood memorabilia was smashed Saturday when pop star Michael Jackson paid more than $1.5 million for producer David O. Selznick's best picture Oscar from the classic film ``Gone With the Wind.''
Jackson, bidding on the telephone through an agent, paid $1,542,500 for the Oscar, obliterating the previous mark of $607,500 set in 1996 -- also for an Oscar -- won by Clark Gable as best actor for the 1934 film ``It Happened One Night.''
The pre-sale estimate price was $200,000-$300,000.
Sotheby's auction house said that Jackson expressed ``a lifelong desire to own that particular object.'' The eccentric pop star prevailed after a protracted bidding duel with another telephone bidder.
``It's just one of those objects where the sky is the limit,'' said Sotheby's memorabilia and collectibles specialist Dana Hawkes after the sale, adding ``I had no idea that it was going to go as high as it did.''
The auction of film, television, rock and roll and Coney Island memorabilia also saw spirited bidding on a group of lots from the 1950s classic television sitcom ``The Honeymooners,'' which starred Jackie Gleason and Audrey Meadows.
The gritty ``kitchen suite,'' consisting of dining table and chairs, sink, stove and a decrepit icebox complete with drip pan was bought by Larry Jones, the general manager for cable television station Nick at Night's TV Land, for $63,000.
Jones, calling the kitchen ``an icon from a television history standpoint,'' said the set would be used to promote the station's upcoming launch of ``The Honeymooners'' re-runs as well for touring and trade events.
``I think the set's priceless,'' he said.
Other ``Honeymooners'' items ranged from Gleason's bus driver uniform, which fetched $64,100, to Meadow's apron which was sold for a mere $575.
Other ``Gone With the Wind'' lots also commanded top prices.
A dress worn by Vivien Leigh for her Academy Award-winning role as Southern Belle Scarlett O'Hara was bought by the owner of a Sao Paolo, Brazil restaurant called Scarlett, who paid $90,500 after a pre-sale estimate of $10,000 to $15,000.
An annotated script which carried variations on Gable's famously crushing line to Leigh -- ``Frankly my dear I don't give a damn'' -- such as ``My dear, frankly I don't care,'' went for $46,000 after a $40,000 to $60,000 estimate.
Among other top lots, a possibly frustrated superhero took home Christopher Reeve's Superman costume from ``Superman IV'' for just under $26,000, while Leslie Howard's ``Gone With the Wind'' confederate jacket sold for $18,400.
Rock and roll memorabilia commanded some top prices, including a copy of Sgt. Pepper's Lonely Hearts Club Band autographed by the Beatles which sold for $57,750 after a pre-sale estimate of $8,000 to $10,000, and John Lennon's eyeglasses which fetched $25,875. Sotheby's had estimated their sale price at $3,500 to $4,500.
Janis Joplin's cast metal dragon necklace sold for $11,500, while Madonna's bustier and hat from the 1987 ``Who's That Girl'' world tour fetched $12,650, barely making its low estimate.
A black wool sport jacket worn by Elvis Presley for his first television appearance, in 1956, sold for just under $60,000 after a pre-sale estimate of $15,000 to $20,000. Guernsey's announced last month that a major sale of some 2,000 lots from ``The King'''s archives would be auctioned off in Las Vegas in October.
The record price paid for the Oscar will give rival auction house Christie's a run for its money this fall when it holds a two-day auction of items from Marilyn Monroe's estate.
The highlight is the gown from the glamorous actress' famous ``Happy Birthday Mr. President'' serenade to John F. Kennedy, which Christie's expects to break records for fashion or Hollywood memorabilia, commanding ``in the high six figures.''