Gable barely escaped fans with his pants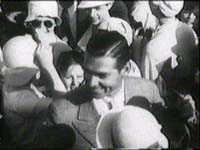 Author: Kent Biffle
Source: The Dallas Morning News, 02-02-1997, pp 47A.
It happened one night - March 17, 1935, to be exact. Clark Gable alit at Dallas Love Field and 8,000 women rioted.
In After Office Hours - a movie that had just played the Palace - he was billed as a "rascal who has a way with women."
With the Dallas women, the rascal just wanted a way out.
The Dallas Morning News reported:
"His expected three-hour stopover in Dallas was passed up Sunday evening when 8,000 wild admirers mobbed his airplane at Love Field, endangered their own lives, overran 45 National Guardsmen and four policemen like so much broomweed, and staged a riot scene that was worthy of Cecil B. De Mille's best efforts at huge spectacles.
"The crowd went wild. The throng of humanity swarmed all over the plane like ants on a crumb."
A rehearsal
A couple of days earlier, a sort of rehearsal for the Dallas riot occurred in Fort Worth. I'll explain.
With a liking for newspaperman roles, Mr. Gable had played one in After Office Hours, as he had in 1934's It Happened One Night (a role that won him an Oscar) and as he would in 1958's Teacher' s Pet. A footnote to Pet is that he wangled a role for his buddy, the late Fort Worth columnist Jack Gordon.
Clark Gable's idea of a newspaperman, I guess, was smiling, mustachioed, wisecracking Jack Gordon. The two clicked.
I recall paying to see amigo Gordon play a newspaperman on film, although I'd seen him do it daily for years - and for free - in the city room of the old, old, old Fort Worth Press. (The Press sang more swan songs than an opera diva.)
Writer Clay Reynolds of Denton (whose crime novel Player will be out this summer) told me about the Gable riot. It made him laugh while researching a history of the Fort Worth stock show - A Hundred Years of Heroes. The riot just didn't fit in that book.
Mr. Gable was traveling from Los Angeles to Houston that weekend for a stepdaughter's wedding. A plane change at Fort Worth's Meacham Field provided time for a Gable-Gordon breakfast at the airport cafe.
`At peace'
Columnist Gordon wrote at the time, "The actor appeared at peace with the world." But when it was time for his flight, he was met at the door by more than 500 "ferocious females."
He bravely pushed through the crowd. One woman jerked a feather from his Tyrolean hat. Another snatched a handkerchief from his jacket. Another grabbed frantically at "the abused Gable chapeau." And two "young tigresses" seized his necktie, "pulling until Gable choked."
"With magnificent restraint, Gable kept up his best fan-magazine smile. That is until one young thing, bolder than her sisters, started tugging at the belt that supported the Gable trousers.
"The actor howled: `Oh no - not that!' Panic banished his smile. And then, in one great burst of strength, Gable covered the last few yards to the plane's door. A stewardess slammed it shut, and the plane went on to a brief stopover in Dallas en route to Houston.
"Given 30 seconds more, Mr. Gable's Fort Worth admirers would have been pulling souvenir plaits from the Gable chest. He said, `It looked for a minute like I was going to bust into Sally Rand's racket.' "
Mr. Gordon had asked the actor to stop off on his return to visit the Southwestern Exposition and Fat Stock Show. Mr. Gable wanted to see the horse show but feared that his presence might be disruptive.
Unwittingly, The Dallas Morning News may have set the stage for the Dallas riot. The paper had carried a photo of the Houston-bound actor during his stopover at Love Field the day before. The cutline noted:
"Only a couple of very young girls were at the airport when Gable dropped in between planes. The place will, no doubt, be mobbed Sunday when he returns on the 6:45 p.m. Bowen plane, with several hours wait before returning to Los Angeles via American Airlines."
During his layover, he was scheduled to be driven to the Melrose Hotel for a light supper. The mob altered his plans.
The ensuing newspaper report said that "the quick action of the pilot (Pop Hotchkiss) averted possible fatalities or serious injuries. He cut his motors when the crowd started the rush."
They were mostly teenagers, "but a few from the dowager class were also seen among the frenzied females."
Melrose Hotel's W.H. Oglesbee tried to rescue the movie star, but as his car approached the plane he was surrounded by women. Three girls forced open a door and climbed in. One said, "We know you're waiting for Mr. Gable, and we're going to sit here until he comes."
Temple Bowen, president of Bowen Airlines, was aboard the plane along with his wife. He stepped out to remonstrate with the "wild women." They womanhandled him, passing him far back into the mob.
"They were all over the plane, climbing on the wings and hanging on the wheels" he said at the time. "It took sheer force to clear them away from the propellers."
Mr. Gable said, "Let's get out of here before they tear the ship up." The National Guardsmen finally herded the women back. The plane flew off in the direction of Fort Worth. But the Bowen Airline president didn't make it back to the plane. He watched as it departed with his hat, his overcoat, his wife and Clark Gable.
After landing in Fort Worth, Mr. Gable, with a low profile and a change of luck, got to see the horse show in the company of Mrs. Bowen and William McDuffee, treasurer of the Bowen airline.
In Dallas, frustrated women milled. A rumor had the Gable plane circling, awaiting an all clear to return to Love Field. In minutes, a similar airliner landed on the opposite side of the airport.
It was an American Airlines flight from Chicago hauling Gertrude Stein, famed expatriate poet and weirdo. The mob took hers to be the Gable plane. The women spotted a press photographer who'd been dispatched to Ms. Stein's plane. Seeing the wild crowd, the poet must have rejoiced in her new popularity.
Among taxicabs dispatched to Ms. Stein's plane was that of H.H. Owens, a luckless taxi driver who bore a faint resemblance to Clark Gable. The women mobbed him and nearly "tore him apart." A reporter observed that he was stripped "completely naked" by grasping hands. Souvenir hunters tore out tufts of his hair.
At last, the women accepted Mr. Gable's escape to Fort Worth. They rushed back to the terminal, where many bought tickets on the next flight to Meacham Field. Others leaped into cars. Some chartered taxis to take them to Cowtown. A passenger train departing for Fort Worth was boarded by several hundred others who bribed a conductor to wire ahead for taxis to stand by.
Until he died in 1960 at age 59, Ohio-born Clark Gable must have had mixed feelings about Texas. In 1935, his marriage to a wealthy Texas socialite - Rhea Langham Gable - was already on the rocks. He liked to pal around with Jack Gordon, although it was another columnist, New York's Ed Sullivan, who declared him "the King of Hollywood."
And he'd never forget being fired from a repertoire cast in Texas.
Clifford Ashby of Texas Tech in Lubbock, who co-authored Trouping Through Texas: Harley Sadler and His Tent Show, says:
"Harley told many times the story of how, in the early 1920s, he had fired Clark Gable from a winter stock company he was running in Houston. Gable, a handsome, likable young man, could not conquer the stage fright that seized him when he faced an audience.
"Rehearsals went smoothly enough, but performances for him were a nightmare: his jaw became rigid, he forgot his lines, cold sweat beaded his forehead."
Sadly, the manager showed him the exit, convinced that he'd never make an actor. Harley Sadler later rued: "I fired a million dollars."