Gable Fable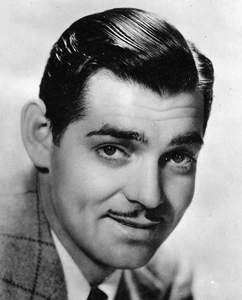 By Elsa Maxwell
Photoplay 6/1949

A surprising view of Clark from a surprising source - a lady who isn't in love with him

Last summer I saw a great deal of Clark Gable. We holidayed on the French Riviera at the same time. I remember Clark, especially, on the terrace of Eden Roc. He had, joined Dolly 'O'Brien Dorelis and me after a golf game with the Duke of Windsor. He was, I decided, the beat looking man I know. Health radiates from him. His teeth are white. His eyes are sparkling.

Dolly, teased him about his general color scheme, the light gray scarf that matched his eyes, the fine blue silk sweater that matched his blue trousers. And as she talked, I remembered the old Hollywood days, when beat-up trousers and an old leather jacket suited Clark fine. It was, in fact, because he had no time for the gay social world to which he now adjusts so handsomely, that he and Carole Lombard Gable, who, prior to her marriage to Clark, had been Hollywood's most brilliant hostess, disappeared from the local scene.

Carole loved Clark more than anything or anyone in the world. Whatever he wanted, she wanted. So she proceeded, in her typical enthusiastic and brilliant way, to make her life over to his pattern.
Not long ago, incidentally, when Dolly O'Brien Dorelis was visiting in California, Clark gave a party for her at his ranch. It never materialized as the gay party he meant it to be. "Because," as one frank friend put it, "Carole was everywhere."

Not that Clark lives in the past or broods over it. He is too much of a man to concentrate time, thought or energy on any personal tragedy for any unhealthy period of time. He came back front his war service with a more adult and cosmopolitan point of view than he had ever had before. And he made a good life for himself. But Carole, unforgettable to her friends, is that much more unforgettable to Clark who loved her and was loved by her with a devotion that now is a legend.

All of which explains many things, including the somewhat sad amusement those who know Clark feel, when they see pictures of him dancing or dining with a new girl, or read that it looks like wedding bells for him and Anita Colby, Millicent Rogers, Iris Bynum (who, now about to marry Colonel David Allerdyce, is finally out of the running), Virginia Grey or anyone of a dozen others, with the exception of Dolly O'Brien Dorelis.

Dolly will not marry Clark, however. Although she is very fond of him, she has her own world. She does not talk Hollywood jargon, doesn't care much about Hollywood, in fact. And I want to report that she is infinitely more important than the social butterfly she too often is pictured. She has real wit. She loves life and fun and laughter. And her gilt for friendship is great. She is one of those rare people it is comforting to know, because even in your most depressed and cynical moments, you are convinced that in a pinch you could count on her.

I asked Dolly if she would marry Clark. "Marriage for us would not work, Elsa," she told me. "I could not adjust to being Mrs. Clark Gable, waiting on street corners while Clark signed autographs."

I was reminded of Dolly's statement about marriage that day we were at Eden Roc together. Two little American girls stepped forward and one said, "Mr. Gable, would you be kind enough to allow my friend to photograph you?" To the amusement of all of us, Clark, who really hates this sort of thing, stepped up and was photographed from every angle. And all the while, he made up outrageously to the girl who had approached him. He did this in a semi-humorous attempt to intrigue Dolly, who only thought it all great fun.

There never was anyone more masculine than Clark. Which accounts for his irritation last summer when Dolly and I understood the waiter who spoke in French and he could not. Which accounts for his need to pack away into the mountains every so often to hunt or fish. Which accounts, above all, for his devastating attraction for women. He has none of the characteristics of a ladies' man and I am quite sure that none of the ladies with whom his name has been linked romantically, ever could say he led her on or made one false promise. That isn't Clark's way. He's a casual gent who lays it on the line.

He's a man's man, really. That, I think, is why he was so eager to do "Command Decision," and in such good spirits way, he was making it.

When he told me he was going to do "Command Decision," I protested. "You are the greats lover of all time, whether you like that appellation or pot. This has been your success. Why under the sun are you possessed to make a movie in which no girl appears?"

"Because. Elsa, it will be a success," he said. We had quite an argument about it, an argument that reminded me once again of Clark's dogged, stubborn, Pennsylvania Dutch forebears.

He was right, of course, and I was wrong. I admit that in "Command Decision" he is wonderful. But I still would like the picture better if there were a girl in it somewhere and he had his arm around her.

I've known Clark for many years. It was in 1933, when I was Gary Cooper's house guest, that Clark and I first met. Gary had rented Greta Garbo's house in Chevy Chase and Clark and Rhea his second wife, used to come over sometimes in the evening. The moment they arrived, however, Rhea would find herself left to the ladies, while Clark and Gary, a bachelor in those days, gathered with any other gentlemen present, and sang barber shop chords. "Singing Fools" they called themselves, properly enough. And however unmusical their efforts turned out to be, they had the glorious time men always have when they get together and sing.

Perhaps I took advantage of my long friendship with Clark, recently, when I asked him, point blank, "Clark, if you don't marry Dolly, who are you going to marry?"

His eyes twinkled. "Who do you think would marry a bum actor like me?"

He isn't a bum actor, of course. He's learned to be one of the most natural actors on the screen. That's another attractive thing about Clark. He learns fast, personally, as well as professionally. He's come a long way from the attractive Hollywood provincial he used to be, before the war picked him up and carried him to the great cities of the world. And before Dolly O'Brien Dorelis, intrigued by him, introduced him to social circles to which he never really aspired, and from whence he once would have fled.

A most distinguished, gentleman these days, Clark Gable. I wonder who the lucky girl to marry him will be. I wonder, too, if there will be another Mrs. Gable.