It Happened One Night - 1934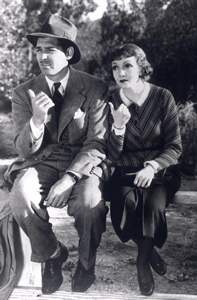 Excerpt from That's Hollywood by Peter Van Geider
An heiress escaping the threat from her father to annul her recent marriage is helped by a brash journalist.
The business
To start with no one was very keen. The two stars were assigned to the film as punishment the studio had it pegged as a loser (bus movies are dead') and when it was first released the critics were largely unimpressed.
It was the public that had the good taste. They loved It Happened One Night, came to see it time and again, told their friends about it. The film's success saved Colbert's career and helped consolidate Gable's ascent to screen royalty. And for a minor studio and its star director, Frank Capra, it meant a foothold in the major league. Then barely ten years old Harry Cohn's Columbia was a minnow compared with big fish like Colbert's home studio Paramount or Gable's MGM. Lending the talent out to the down-market newcomer was a way of keeping the stars in line.
Clark Gable was then a contract player at MGM on a healthy $2,500 a week but he had been unhappy on his previous picture, Dancing Lady (1933), and the studio suspected him of trying to dodge returning for some retakes, so they decided to pack him off for a spell in filmland's Siberia. He took this rap on the knuckles pretty sorely and was drunk for several days. But as it turned out, aside from the awards and acclaim, It Happened One Nights success practically doubled his income in the next year to more than $200,000.
Paramount were equally eager to be shot of Claudette Colbert for a while. It looked as if her popularity was sagging and they were fed up with her headstrong, difficult attitude. But it was Claudette Colbert, the spitfire, that made Capra want to offer her the female lead in It Happened One Night That and the fact that practically everyone else who was at all suitable in Hollywood had already turned down the role. Capra had directed Colbert's first film, For the Love of Mike (1927). It was an unhappy experience and the resentment she harbored must have transmitted itself to her dog. who bit Capra's bum when he came to her house for a parley. Anyway she was about to go off for a holiday with friends so to get rid of him she demanded $50,000- twice her normal fee - and an impossibly rushed four-week shooting schedule which would enable her to join her friends for Christmas. Capra told her to start the next week.
The stars' fees meant that the $325,000 budget was as tight as the shooting schedule but the film was completed in time for Colbert's Christmas holidays - partly thanks to the crew working through the night.
When Gable went on a nationwide promotional tour he got his first taste of the sort of treatment we associate nowadays with pop stars. He was mobbed by fans who stole his handkerchiefs, cufflinks and anything else they could remove from his person for souvenirs - and those were just the shy ones! At least one female fan offered her bra for him to autograph and by all accounts numerous others offered much more besides.
The fashion spin-offs from the film are well known. Every visible Gable touch was mimicked: the pipe, the trench coat with the tied belt and rest of his get-up. And it was a famous black day for the underwear industry when Gable revealed a bare chest during his dissertation on how a man gets ready for bed.*
But mostly there were winners. The film industry, quick to a good thing, continued the successful vein of so-called screwball comedies and the writers of The Daring Young Man on the Flying Trapeze found they had a hit on their hands. Even the bus companies benefited. They noted a markedly increased trade from single young ladies - all hoping, no doubt, to find themselves sitting next to that Mr. Right without a vest.
Popular acclaim, however, is no guarantee of film industry respect; the test would be the 1935 Oscars. Claudette Colbert wasn't even going to attend the awards. Always apparently just off somewhere she had a train to catch for the east coast. Friends persuaded the railway company to hold the express for ninety minutes and got her to the ceremony in time to collect her Oscar along with Gable and Capra. In her acceptance speech she had the grace to say she owed it all to the director. It was another forty years before another film, One Flew Over the Cuckoos Nest (1975), was able to match the record of Best Picture, Actor. Actress, Director and Screenplay.

Behind the screen
It didn't bode well. Gable was still drunk and pretty abusive when he had his first meeting with Capra but even at that comparatively early stage of his career he was not an asset to be turned down by the director.
Judge for yourself whether he looks a bit rough around the edges. MGM reckoned he had been malingering but it seems that Gable really had been quite ill and had lost a lot of weight during nine weeks in hospital where his tonsils and appendix were removed. He was also having recurring trouble with his teeth.
*Capra claims the effect of the absence of undershirt was unforeseen and unavoidable. Jr seems that the removal of a vest is incompatible with screen dash and if Gable had left it on he would not have seemed a sufficient sexual threat to carry off the scene.
Then, of course, there was marital turmoil. Gable was about to leave his second wife, Ria Langham, and had just met Carole Lombard who was to be his third wife and greatest love. He left Ria the following year and started dating Carole.
Nevertheless Gable soon unwound and began enjoying the first comedy role of his career. He delayed the tight shooting schedule again and again by breaking up during scenes that only showed their full funny side when actually played. He had a few jokes of his own, as well. Displaying his typical sophisticated sense of fun he hid a hammer down his trousers for one setup and then drew Colbert close. Her startled scream and his ensuing laughing fit meant that Capra had to call an extra break.
Claudette Colbert probably needed a laugh. Her career was in the doldrums, her five-year-old marriage to actor/director Norman Foster was on the rocks - and she was having sinus trouble. But things were just about to look up. She killed the last two birds with one stone, divorcing her husband soon after the film and wedding the man who was treating her sinuses, Dr Joel Pressman. They were together until his death thirty-five years later. Her career ceased to be a problem as well. The success of It Happened One Night gave it the boost of a lifetime, leading to a string of fashionable comedy roles through the thirties. She was a star for at least the next twenty years.
But no one knew what a winner they were working on at the time and Colbert continued to spar with Capra about the filming. In an autobiography written more than thirty years later. Capra described her through clenched typewriter as ~a tartar, but a cute one'. For one thing she refused to cooperate in one of the most memorable scenes, where she shows a leg to hitch a ride. Capra just shrugged and called for a stand-in to do the close-up, which had exactly the desired effect. Colbert took one look and shouted Get her out of here. That's not my leg!'
She also refused to take off any clothes on screen, which meant that Capra got what he considered a far more sexy effect. Instead her character modestly undressed behind the Wall of Jericho, draping it with her undies.
All along Colbert complained about the speed of the shoot, at how slap-happy it all was, though this was in part due to her own insistence on dashing off for Christmas.
In fact It Happened One Night is filled with ad-libs, even if there are not as many as the public believed. So natural was the impression created on film, that the piggyback across the stream, the hitch-hiking scene and the Man on the Flying Trapeze sing-along were all widely rumored to be spontaneous.
In fact the sing-along just about qualifies. Capra had simply planned for there to be a bridging number from two hillbilly singers but during the set-ups he noticed that the rest of the extras were joining in. So he ordered more cameras and shot almost all of it in one with the passengers contributing solo verses and the two stars' reactions as they happened. You can see how he covered the close-ups and the master shot almost like a multi-camera TV production, and a couple of very tentative pans. The extra equipment meant even less room than normal for maneuver in the real bus they were forced to use in those days before the widespread use of cut-away sets. Even the actor playing the irascible driver joined in and so provided Capra with the perfect plot device of running the bus off the road.
It was all just about perfect, not that a drained Capra - nor anyone else - realized it. When Colbert finally joined her friends for that belated holiday her only comment was Am I glad to get here. I've just finished the worst picture in the world.'

The experience
'A film about the making of It Happened One Night would have been much funnier than the picture itself.' Frank Capra
'I was brought into the motion picture business as a heavy but I knew I had to play It Happened One Night cool and relaxed. And that's exactly how I went about it.' Clark Gable
'What I believe is that he was playing himself, and maybe for the only time in his career. That clowning, boyish, roguish, he-man was Gable.' Frank Capra
The American critics were unimpressed with the film when it first came out although by the time it had reached Britain the word had spread.
The story scarcely survives print, but it is exceedingly well told, some of the incidents being positively brilliant.' Monthly Film Bulletin, September 1934
'An overlong account is kept entertaining through Capra's persuasive direction and the interpolation of several quite brilliantly observed sequences of which the hitchhiking episode is chief.' Cinema Quarterly Spring 1934

Can you spot ...
* Special attention to Clark Gable's image. He still looked too babyish in his early thirties and so Capra fixed the lighting carefully to add a bit of maturity. And he appeared taller in this film than ever before. Capra let him tower naturally over his fellow actors. Always before directors had put everyone else on boxes when they were near him.
* An outdoor scene that wasn't. The night in the haystack was filmed in a circus tent during the day with the sounds of crickets dubbed in afterwards, the first time this technique was used.
* Claudette Colbert's right side. She had once been told that her left was best and always fought to get photographed from that angle.
* Bugs Bunny. Apparently animator Bob Clampett was inspired in his creation of this famous cartoon character by Gable's way with a carrot.