Gone With the Wind - 1939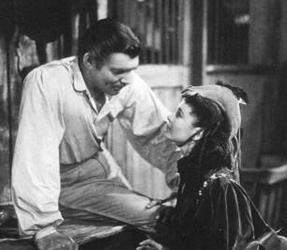 Excerpt from That's Hollywood by Peter Van Geider
The story of a tempestuous love-hate relationship against the backdrop of the South's struggle in the American Civil War.
The business
Gone With the Wind cost the then princely sum of $3,700,000 to make. The producer. David O. Selznick, knew whom he had to have as the male lead but Clark Gable was an MGM player and a deal needed to be struck. They agreed to share the distribution rights which, it turned out, were worth at least $25,000,000 to MGM.
Afterwards Gable said he was aggrieved that he never received a single bonus from MGM for securing one of their most lucrative deals. Even so. his salary did go up in a new five-year contract from $4,500 a week to $7,000 which must have taken some of the sting away and it's also been reported that he did get a healthy bonus. The practically unknown Vivien Leigh only got $30,000 for the whole picture, and she had the most work of any of the other featured players.
Almost all the other financial statistics for the film involve previously unheard-of figures . . Margaret Mitchell, who had written the book in an attempt to get over the boredom of a sprained ankle, received $50,000 for the film rights and another $50,000 after the film was released.
Selznick had never actually read the book before shooting - he had a synopsis prepared for him by an employee - and he bought the rights against all advice. Whiz-kid MGM production chief Irving Thalberg had already given it the thumbs-down. No Civil War picture ever made a nickel,' he said. Similarly, Victor Fleming refused the offer of a percentage of the profits because he didn't think they'd be worth having.
The American public were clamoring for the film of one of the country's biggest best sellers. It was an immediate hit, grossing almost $1,000,000 in its first week, and has since taken at least $76,000,000 in North American rentals (worldwide the figure would be about double that).* It was only overtaken in the highest-grossing stakes a quarter of a century later by The Sound of Music (1964).
It had the longest ever run for a film in a British cinema, four years and twenty-nine weeks at the London Ritz. It was re-released over and over, including a fifty-years-on version in 1989, and always did good business. Almost forty years after its premiere it attracted the biggest-ever television rights deal when CBS paid $35,000,000 to screen it twenty times over the following twenty years.

Behind the screen
The first scene of the film to be shot was the spectacular burning of Atlanta. It was done before Selznick had officially cast the female lead, Scarlett O'Hara. 'Atlanta' itself is many bits of redundant set that were due for destruction anyway. They were repainted and disposed of in one of cinema's most spectacular set pieces.
Tradition has it that Selznick, who personally supervised this, and practically every other aspect of the film, turned round from all the blazing backdrops to be introduced to Vivien Leigh, the little-known English actress who was finally cast for the part. However it seems that the producer had kept his eye on Vivien for some time and this meeting was staged as a fitting end to the two-year, publicity-rich talent hunt that led to her taking the role.
As many as 2,000 hopefuls were interviewed for the part and more than 160,000 feet of film were shot testing ninety of them. The cost of the test film alone would have been enough to finance a decent second feature.
But there was no doubt in anyone's mind who should play Rhett Butler although Gable wasn't too keen. He said that everyone had their own image of Rhett and he didn't see how he could please them all. It's said that his increased salary convinced him. He needed it to finance the divorce he was finishing at the time of the filming. His first two marriages had been to older women - one fourteen, the other seventeen years his senior. But he was separated by now from wealthy Texas socialite Ria Langham and wanted to marry his dream match. Carole Lombard. He got his wish during the filming (and was allowed two whole days off for a honeymoon) but Lombard was to die in a plane crash three years later. Gable never fully recovered, Vivien Leigh was also going through a divorce and was to marry her dream match, Laurence Olivier, the following year. They had met during the filming of Fire Over England (1937). She was never fully to recover from their final breakup in 1960.

It also dominated the Academy Awards in one of cinema's strongest years. In addition to Hattie McDaniel's win there were Oscars to Vivien Leigh and Victor Fleming. and for Best Picture. Editing, Art Direction. Screenplay and Cinematography.
The marital musical chairs of the two stars is ironic in that one of the other main contenders, Paulette Goddard, was barred from the part by the powerful morality movement in the States because she was living openly with Charlie Chaplin. Perhaps Clark and Carole and Vivien and Larry were more discreet.
But America still found cause to be outraged. at the casting of an Englishwoman as bookland's favorite Southern Belle. This caused some strain during the filming as did the attitude of Leslie Howard, who never seemed to have wanted the role of Ashley. He thought he was too old for the part and objected to another typical outing as a weak dreamer. Does he look distracted in the film? He was working on Intermezzo (1939) with Ingrid Bergman at the same time and wouldn't learn his lines for Gone With the Wind.
Then, of course, there was the succession of directors.
The first, George Cukor, was fired after a couple of weeks of filming and following two and a half years of pre-production work. Traditionally it has been said that he clashed with the interfering Selznick over the script and that Gable objected to him because he was known as a 'woman's director' who would shoot the movie to favor Its female stars.
Recently. though, there have been allegations of a deeper and more personal grudge. Cukor was a homosexual, a close friend of a former MGM star-turned-interior decorator, Billy Haines. Hollywood gossip-monger Kenneth Anger says that Cukor knew of some homosexual activity between Haines and Gable when Clark was first trying to make it in Hollywood. Gable couldn't stand being directed by the man who knew too much. Cukor's hand is still very much in the picture though. Both Vivien Leigh and her costar Olivia de Havilland went to Cukor for coaching sessions in secret throughout the making of the film.
Another two directors took over. Victor Fleming was the main one and he won the actual director's credit on the film. History has judged him a fairly minor talent despite some notable successes including The Wizard of Oz (1939). which he was working on at the same time. Fleming was a gung-ho type who appealed very much to Gable but who horrified the women. He had quite a bit of help, not just from Cukor. Sam Wood also shot some of the scenes. There were some days when Wood would shoot in the mornings and Fleming in the afternoons. Watching over them all the time - and often running them ragged - was Selznick, a hands-on producer if ever there was one.
Other old directorial hands shot isolated sequences. B. Reeves Eason staged action sequences in Atlanta. One contains the most dangerous shot of the whole film for Vivien Leigh. It's one of many risky-looking set-ups during the panicked evacuation of Atlanta. when she is almost knocked over by a horse bolting backwards. She refused to use a stand-in and backstage hearts were racing.
The most dangerous shot for Gable only imperiled his macho image. It's the one where he weeps when he learns that Scarlett has had a miscarriage. Gable said crying was for sissies and didn't want to do it. But he was persuaded to shoot the scene both ways and had to admit afterwards that the crying take was the more effective.
Another scene that caused more than its share of bother was during the final moments of the film when Rhett says the immortal line 'Frankly. my dear, I don't give a damn.'
Not so much immortal as immoral. 'Damn' was almost unheard of on the screen at that time and Selznick had to fly to New York specially and spend four hours convincing the industry's guardian of morals. Will H. Hays, that the word was essential to convey the full force of Rhett's feelings. Hays wanted him to say 'Frankly. my dear, I don't give a darn' but Selznick prevailed. They still got fined $5,000 by the American censors for technically violating the production code - but for the highest-grossing film for the next twenty-five years, who cares? America had to wait twelve more years for another onscreen damn.
And so we come to the end of one of Hollywood's longest films - three hours and forty minutes - and the first to have an intermission. Selznick thought it essential, his promotions manager disagreed. They settled it by a simple experiment: putting an intermission in one of the screenings and counting the grateful patrons who used the break to make for the toilet. Selznick was right again.

The experience
'Surely the most over-rated film of all time.' Robert Ottway, Daily Sketch, 1968; reflecting a mainly cool reaction to a remixed, wide-screen version issued that year
'Still a banquet.' Ian Christie, Daily Express, 1968
'A British actress who is comparatively unknown in the United States made such an impression on the critics that she is now hailed as one of the outstanding figures of the screen.' Daily Telegraph. August 1939
'When I first read Gone With the Wind I was determined to play Scarlett. Everyone said I was mad to try for the part but I knew I'd get it.' Vivien Leigh
'I have seen the film sixteen times and it still moves me to tears each time.' Olivia de Havilland

Can you spot...
* Rhett and Scarlett, seen in silhouette during the burning of Atlanta. are stand-ins (they hadn't picked a Scarlett yet).
* Unsymmetrical Tara. The O'Hara family home, a studio backlot frontage like the set of a Western, is rarely seen directly from the front because the main door is off-centre. Almost all the surrounding trees and shrubbery are fake as well. As are many of the prostrate Confederate soldiers in the spectacular crane shot of Atlanta - not dead, just dummies.
* A wrenched limb. One of the few scenes that George Cukor shot before being fired was Melanie's birth pains. He cued fresh sets of contractions by twisting Olivia's leg.
* Rochester. Aunt Pittypat's coachman. Uncle Peter, is played by Eddie Anderson. He had just started a long partnership with Jack Benny as the manservant with a sandpapered larynx.
* Superman. Take a good look at Stuart Tarleton, alias George Reeves, who played the superhero on TV. And there's even a superhorse. Thomas Mitchell's mount is none other than the Lone Ranger's Silver, once dubbed 'the smartest horse in movies'.
* Every principal character but one has their own particular theme music in the score supplied by Max Steiner. Leslie Howard's Ashley is the only one who misses out. Tara, of course, has the main theme.
* The electric street lamp. This useful innovation seems to have reached Civil War Atlanta well in advance of Edison's prototype lightbulb of 1879.
The talent
Clark Gable 38. as Rhett Butler; the King at the height of his popularity
Vivien Leigh 26, as Scarlett O'Hara; a dazzling Hollywood debut
Olivia De Havilland 22, as Melanie Hamilton; already a veteran of fifteen films
Leslie Howard 49, as Ashley Wilkes; died four years later when the aircraft carrying him from a British Government mission to Portugal was shot down
Thomas Mitchell 47, as Gerald OHara; former reporter and playwright. Many character roles including drunken doctor in Stagecoach (1939) for which he won the Oscar
Hattie McDaniel 44, as Mammy; screen veteran, previously first black woman on U.S. radio. With Best Supporting Actress here, the first black to win an Oscar.
The next was Sidney Poitier 25 years later Butterfly McQueen 28, as Prissy; soon got fed up with repeat roles and left films. Obtained political science degree aged 64
David O. Selznick 37, Producer; one of Hollywood's most stylish and successful moguls - behind many great films
Victor Fleming 56, Director; lucky to get the Oscar for this - lucky to direct more great films
George Cukor 40, Director; with a slew of successes, one of Hollywood's premier craftsmen
Sam Wood 56. Director; made Goodbye Mr Chips (1939) - on his own