Erie's Golden Girl, Kay Gable, dies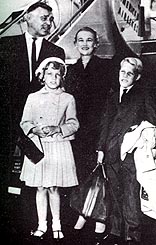 By DEBORAH BECK
ERIE, PA Morning News 5/31/1983
"Erie's Golden Girl" died Wednesday in a Houston hospital.
Kathleen Williams Gable, 66, widow of the famed movie star Clark Gable, and a native of North East, died at Methodist Hospital following a long bout with heart disease.
She had been severely ill since last fall when she visited Erie for the last time.
Hy Yaple Baumann, former society editor of the Erie Dispatch and then the Morning News, and a longtime friend of Mrs. Gable, gave a cocktail party and dinner last September at the Kahkwa Club. Because of Mrs. Gable's condition, only a few selected friends were invited, Mrs. Baumann recalled.
While in town, she wanted to visit St. Peter Cathedral where she married Parker Capps, her first of four husbands. There she lit candles for her mother and her deceased son, Adolph Spreckels III, from her third marriage to sugar heir Adolph Spreckels II.
"She wanted to go to North East and we looked up her mother's home," Mrs. Baumann said. The Luke family now resides there and gave Mrs. Gable baskets of apples and grapes to take home, some of which she put inside her suitcase.
On a visit to Baumann's W. 6th Street apartment, 4he former movie actress and model befriended her doorman, John Bohn, who remembers her still. "She was so nice to everybody here. When she found out John wanted to meet her, she said, 'Well, we'll go right down and meet him.' She kissed him on the cheek. She was so lovely to everyone," Mrs. Baumann remembered.
Their friendship began in 1937 just before Miss Williams announced her engagement to Capps. John Mead Jr. told Mrs. Baumann, then society editor, that "I think it would be nice if you could get that story exclusively."
Mrs. Gable got her start as a model for John Erickson, a fashion photographer with studios at 927 State. He thought she had a future as a model and arranged for her to travel to New York City where she lived at the Barbazon Plaza Hotel for Women and launched her career. From there she was hired as a stock actress for MGM.
Her success, according to Mrs. Baumann, was due to hard work and her incredible beauty. Asked once how she managed to do everything so well, she once replied, "By observation."

After their initial encounter with the engagement story, the two remained friends for 46 years, come-spending by letter and telephone. Mrs. Baumann made several trips to the rambling 19-acre Gable ranch in Encino, Calif., and Mrs. Gable visited her Wesleyville home.
She was married first to Capps -their wedding being covered by Life Magazine, then to cattle millionaire Martin de Alzaga, and then Spreckels, by whom she had two children, a daughter, Joan, now 34, and her son,. Anthony who died of a heart attack in January 1977 at age 29.
But Gable was her only true love, Mrs. Baumann said. "She'd always been secretly in love with Clark" after meeting him while under contract with MGM Studios. "She'd always. admired him and thought he was wonderful."
She eloped with Gable in Nevada on July 11, 1955, after a 13-year, off-and-on romance. She turned down the first invitation she had to meet-him, she wrote in her 1961 memoir,. "Clark Gable: A Personal Portrait." The occasion was a 1942 going-away-party for the matinee idol on the eve of his entry in the Army Air Forces. MGM executive Benny Thau asked her to sit at dinner with Gable.
"This sounded like a command. performance," she wrote. "I told Mr. Thau I was terribly sorry, but I had another engagement I couldn't break." They finally met about six months later when Gable asked her to dine at his ranch, and dated occasionally over the next year.
It was 1954 before they met again, and both had been married and divorced. "We had both been matured by trouble and time, " she wrote. "At 36 and 53, we were equally determined not to make any more mistakes. At long last, we were deeply in love."
Those were five blissful years, according to Mrs. Baumann. "She did everything with Clark. She went on location with him. She was there when he filmed the "Misfits" with Marilyn Monroe. It was his last film."
Their ranch was sprawling, but homey, she said, not what you'd expect from two celebrated people. "It was beautiful. There were a lot of expensive antiques."
On one visit, Mrs. Baumann, her now deceased husband, and her mother, visited the ranch.
Gable, she said, was very friendly to her and her family, and doted on his wife, whom he called Kathleen. "He adored her."
Four months after his death from a heart attack, John Clark Gable was born. Last year Mrs. Baumann attended his 21st birthday party in Beverly Hills.
Having moved to a home in Beverly Hills in 1973, Mrs. Gable remained very actively socially, and spent much of her time working with charitable organizations.