Clark Gable The Unforgettable King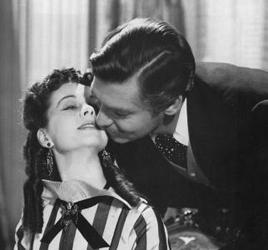 Dina Di Mambro

Hollywood Studio Magazine 4/1983
"A big spellbinder with a streak of good and a streak of mean," that's how Marjorie Main described the Gable character in Honky Tonk (1941). Brawny, Clark Gable with his piercing blue eyes, thin moustache, mischievous, dimpled grin and virile yet charming manner has held his audience of over two-hundred million people spellbound for over half a century. Whether it be on the late, late show or in a revival movie house, Clark Gable's image lives on.
William Clark Gable was born in Cadiz, Ohio, 1901, the son of oil driller Will Gable. His mother died while he was still an infant. Gable was raised by his much adored stepmother Jennie Dunlap Gable who encouraged his interest in the arts and theater. Gable's father was another matter entirely. Will Gable considered acting a sissy" profession. Even at the height of Gable's success and fame his father still tried to talk him into going back to the oil fields.
After a brief experience as a stage hand for John and Lionel Barrymore, Gable went to Oklahoma and worked with his father in the oil fields for two years. However, Gable preferred the smell of grease paint to that of oil and joined a small acting troupe.
In 1924 Gable married acting teacher Josephine Dillon, fourteen years his senior. Dillon felt Gable had good potential. She gave him voice training and convinced him to use his middle name Clark, instead of William as his stage name.
Clark Gable's first big break came in 1930. Lionel Barrymore arranged a screen test for Gable after seeing his performance in the play The Last Mile. Barrymore would subsequently be cast in many Gable films.
Clark Gable had immediate success in films. He made an incredible dozen films in 1931. Among them were A Free Soul where he gave Norma Shearer a well deserved slap and audiences loved it! Also the film Dance Fools Dance with a young Joan Crawford who had this reaction to Gable: "In that scene where he grabbed me and threatened the life of my brother, his nearness had such impact, my knees buckled. If he hadn't held me by both shoulders, I'd have dropped." Handsome Clark Gable melted the hearts of women everywhere who watched his films. His appeal was universal, men liked his masculine personality. Here was a idol that they could identify with.
1931 was also the year that Gable married socialite Rhea Langham, seventeen years his senior. In another student-teacher type relationship she educated Gable in the social graces.
Interestingly enough Gable rebelled against making the films that were to be his greatest successes. For instance he didn't want to do Mutiny On The Bounty (1935) because he felt that he'd look ridiculous in a pony tail and short pants. He also didn't want the responsibility of playing Rhett Butler in Gone With The Wind. Gable felt that he wasn't the public's preconceived idea of the character, that Ronald Colman was better suited for the role. Once as punishment, Gable's MGM boss Louis B. Mayer sent him to Columbia, considered the "Siberia" of the studios to make a comedy titled It Happened One Night (1934) with lovely, Claudette Colbert. Gable wasn't sure that he could play comedy. As it turned out he most definitely could, so well, that he won his only Oscar, for his portrayal of the fast talking, wise-cracking reporter. Gable was genuinely stunned when he won his Oscar, mumbling over and over again "I'm still going to wear the same size hat!" Gable later had an odd reaction to his award. After using it as a doorstop for awhile, he gave it to twelve-year-old Richard Lang, the son of director Walter Lang who was one of his best friends. Many years later Richard gave it to Gable's son John Clark Gable.
Clark Gable's co-workers all seem to have the fondest memories of him. Former extra, Kay Jewell recalls that Gable used to invite everybody into his dressing room to listen to baseball games on the radio and says: "He was a regular guy and very friendly. He treated everyone the same whether you were an extra or a big star." Gable was very modest about his great success, he once said: "There's no special light that shines inside me and makes me a big star. I'm just a lucky slob from Ohio. I happened to be in the right place at the right time. I had a lot of smart guys helping me-that's all."
Clark Gable was half of some of the most sizzling screen teams in film history; whether he was billed as "The team that generates steam" with Lana Turner, his camaraderie with luminous Jean Harlow, fighting and loving sassy Joan Crawford, melting cool, elegant Grace Kelly or soothing lost, beautiful Marilyn Monroe.
The great love of Clark Gable's life was classically beautiful, golden-haired actress Carole Lombard. Their legendary romance began not when they made their only film together No Man Of Her Own (1932) but at the Mayfair Ball in 1936. After the long process of ironing out financial difficulties with Rhea Gable, they were free to marry in 1939. After their elopement to Arizona, the Gables lived on their sprawling ranch in Encino. Gable lived there for the rest of his life.
The film that Clark Gable will always be best remembered for is the masterpiece Gone With The Wind (1939). Gable's portrayal of Rhett Butler is the most romantic, charismatic male character ever in films. His chemistry with raven-haired, fiery Vivien Leigh was infallible. The Hollywood Reporter put it best: "No actor and role were ever so perfectly wed as Clark Gable and Rhett Butler."
Sadly, a tragedy changed Clark Gable's life. Carole Lombard, his intensely patriotic wife, after selling over two-million dollars worth of war bonds in her home town of Indianapolis, was killed when her plane went down near Las Vegas. She was only thirty-three years old. President Roosevelt gave the best tribute possible when he said: "She gave unselfishly of her time and talent to serve her government in peace and war. She loved her country. She is and always will be a star, one we shall never forget nor cease to be grateful to."
Gable would marry again twice. First an ill-fated, short marriage to Lady Sylvia Ashley. Secondly, a much happier union with Kay Spreckels, who gave birth to his only child, a son. Clark Gable never lived to see his son.
Gable's post-war films were never to quite reach the zenith of his earlier ones, with the exception of Mogambo (1953) and The Misfits (1961).
The Misfits is an eerie, almost mystical film to watch today. Written by Arthur Miller, Marilyn Monroe's husband, the characters played by Gable, Montgomery Clift and especially Marilyn Monroe all had strong elements of their own personalities. It was Gable's last great role and the last film either he or Marilyn Monroe would ever complete. In that last footage of film, as they drive off into the darkness, Gable says to Monroe:
"Just head for that big star. It will take us home." Let's hope that they reached it. *