The Search for Scarlett O'Hara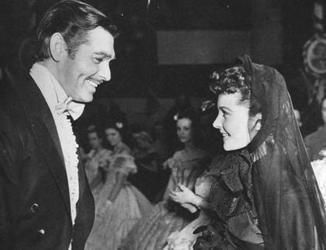 By Kirk Crivello

Hollywood Studio Magazine
The search for Scarlett O'Hara was to become the most famous talent search in history. Some say the ballyhoo was the brain child of publicist Russell Birdwell. Finding Scarlett became a topic of national discussion, the question of which actress would play the fiery, willful Southern heroine quickly reached world wide proportions. In 1936, Producer David 0. Selznick read the long galley proofs of Margaret Mitchell's "Gone With The Wind" and, on July 30, bought the film rights for a reported $50,000. a record sum for a first novel then.
More than a thousand candidates were interviewed for Scarlett, four hundred auditioned, and twenty finalists screen-tested, Selznick spent two years and a fortune to find one who could not only play the role but also look the part. There is no questioning the sincerity of his search. If he had been less sincere about the perfect Scarlett, "Gone With The Wind" would never be the masterpiece it is today.
Press Agent Birdwell organized his army well. Selznick's New York story editor, Katharine Brown and talent scout Uscar Serlin covered the East; Charlie Morrison in Hollywood and director George Cukor and Max Arnow made an extensive trip to the South to look for new personalities. The search for Scarlett was on.
Bette Davis claims Jack L. Warner offered her the property if she'd first film, "God's Country and The Woman." She refused. Later, Selznick asked Warner Brothers if he could borrow Bette and Errol Flynn for the leads, as a package deal. The thought of Flynn as Rhett Butler, Bette says, "appalled her."
The newly widowed Norma Shearer was offered Scarlett, but when the public overwhelmingly objected, both Norma and Selznick let it pass. The Atlanta women's clubs conducted a campaign to convince the producer that Miriam Hopkins was the perfect choice, especially since she came from Georgia.
And from the Gotham Hotel, in New York, Tallulah Bankhead wrote her father in Washington. "I have many excellent movie offers but as you have probably heard I may do GWTW. I am the top candidate. Say nothing but pray for your little girl." Her relatives in Montgomery, Alabama began their own "Tallulah for Scarlett" campaign. Then Louella Parsons delivered a warning to Selznick via her Hearst column: "Tallulah Bankhead breezed into town last night to take a test for Scarlett O'Hara. George Cukor, her friend, is going to direct, Jock Whitney, another friend, is backing it, so I'm afraid she'll get the part. If she does, I personally will go home and weep, because she is NOT Scarlett in any language, and if David Selznick gives her the part he will have to answer to every man, woman and child in America. The Grande Dame of the movieland press-core had spoken! But at 34, under the camera's magnifying scrutiny her heavy-lidden languor and flamboyant manner seemed stagey. She wore gowns designed for Garbo in Camille, since the styles of the periods were similar. Cukor later summed it up with, "Tallulah just wasn't fresh enough." Tallulah repeatedly told interviewers, "I'll go to my grave convinced that I could have drawn the cheers of Longstreet and Beauregard and Robert E. Lee had I been permitted to wrestle with Rhett Butler."
Other superstar names tossed into the Scarlett arena were: Joan Crawford, Irene Dunne, Loretta Young, Carole Lombard, Claudette Colbert, Jean Harlow, Margaret Sullivan and Jean Arthur.

Dozens of starlets from other studios, models, debutantes, actresses from little theatre groups and stock companies and students in high school and college drama departments were auditioned for Scarlett. Warner Brothers new "Oomph Girl" Ann Sheridan was thought by Selznick to possess great sex-appeal, but could she be convincing as a 16-year-old virgin? MGM's new glamour girl, Lana Turner tested with Melvyn Douglas (for Ashley) but Selznick found the 18-year-old beauty inadequate; RKO sent Lucille Ball to Will Price, the Southern dialog coach to work on a Georgia accent. Her friendship with Marcella Rabwin, Selznick's executive secretary resulted in a personal meeting with the producer. Lucille once said of the reading, "It was a disaster." Margaret Tallichet from Texas, had been with the Selznick fold since 1937. A Carole Lombard protege, she would win a prize of another nature-the long time wife of director William Wyler. An Atlanta debutant, Catherine Campbell later married newspaper heir Randolph Hearst, and recently made headlines as the mother of Patty Hearst.
A New York model called Edythe Marriner whom Irene Selznick is credited as having spotted at a fashion show went on to become Susan Hayward. In Doug McClelland's "Susan Hayward" biography, she described that period," ~I looked like a snub-nosed teenager in it. What did I know about Southern belles. Early in 1969 Hayward's test was shown, with several other hoop-skirted hopefuls, in "Hollywood: The Selznick Years," a TV documentary-special written, produced and directed by Marshall Flaum. The segment provided that hour's most amusing as well as historically interesting moments. Scarlett's Jean Arthur, Joan Bennett, Frances Dee, Paulette Goddard and Lana Turner were girlishly present in various shades of hair and drawl. Hayward tested with Alan Marshal, an all-purpose Ashley Wilkes serving in many of the other tests, too. For her love scene, she managed the required slapping ot' the indefatigable Marshal believably; but then, fiercely independent (externally, anyway), she seemed to be choking on the words that had her throwing herself at the vacillating Wilkes character. After Cukor yelled 'Cut!', a delightfully unaffected Hayward could be seen in singular spontaneous footage doubling up with laughter at evidently, the way it had gone."

Broadway playwright Sidney Howard, who wrote the first basic draft for GWTW saw red-headed Arleen Whelan lunching at the Brown Derby and thought he found Scarlett. A former Hollywood Roosevelt Hotel beauty operator-manicurist, she was under contract to Darryl F. Zanuck. Selznick had her study under the tutelage of coach Gertrude Fogler until she was ready to test. But nothing came of Arleen's brief flirtation with the coveted role. It was rumored that Selznick offered 20th-Century-Fox $50,000 for her contract but was refused.

John Barrymore's young daughter, Diana was asked to test at the old Paramount Studios at Astoria, Long Island with Richard Carlson, taking the part of Ashley Wilkes. Selznick later wrote Diana Barrymore, " - - - the odds were several thousand to one against you as a Scarlett, but since I wanted to see a test of you, I felt that it might as well be in a scene from GWTW-especially since I know too little of your work to cast you accurately in a test. I think you are probably right to try the stage first. I do hope you'll keep in touch with me looking toward the day when both you and we are ready for you to start in pictures."

Some of the "Scarlett Derby" discoveries were cast in other roles: Alicia Rhett, whom Cukor discovered in a rehearsal of "Lady Windermere's Fan" in Charleston, was set to play India Wilkes; Marcella Martin was spotted in the audience of a Shreveport, Louisiana little theater by Max Arnow, ended up as Cathleen Calvert; Mary Anderson, a Birmingham, Alabama school girl played Maybelle Merriwether (she later drew spectacular critical notices in "Guest In The House" on Broadway); Texan Evelyn Keyes was borrowed from Cecil B. DeMille to play Scarlett's sister, Suellen; Ann Rutherford was loaned from MGM to play the other sister, Careen (Judy Garland was considered); Marjorie Reynolds and Claire James were among Scarlett's young friends in the Twelve Oaks party sequence.

In October, 1938 the search for Scarlett O'Hara had narrowed down to Paulette Goddard, Doris Jordan, Joan Bennett and Katharine Hepburn. The spirited Paulette signed with Selznick in 1937 and appeared in his "The Young in Heart" and to MGM for "Dramatic School" and "The Women" and then was sent to New Orleans to work on her Southern accent. Selznick thought her a strong possibility, hut because of Paulette and Charles Chaplin's unconfirmed marital status and tearful of the moral upset of 1939 moviegoers, he reluctantly ordered the search to continue. Selznick liked Katharine Hepburn. Because of Joan Bennett's dark hair and new Hedy LaMarr image, Selznick also considered her.

And who was Doris Jordan, a Margaret Sullavan look-alike? Max Arnow discovered her in New York working as a Powers model and immediately ordered a test. "Mr. Selznick interviewed me in New York and I was put under contract for a month while they decided whether they wanted to send me to the Coast," Doris remembers. Selznick's New York representative, Katharine Brown, was also impressed with her potential and sent her to Hollywood for further tests. Born Doris Davenport in Moline, Illinois, she grew up in Hollywood. As a Goldwyn Girl in "Kid Millions" at 16, she attracted Sam Goldwyn's attention. He gave her the part of star Eddie Cantor's sweetheart in the famous ice cream factory scene. She wangled a MGM stock pact before departing for New York. "In Hollywood, the camera crew making the new test were from MGM and every man on it knew me. They had seen me over at MGM hundreds of times. Mr. Arnow knew. He was wonderful to me and kept my secret. The choice had apparently narrowed down to Paulette Goddard and myself. I tested in October and through November and later into December, 1938. The testing took so much time and they were so exacting in all phases. I had seen so many girls tested for Scarlett that I began to believe nobody would ever be selected for it. One day when I was going on the stage for a hair-dress test I saw Vivien Leigh being tested for make-up. Saw her several times. She struck me as just another Scarlett. But I was so dizzy from the endless trips between make-up, hair-dress, wardrobe and testing stage and so blinded by the powerful new Technicolor lights that I probably couldn't have told the difference between Clark Gable and Mickey Mouse."

Selznick wrote in a memo on November 21, 1938; "I am anxious about Doris Jordan because I think, apart from the photography and hairdress her new test is even more promising than the first one and shows decided promise. I think that George (Cukor) has done wonders with her since her New York test, and I hope he is continuing to work with her daily. No pains should be spared in connection with the girl, since she is certainly one of our four or five final possibilities." It was the Cukor tests that interested Sam Goldwyn to cast her as Doris Davenport opposite Gary Cooper in "The Westerner." Unfortunately, Goldwyn dismissed her as a flash in the pan who fizzled out in her big opportunity.

History was to repeat itself three years later when Phyllis Isley Walker, a Powers model read for Katharine Brown for "Keys of the Kingdom," resulting in a contract. When Selznick recovered from his shock of learning she previously worked at Republic in 1939, he selected a new name. Jennifer Jones.

On Christmas Day 1939, George Cukor gave a garden party at his home. The young English actress Vivian Leigh and Lawrence Olivier were among the guests. Soon after they arrived, Cukor took Vivian aside and told her Scarlett O'Hara had been chosen. She'd previously heard Katharine Hepburn was the winner. He shook his head, smiled, and embraced her. "Guess we're stuck with you."