AMERICA'S SCARLETT FEVER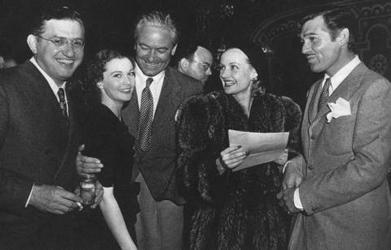 Liberty's critic contributes a mildly dissenting opinion to the lore of a celluloid landmark, Gone with the Wind

BY BEVERLY HILLS
Liberty 1/27/1940
We sat ready to give the Rebel yell. No picture in the history of the screen has aroused so much expectation. Here was to be the double feature to end double features. We sat breathless. We waited and waited.
Not that this filming of Margaret Mitchell's novel isn't stupendous, that it isn't done with tremendous attention to detail. But it never moves you deeply.
Our memories traveled back twenty-five years to the 1915 premiere of Griffith's Birth of a Nation. There is a certain parallel in the stories. Like Thomas Dixon's sensational and maybe shoddy Klan novel, this is a tale of the South staggering through the Civil War into the bitter reconstruction period. It is the death of an era and the birth of another. Mostly it is the story of Scarlett O'Hara. born of a gently bred mother of feudal Georgia aristocracy and an Irish peasant father. Spoiled, selfish, utterly ruthless, she uses every wile and every weapon at her command to save her family's estate. In Rhett Butler. blockade runner and charming scoundrel, a hard-drinking fellow of unbridled emotions, she meets her only match.
It is a rambling story, told before a background of picturesque Southern drawing rooms, of dusty, grimy Confederate soldiers hurrying to do battle and reeling homeward defeated, of a whole section of America staggering under starvation and carpetbaggers. It hits the top in spectacle when it presents the 1864 siege, capture, and burning of Atlanta by Sherman as he started his march to the sea. There is one sweep of hundreds of wounded lying in a railroad yard that will make any audience gasp.
Vivien Leigh's performance of the headstrong Scarlett is pictorially effective but it is superficial. Where it should be alive and vibrant, it is skin-deep. It doesn't get into the emotions. Clark Gable's Rhett Butler is better. It has gusto and force. The two outstanding performances are Olivia de Havilland's gentle aristocrat, Melanie, and Hattie McDaniel's old colored mammy.
The top shock moments are curiously odd ones. The first comes when Scarlett shoots a renegade deserter dead as he forces his way into Tara Hall. The other comes when Scarlett collapses at Rhett's feet and rolls down a long flight of steps.
Many of the faults of Gone with the Wind lie in its length and its loose story. To hold an audience for four hours, if it can be done, a film must possess devastating grip, it must be arrestingly moving. Actually this is done with amazing and studied care but it never breathes or bleeds. It is, in fact, the saga of a Dixie Becky Sharp done at a cost of nearly four millions, done tastefully, carefully, and conscientiously. Still Scarlett remains a superficial study in lovely technicolor.
But Gone with the Wind, for all that, is a celluloid landmark-and tomorrow's screen tradition of today.



THE PLAYERS: Clark Gable. Vivien Leigh, Leslie Howard. Olivia de Havilland. Thomas Mitchell. Ona Munson. George Reeves. Fred Crane. Hattie McDaniel. Victor Jury. Evelyn Keyes. Ann Rutherford. Howard Hickman. Alicia Rhett. Rand Brooks, Carroll Nye, Marcella Martin. Laura Hope Crews. Harry Davenport, Barbara O'Neil, Butterfly McQueen. Leona Roberts. Jane Darwell. Albert Morin, Mary Anderson, Terry Shero. Eddie Anderson. Jackie Moran. 
Screen play by Sidney Howard. based on Margaret Mitchell's novel. 
Directed by Victor Fleming, 
Produced by Selznick International-Metro-Goldwyn-Mayer. Running time. 228 minutes.