The Great Lover Clark Gable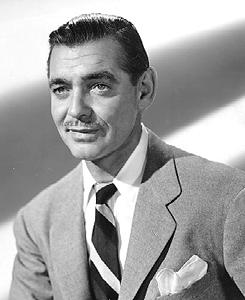 By Jim Tully
The Family Circle July 4th, 1941

At a recent gathering of writers who had been in Hollywood over 10 years, Clark Gable marriage to Carole Lombard was conceded to be the happiest they had ever seen in the cinema city. Clark met Carole in 1933 when he appeared in a film with her which was called prophetically "No Man of Her Own." Oddly, they did not get along well in that picture, but they themselves say that they don't know whether that influenced their marriage.

However, they have everything in common at present. Each loves the land and each has the ambition to settle on a large ranch somewhere in America after the curtain falls on their brilliant screen careers.

They are never seen in night clubs because after a hard day's work they go home to their ranch and stay there. When not at the studio, Gable gives vent to his tireless and even relentless energy by working on his land. It is common to find him driving his tractor or tinkering with it. Clark has the small boy's delight in machinery, and often keeps working with or on his until long after dark. To get him in to the evening meal (which he always refers to as supper) it is usually necessary to call him several times-and that is no reflection upon the food, either.

Another example of how Clark takes his farming to heart: After director Clarence Brown had called it a day on the set of Gable's latest film ("They Met in Bombay," just released), the star hurried home. The director, his guest that evening, arrived at the Gable ranch soon afterward, to find the household in a state of excitement. Soon he heard Mrs. Gable say, "Never mind-it's going to be all right."

"Gee," said Clark, "that poor sick chicken has been on my mind all day."

Gable never forgets a friend. And his friends are everywhere. One was a soda jerker at the MGM restaurant. Gable insisted that he be made his stand-in, so the young man was hired, and at a big jump in salary. In appreciation he spends his spare time finding stories with which to entertain Clark. And he goes to great lengths to get them because it is a matter of pride with him that they be ones new to Gable.

Clark was born February 1, 1901, in a white frame house in Cadiz, Ohio. His father was a workman. His mother died when he was seven months old. He still has a few faded watercolors she painted in her girlhood.

He was named William Clark Gable after his father, but dropped the William when he became confused with his father when they were fellow laborers in an oil field.

His maternal grandparents were sturdy Dutch. They took him to bring up on a farm in western Pennsylvania. His earliest recollection is gazing from the kitchen window at a hen lost in a blinding rainstorm. His grandmother was standing over a wood stove making tomato catsup. (To this day he does not like the odor of cooking tomatoes.) With her help he rescued the hen.

As there were no other children near, Clark's life was solitary. But it was simple and character-building. He swam in the lake, watched squirrels in the hickory grove and birds in the windy sky. On Sunday the old mare was hitched to the surrey and the boy accompanied his grandparents to church.

Then his father married again and came for Clark. He was at once fond of his stepmother, and she has remained for him his ideal of womanhood. It was agreed that he should spend each vacation with his grandparents.

The boy and his parents went to Hopedale, Ohio, population 500. After the country it seemed like a vast city to Clark, but he soon made friends with everyone in town. Soon after he went there, a slight illness brought him into contact with the village doctor-a colorful character who made such an impression on him that for several years afterward he wanted to study medicine when be grew up.

Upon graduation from high school at 17 he went to Akron with the hope of working his way through a medical institute. He had never been in so large a city before Afraid to venture out alone, he remained in the railroad station for several hours. At dusk he rented a cheap room and spent the first evening writing letters to his stepmother, grandparents, and teachers.

Courage came with the morning. He went to a large rubber factory in search of work. As the factory employed 10,000 people, there were several hundred men in line. He obtained work as a timekeeper and became a night student of medicine at the University of Akron. His routine was the same for many months. Five nights a week he went to school. The other two evenings were for rest and diversion.

While he was working in the factory, an incident changed the course of his life. One of his fellow workers was a young actor down on his luck. Feeling sure there was a mistake of several hours in his time report, the actor went to Gable to have it rectified. This done, he said to him, "I'm going to open in a play next week. Why don't you come and see me act? I'll fix it so you can see the show from backstage."

"That'll be great," said Gable.

When on Saturday night the timekeeper called at the theatre, the actor persuaded him to look through the peephole of the curtain. When he saw the sea of expectant faces beyond, Gable knew he would never be a doctor.


Quitting study, he went to the theatre each night. The manager made him a callboy-without salary. His greatest difficulty then was fear of the girls of the company.

"You can't be afraid of women if you want to be an actor," his actor friend advised the future heartbreaker.

In two months Clark was given a speaking role. As a flunky he bowed and said to a guest, "Will you come in, sir?"

Finding the tricks of make-up difficult, he avoided them. After nearly a year he began to play small roles with success.

At this time his stepmother died. He went to console his father and remained at home for a month. When the elder Gable, still feeling his loss, decided to leave Ohio for the oil fields of Oklahoma, Clark dutifully accompanied him. For more than a year he worked from dawn to dark.

The work did not appeal to him, however. When his father, noticing his son's restlessness, asked him what was the matter, Clark told him he wanted to be an actor.
"You'd better stay with me-you're makin' a day now as a tool-dresser every day- sure," was the father's advice.

Clark was not convinced.

"Next year you'll be a driller-it'll be $10 a day then," said the father. Then seeing the longing in his son's eyes, he added, "But do as you like, son-you're of age."
"Thanks, Pop. I knew you'd understand." 

He joined a little traveling theatrical company in Kansas City. It played in churches, barns, theatres-wherever possible-in all the Western states. The young actor was happy. It was his rainbow in a murky sky-the satisfaction of his soul.

"It was a profit-sharing company," he says with a smile, "-all share and no profit."

When the company stranded in Butte, Montana, Gable counted his assets on a bitter cold morning. He had two dimes, a nickel, a penny and a heart without fear.

Soon all but 5c had been spent for food. Weary with walking, he slept sitting up in the waiting room of the depot. His 5c would get him coffee and a roll when he woke up.
In the morning he went to the washroom to douse the sleep from his eyes. There a genial darky brushed his clothes. Clark gave him the nickel. Unable to see the golden road ahead, the hungry actor decided to go to Portland, Oregon. Friends from Ohio lived there. It was hundreds of miles away and he did not have a cent, but he did not indulge in self-pity. "No one asked me to be an actor," he said to himself.

Coffee and doughnuts seemed only an unlikely possibility that morning, but Clark had a piece of luck. Standing in front of a well lit restaurant, he saw a man approaching with a walk that was between a shamble and a stagger.

He halted near Gable. "You look hungry, Bo," he said.

"How did you guess?"

"Easy," returned the drunken psychologist. 'Everybody looks hungry. Come on in."

He rubbed his eyes at the counter. "Ham an' eggs twice," he said. Then to Gable, "Which way,

"Portland," was the answer.

"I'm headin' that way, too-quick as I get sober."

Not daring to express his hope that that would be soon, Clark said nothing.

"And I'm beatin' it, too," the man continued.

"I wouldn't pay the railroad a cent if I was richer'n Rockefeller. No, sir - they get no dough from Jack Bates. I got to have money to drink on!"

The meal before them, Bates decided that he did not care for ham and eggs.

"Leave them here - that's all right," Gable said to the waiter. "I don't want to see them go to waste."

Thinking his benefactor might want to be alone, Clark offered to leave after he had eaten.
"Stay with me," commanded Bates. "I'll need someone to tell me what time it is."

That night they were on a freight train. It was difficult going. Clark did not want to drink and Bates cared little for travel.

"Take this," Bates said at last, "so if we get separated you'll have eatin' money. You can go faster alone, anyhow." He handed Clark $5 and said, "I'm gettin' off at the next town to see a bartender I don't know."

Clark's money was gone when he reached Portland. He eventually got to where his friends lived. They had left for Ohio the day before.

Undaunted, he went to the Salvation Army Hotel, where he was given lodging. Soon a troupe of players appeared at a Portland theatre, and when they left for Astoria, Clark was
with them. He was jubilant until the manager explained that his was a profit-sharing company. The recollection of his earlier experience with such a company made his heart sink. In 14 performances Clark's share of the profits was $2.

Next Clark went to an employment agency and got a job with a party of engineers leaving to survey forest tracts in southern Oregon. He worked as a rodman for several months, plodding through the heavy forest country, bitten by insects and poisoned by shrubbery. As it rained each day, his clothes were never completely dry.

He drew his money and returned to Portland. With more method than madness he obtained work in the classified department of a newspaper. There he would see the advertisement of a good job first. After weeks of watching he discovered that the local telephone company had an opening for a personable young man with an opportunity for advancement in an office position. PS, He got the job.

He stayed a year with the phone company before another violent attack of stage fever came. With $200 saved, he went to Hollywood, where for months he haunted the studios without obtaining work. With no money and the chances of getting a job apparently hopeless, he stood one morning in a group of men from which 12 of the tallest were to he selected. He was among them.

For a week he stood motionless in the tight-fitting suit of a grenadier on an Ernst Lubitsch set. Each night he received $7.50. Once the great Lubitsch looked at him casually. Clark's heart nearly stopped.

This hit-or-miss method of living went on for months. After averaging one day a week as an extra player, he wondered if his father had been right. He would be getting $10 a day in the oil fields if he had stayed in Oklahoma.

Then Louis MacLoon produced "Romeo and Juliet" on the stage. Jane Cowl was the star. A tall soldier was needed to carry a spear. Clark was chosen. The spear and his heart were light as feathers.

Though millions of women now worship the fellow who gave his last nickel to a colored porter, it was Jane Cowl who first held out a dainty professional hand to him. Through her influence he was given a small speaking role as a comedy soldier. When MacLoon later produced "'What Price Glory?" Gable understudied the actor who played. Sergeant Quirt. When the actor left the company, the dynamic Gable stepped in. Now for the first time the throttled spirit of the man broke out. The seasoned MacLoon watched him from the wings, then went to the smiling Ohioan and said, "You'll do, my boy."

The strain of the long struggle was too much. Gable was ill through the night.

After 15 weeks in "What Price Glory?" he joined Lionel Barrymore in "The Copperhead." That keen actor and man became his friend.

Through his influence Gable was next given the role opposite Nancy Carroll in "Chicago." Nancy stepped into a film career and Gable went to a stock company in Houston, Texas, as second man and heavy. In 12 weeks he became the leading man, at $200 a week. He staved seven months.

Next came New York and the leading role m "Machinal."

Louis MacLoon, casting "The Last Mile" for a Los Angeles theatre, engaged him to play Killer Mears. Vital, tigerish, terrifying, his performance rocked the audience.

Lionel Barrymore said to me after the opening of the play, "Make no mistake about this lad, Jim - he has the fire of a wild stallion."

I have said, Clark's marriage to Carole Lombard one of the happiest in Hollywood. (He calls her Ma; she calls him Pa.) He married her in Kingman, Arizona. The minister who performed the ceremony had but vaguely heard of them. Later when visiting Hollywood ha sent them a note. Immediately he was invited to tea and remained until long after midnight.

Gable enjoys the journey through life and likes all those who share it with him. The longer you know him personally, the better you like hum and his public apparently feels the same way, because he has been one of the 10 most popular box-office attractions each of the 11 years he has been in films.

In 1931 he trailed the beloved Will Rogers. "Clark will be ahead of me next year," said Will. "He'll run away from the Rudolph Valentino arid those other heartbreakers with patent-leather hair. The men will like him as well as the women. He's as real as a kid with a hurt finger."

Rogers was right. In 1932 Gable was ahead of him. From 1932 to 1934 he jumped from eighth to second place. He is that rare fellow on the screen-a man with an infectious personality who can act. He does his own stunts whenever possible. If a double is used, it is merely because the company considers Clark too valuable to risk in a daring escapade.
Earnest in all things, he is good-natured and tolerant, with pity and understanding.
A down-and-out girl once approached our table in a restaurant. Seeing her coming, Clark pressed a $20 bill in my hand.

"Give it to her, Jim," he said.

It is an axiom in the film world that a picture cannot fail with Gable in it. "Even if the film is bad-Gable's good," is the Hollywood consensus. And also the public's.

He recently signed a contract for five years - with no options - at $7,500 a week.

"Where do you go from here, Clark?" I asked him recently.

He repeated the question and pondered. "Frankly, I don't know," he said slowly. "I'll keep going, though. I'll never give tip acting - not for a long time, anyhow. It's a good life-has zest and variety. You're up one month arid down the next." He paused. "I know they say no actor is better than his last picture."

"That may be. Clark-but the public will forgive you quite a few bad ones."

He immediately looked concerned. "I don't want to let anyone down."

I gave him my candid opinion. "I think your company's wasting you on second-rate films."

"I wouldn't say that," he answered quickly. "They want another 'Gone with the Wind' as badly as I do. But naturals like that don't come along every year-or even every 10." He broke out his infectious smile. "There's still a lot to live for."

"You've had a great success, Clark," I said. "What would you rather do now more than anything else in the world ?"

He answered without a second's hesitation:

"Find Jack Bates."