The Legend of Clark Gable - The King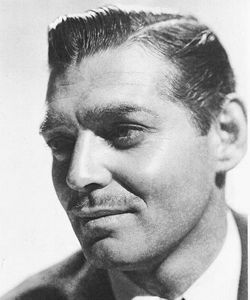 by Jimmy Skinner
Hollywood Studio Magazine Then and Now Sept. 1988

There will be other stars who command attention and adulation at the box office....But there will never be another Hollywood King! When the sequel to "Gone With The Wind" is released, there will undoubtedly be comparisons made, and the new Rhett Butler has a mighty struggle on his hands!

Clark Gable lived and died a top box office star. His popularity lasted consistently from 1931 until his death in 1960 and still remains today. During his lifetime, Gable compiled a filmography which included nine silent films and sixty-seven "talkies."

This "King" of Hollywood had a following which consisted of at least three generations of film fans-both men and women-and people from all walks of life. Gable was, and continues to be, a legend of the cinema. His brawny masculinity of course appealed to the masses, and as an actor, although he wasn't the most well-trained, Gable did project a
reality and humanity in many of his screen portrayals by presenting his characters as real, feeling human beings.

Through his many varying roles, Gable came to represent the ideal American "he-man" and imprinted on the public consciousness the idea of what a real man should be. The time had come for Hollywood to crown a King. The past had produced many Princes: Douglas Fairbanks, Rudolph Valentino, John Gilbert, Roman Navarro, and many others, but until the movie-going public "crowned" the virile, young William Clark Gable, Hollywood had never had a King.

OHIO FARM BOY

Who would have thought that a once lanky, big-eared farm boy from Cadiz, Ohio would be so immortalized with such a title? But Gable was just what the public of the 1930s wanted and had been looking for since the screen idols of the silent era. Where the silent screen stars concluded with passion and sensitivity, the screen King of the 30s picked up with dominance and strength. This was a time when women wanted powerful men. Clark Gable was the kind of man who could take a strong-willed woman in his arms and melt her with just one kiss.

He was the stepping stone for film "lovers" of the future. It would seem that Clark Gable could be called a teacher to the stars. Gable showed future stars how to create passion on the screen as it had never been done before when he took Vivien Leigh in his arms in "Gone with the Wind." Gable dominated the screen, his leading ladies, and all of Hollywood.

The actor was admired both professionally and personally by those who knew him. His manners both on-screen and off were impeccable. It seems that all the actresses of the day longed for a chance to work with the King, and most of them did! Three of Gable's most renowned partners on the screen were Joan Crawford, Jean Harlow and Myrna Loy. Gable liked to work with gutsy, strong-willed leading ladies, and these three were his favorites because they could act like "one of the guys."

GABLE & LOMBARD

Clark Gable epitomized the 'he-man" not only on-screen but also acted the part of the all-American man in his personal life. Hunting, fishing, horses and cars were some of his favorite hobbies. However, in spite of the very masculine nature of these pastimes, Gable's third and most-beloved wife, Carole Lombard, shared in all these activities with Gable until her tragic death in a plane crash in 1942. She had been returning home from a World War II war bond selling mission in Nevada.

Lombard's death devastated Gable and sent him into a period of mourning which never really ended. Gable married a total of 5 times, but never loved anyone as he had loved Carole Lombard during their wonderful but brief time together. After the heartbreaking tragedy of Lombard's death, Gable joined the United States Army in the summer of
1942, and proclaimed, "I don't want to make speeches, and I don't want to entertain. I just want to be where the going is tough."

Some say that Gable's army enlistment was his way of escaping from the sorrow and loneliness that had engulfed him after Carole' s untimely death. By his enlistment at the age of 41 Clark Gable set an example for Hollywood and the nation. He was determined to become an officer in the United States Army. And he accomplished this even while he continued his "reign" as King.

Gable received his discharge in 1945, and continued his career where he had left off-making another twenty-two feature-length films before his death. Some of Gable's films may not have been the greatest artistic achievements in the history of film, but they were what Gable's fans wanted. The King's "subjects" always went away pleased.

A WORLD WITHOUT GABLE 

On November 16, 1960 Gable gave his final bow. After completing the difficult and problematic filming of "The Misfits," starring Gable, Marilyn Monroe and Montgomery Clift, Gable suffered a fatal heart attack on November 6 and ten days later passed away quietly at the Hollywood Presbyterian Hospital in Los Angeles.

Filming "The Misfits" had been physically grueling because of the scorching Nevada desert heat and Gable's insistence that he do most of his own stunts; the film was also mentally taxing due to schedule complications enhanced by Marilyn's consistent lateness and many other problems. Whatever the reason, Gable's death was unexpected.

Not since the death of Rudolph Valentino in 1926 had Hollywood and the world at large mourned so for a star. Louella Parsons, a friend of Gable's, wrote, "It's hard to imagine a world without Clark Gable. There will never be another Clark Gable, nor another King of Hollywood." At the time of his death, his fifth and final wife Kathleen (Kay) was 5 months pregnant. Thus Gable never saw the realization of a dream - the birth of his only child. One of Gable's lines from "The Misfits" became eerily poignant: "Honey, we all gotta go sometime, reason or no reason. Dying's as natural as living. A man who's afraid to die is too afraid to live, far as I've ever seen."

The man and his memory still survive today. 26 years after his death, Clark Gable films are continually shown and watched by fans, old and new. "Gone with the Wind" is still an all-time favorite among movie-goers of all ages, generating new fans for the King each time it's shown. "It's hard to imagine a world without Clark Gable. . ." The legend survives.