Clark Gable is Dead – a Last Intimate Look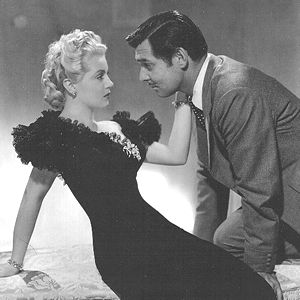 Life Magazine 11/28/1960


Clark Gable laughed when people called him a king. But he was one. He carried himself with dignity rare in Hollywood and hordes of fans seldom mobbed him. Instead the crowds stood back when he walked by and responded with happy smiles to him amiable grin. For 30 years he stood alone among the great personalities of the move. In over 60 films his presence made the bad ones supportable and profitable and the good ones great and gold mines.

It could have been much different. At 15 Clark Gable quit high school at Hopedale, Ohio and often said that if a rich man had offered him a job as a chauffeur of a really interesting car, say a Mercer or Stutz, he would have lived a happy life driving automobiles. As it was he drifted around as a telephone lineman and oil field worker until he married a drama coach who drew him into the glorious world of make-believe.

He was happy and relaxed when the exclusive intimate picture above and others on these pages were taken a few days before a heart attack felled him. Then suddenly last week it was all over; Clark Gable, aged 59, was dead, and lovely women everywhere – his wife Kay, who expects his first baby, Marilyn Monroe in New York, Sophia Loren in Madrid, Vivien Leigh in Paris – wept. One of his recent heroines, Carroll Baker, once said, "I never really believed I was in movies until I played with Clark Gable." And one of his first heroines, Norma Shearer, said, "Now he is on the right side of eternity. Bless him."

The world can recall glorious moments with Gable; Gable searching the ruins of San Francisco for Jeanette MacDonald; Gable teaching Claudette Colbert how to dunk doughnuts; Gable fighting Spencer Tracy; Gable glaring as Charles Laughton threatens to hang him; Gable catching Jean Harlow in a rain-barrel bath; Gable giving Scarlett O'Hara her comeuppance with a lordly "My dear, I don't give a damn."

Gable used to laugh, "Hell, I haven't learned to act yet" – but he certainly had. He won an Oscar for his newspaperman in It happened One Night and nominations for his roles in Mutiny on the Bounty and Gone with the wind. And on film he had done everything. He was a doctor in Men in White, a general in Command Decision, a daredevil airman in Test Pilot – and he was himself decorated for bravery as a B-17 gunner in World War II.

The role in real life he most wanted to play – the picture opposite aches with it – was to be a father. Now people may remember him best as the mustang hunter in The Misfits who turns to Marilyn Monroe and says, "Reason or no reason, dyin's as natural as living…"

If the death was sudden, the life had held more of the world's joy than most. Finally Hollywood, which has staged near riots at the funeral of its stars from Rudolph, Valentino to Tyrone Power, said goodbye to Clark Gable with dignity. A little knot of people who loved him best – his wife, fellow stars, old hunting and fishing companions, fellow lovers of fast and complicated automobiles – gathered in the Church of the Recessional, Forest Lawn Memorial Park. An Air Force Episcopal chaplain accompanied by an honor party of 10 airman and a color guard' offered a short soldier's service for the star who, at 41, enlisted as a private and flew five battle missions over Europe. Then the crowd, its famous faces looking sad, left, and workmen entombed the body by the side of Carole Lombard.