Frankly, Gable was gung-ho about duck hunting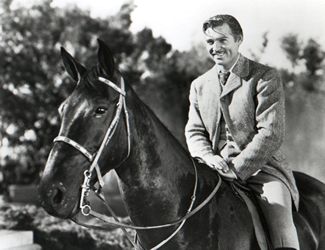 Author: Jimmy Robinson
Source: Minneapolis Star Tribune, 10-04-1998, pp 18C.

Editor's note: The late Twin Cities outdoors writer Jimmy Robinson (1897-1986) wrote this story in 1939, chronicling a duck hunt with Clark Gable at Robinson's famous Delta Marsh (Manitoba) hunting camp.

The boom, boom of a shotgun shattered the stillness of the vast delta marsh on Lake Manitoba. Two canvasbacks halted in mid-flight, hurtled to the rushes and mud below.

A double!

The hunter was Clark Gable of Hollywood. He stood in a battered duck boat, grinning and happier, perhaps, than he had ever been before on a duck hunt.

``I've fulfilled my life's ambition, Jimmy!'' Clark shouted. ``I've always wanted to shoot the limit of canvasbacks in a single day - and boy, oh, boy, I've done it at last!'' Clark almost tipped over the flimsy boat in his enthusiasm.

Gathering in the ducks and pulling in our decoys, we paddled through the tall rushes and wild rice to the channel which would lead us back to our little duck camp on the shore of Lake Manitoba, 60 miles west of Winnipeg. Hundreds of mallards, canvasbacks and widgeons whizzed over our heads to settle in the potholes and bayous of the great marsh.

Clark Gable insisted upon doing the paddling. All I had to do was sit on my seat and give steering directions!

It is a far cry from the glare of lights in Hollywood's studios to the solitude of the Manitoba marshes. The only artificial lights within miles of the boat in which Clark and I sat were the gasoline lamps in our hunting shack and those of our neighbors.

Gable liked our Manitoba marsh country. He stayed with us a week. Each day we visited a different section of the marsh. In spite of the warm September days, the birds were flying early in the morning and in the evening - the cream of the waterfowl population of the entire continent.

``I didn't know there were so many ducks in the world!'' said Gable.

Clay targets brought Clark Gable to Manitoba. He loves duck hunting - it's one of the things he lives for. He's an upland bird shooter and big game hunter, too. Clay targets, however, are responsible for Gable's presence on the Canadian prairies. Clark does a lot of skeet shooting at the Santa Monica Gun Club in California.

Between rounds of skeet at Santa Monica, one winter day in 1935, I told Clark and Jack Conway, motion picture director and Gable's hunting companion, about our duck hunting on the Manitoba marshes. My tales attracted Clark's attention to such an extent that when I suggested that he should join me at Portage la Prairie, Manitoba some time, he accepted my invitation with alacrity.

Almost three years elapsed. Clark was busy in pictures. His shooting was confined to skeet, to ducks and doves in California, to doves in Mexico, to cougars in Arizona.

Grant Ilseng, top ranking skeet shot of 1938, and Ed Williams started Clark on the Manitoba duck trail. Having listened to my duck stories at the National Skeet Tournament at Tulsa, Oklahoma, where they were my roommates, Grant and Ed deluged Clark with yarns about canvasbacks and mallards when they met him at the Santa Monica Gun Club a few days after the Tulsa tourney.

On September 10, 1938, I received a wire from Clark in Los Angeles, addressed to the Sports Afield office in Minneapolis. It read something like this: ``Met Grant Ilseng at gun club today. He informs me that you are going duck hunting at Lake Manitoba again this year. Have a week to spare so will take up invitation you gave me a few years ago if convenient. Wire.'' - Clark Gable.

My reply urged Clark to wait until October, because we were experiencing an unusually warm September in Manitoba. His second wire advised me that he had to go to work on a new picture in October. I said: ``Come anytime!''

Clark came by train from Hollywood directly to Portage la Prairie, Manitoba.

``I wish you had come a little later,'' I greeted him. ``It's warm and the ducks are not flying so good.''

``Shucks,'' Clark replied, ``I just came up for a little holiday. If we don't get any ducks, that's O.K. with me.''

Winnipeg newspaper men, who had been tipped off by Hollywood correspondents that Gable was coming to Manitoba, shot pictures of the movie actor even before the Canadian Pacific transcontinental pulled out. I had made an effort to keep secret Clark's coming, but to no avail.

``If we can get a few ducks for a feed or two, that'll satisfy me,'' Gable continued. ``We can sit around the stove at night and talk about how many we should have gotten. That's what we do in California.'
Clark insisted upon seeing Portage la Prairie before we headed for the camp. He bought his shells and hunting license at Cadham's hardware store, then visited the 5 and 10 cent store where he shook hands with all the girls. Our next stop was at the Leland hotel, operated by my old friend, Telf Miller. By this time a big crowd had gathered. Clark ordered Telf to ``set them up'' for all the boys.

We arrived at the camp - our hunting shack, we call it - at 3 p.m. Clark met the boys. Included in our party were Ernie Maetzold, Minneapolis, vice president of the Amateur Trapshooting Association; Walt Taylor, Minneapolis, of Sports Afield; Chuck Murphy, Joe Brush, George Hart, Ted Culbertson, Nick Kahler and Phil Fjellman of Minneapolis, and Phil and Rod Ducharme, local French-Canadian guides. Walter Peacock, Chicago, veteran trapshooter and member of the Illinois Racing Commission, was scheduled to be a member of the party but he did not arrive until after Gable had gone.

``This is swell,'' Clark declared, as he unpacked his grips, slipped on a pair of slippers and made himself comfortable.

``Take it easy,'' I said. ``We won't do any hunting until tomorrow morning.''

Clark rested only a few minutes. The marshes were close. His body demanded exercise after the long train ride.

``Let's to hunting now, Jimmy!'' he exclaimed. ``I want to take a look at those ducks I've been hearing so much about. Tomorrow's too long to wait.''

So we set out to the marsh with Rod Ducharme, our French-Canadian guide. Clark paddled the boat.

Mallards, canvasbacks and widgeons winged their ways over our heads. The air was full of ducks. The huge marsh was alive with waterfowl. A golden September sun, reflected on rushes and wild rice, lent color to the scene.

``Boy, this is swell!'' exulted Clark.

Fortune smiled at us. We set up our decoys in a little pothole, pushed our boat into the rushes, which are our blinds out here. Sleek barely and wheat-fed ducks, fattened by crops in nearby fields, decoyed obligingly. We garnered our limits within an hour.

Gable brought two shotguns with him to Manitoba. One was a double barrel Parker, the other a Winchester pump. The rest of his outfit was the kind you or I might wear: a battered Berlin leather hat, six years old, leather trousers and jacket which had seen plenty of service in the out-of-doors, light-weight boots, etc.

Gable was among the first up each morning. Usually it was the sound of his ax biting into the chunks on the woodpile that awakened me. Our typical schedule was breakfast at six, then out to the marsh, ready to shoot, by sun-up. At noon we returned to camp to rest, to talk about hunting and fishing trips, to play diamondball.

This man Gable is quite a ball player. He can handle himself well in the field and when his turn at the bat comes around he connects often enough to be classed as a fair hitter.

Gable is strong as a bull. He's six feet, one inch tall, weighs 200 pounds. He's fast as a cat - and in tip-top condition. Not only did he out-shoot me on the marsh but also he out-walked me in hiking to the marsh. In fact, he out-did me in almost everything except eating.

``Got to watch my diet,'' said Clark. His appetite ran away with him, however, when Mrs. Robinson served a canvasback hot from the oven, at the supper table each night. He insisted that the Lake Manitoba wall-eyed pike our guides caught were the best-eating fish he ever ate.

Clark's first canvasbacks in years of shooting were the ones he dropped that first afternoon, a few hours after he got off the train. Gable insisted that he was just a fair duck shot. He had no excuses to make about his shooting after he killed that first double that came in. Although he hasn't shot many ducks, he's an exceptionally fine duck shot. The speedy way he handled his gun surprised me.

Among the visitors who attracted Gable's attention was Jack Handily, Manitoba game warden. The pair did a lot of talking about hunting in the North Country. Several ``mounties'' stopped in to say hello to Clark.

The camp, a private one leased by the group of Minneapolis hunters, is located on the Delta Marsh on the south shore of Lake Manitoba, 14 miles north of Portage la Prairie and 60 miles west of Winnipeg. We can drive to the camp when it doesn't rain. It's two miles from the camp to the marsh and we drive it with lights when we go out for the morning shooting. It's a job, pushing our boats through the runways in the rushes and rice, but we get through. When we come to a pothole or to the big bay, we push our boat into the rushes, set out the decoys which the guides have whittled, and we're ready for the flight.

The camp - ``shack,'' we call it - is an old farm house. We have a big kitchen, a dining room, and two bedrooms rigged up with triple bunks. A huge stove supplies the heat and another big woodstove takes care of the cooking.

Clark Gable is so long that his feet stuck out of the end of the bunk.

Clark proved to be helpful around camp in other ways than chopping wood. He also helped Mrs. Robinson with the dishes.

The whole gang went to bed at 10 each night, except one night when we played poker for a 25-cent limit. That's Gable's top limit out in California.

Each afternoon when we'd finished playing diamondball we talked about hunting and fishing in other parts of the country. Gable revealed that he enjoyed hunting mountain lions. He makes frequent trips to the Kaibab Forest area in Arizona to shoot the big cats. He always has felt that this type of hunting is a genuine contribution to big game hunting. He claims lions such as he has killed take a terrific toll among deer. It is estimated that a big cat will kill 25 deer in a year.

In his Hollywood home Gable has three dogs, two cats, four canaries, seven turkeys and a cook. When he hunts doves he goes in his trailer, takes the cook and her husband with him. He does a lot of hunting in company with Jack Conway, the director, and Jim Smith, California trap shooter.

Nick Kahler, who puts on the Sportsman's and Outdoor Shows in Minneapolis and whose Chicago Sportsman's Show comes up in January,staged a party for Gable attended by sportsmen and newspaper men, at the Nicollet Hotel in Minneapolis at the conclusion of the trip. Following an afternoon at Lake Minnetonka, near Minneapolis, Gable returned to Hollywood.

Clark Gable is an A-1 companion on a hunting trip - a first-grade sportsman. We would enjoy hunting with him again.