China Seas and Mutiny on The Bounty Trivia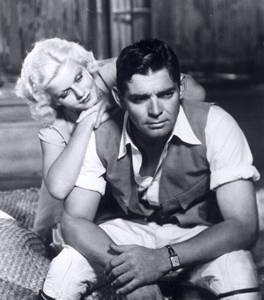 Excerpt from: Thalberg, The Last Tycoon and the world of MGM
by Roland Flamini
The original script Irving Thalberg developed for China Seas was a powerful melodrama in which sea captain Clark Gable falls under the spell of the beautiful daughter of a powerful Chinese merchant.  There is an affair on his ship, and then a child, and the two marry.  To prevent Gable from going to sea again, the woman discredits him with his bosses in the shipping company, and he is dismissed.  Finally  in a desperate bid to free himself from the clutches of his possessive wife and her family, gable kills his wife.  "We see him degenerate," Thalberg explained to his writing team, "the man who was master of himself, of his ship, is finally beaten to a pulp by this woman, but finally rises up with sufficient strength to kill her at the finish even though he does love her.  You've got a great story!"
A great story, perhaps, but a controversial one. The studio's senior management - the front office - was not enthusiastic about Gable killing a Chinese woman, or any woman, for that matter; and Thalberg himself could never come up with a motive for the killing that would not reflect badly for the hero.
Then he had second thoughts about public reaction to what he called "the color line," the interracial romance.  At about the same time, Red Dust was released and became an instant box office hit thanks to its starring pair, Gable and MGM's blond sensation Jean Harlow, who was neither Chinese nor subtle, and theater managers were asking for more Gable-Harlow pictures.  So an unusual and exotic picture was reworked into a frothy adventure, and Yu-Lan, the Chinese siren, became blond China Doll, "the swellest gal in the Archipelago."
---
In casting for Mutiny on the Bounty, Thalberg realized that a mutineer was a risky hero for a major production. To make Christian sympathetic to the audience he felt he needed to portray Captain Bligh as a villainous sadist who cruelly mistreated his crew and Christian as the idealistic champion of the lower deck, which meant nothing but hatred could pass between the two men.  He also needed a magnetic star to play opposite the magnetic Charles Laughton.  He needed Clark Gable.
Gable needed to be persuaded to play the role of Fletcher Christian, fearing that his fans would find his English accent and period costume effeminate.  Thalberg enlisted the help of Eddie Mannix, and Gable was slowly won around.  On one point he remained adamant:  no English accent.
Bounty was far from a trouble-free production, and Thalberg had to fly to Catalina by seaplane more than once to calm rough waters of another sort.  Laughton and Gable were in agreement only on one thing:  their antagonism toward Frank Lloyd, the veteran director from the silent era who had owned the movie rights to the book and insisted on making the picture in return for transferring the rights to Thalberg ( another condition was that Laughton's makeup replicate Lloyd's bushy eyebrows).  Both actors felt that Llyod was paying more attention to filming the hardships of life on his Majesty's ship than to the two principal characters.  When they telephoned Thalberg to protest, he flew to the island and ordered Lloyd to follow the script and stop unsettling the stars.
 But in other respects, life imitated art as the tension between them mirrored the tension between Bligh and Christian, Laughton was difficult, gable touchy.  Jealous of, and perhaps a little intimidated by, his co-star's good looks, Laughton retreated behind a wall of stiff British reserve.  Off the set he ignored Gable totally, and in their scenes together he deliberately and systematically avoided eye contact.  When Captain Bligh addressed Fletcher Christian, he stared out across the Pacific or up at the rigging, anywhere except at the man in front of him.  Gable conversed with the back of Laughton's head for a few days and then protested to Lloyd:" He's not playing to me, he's ignoring me!"
On Gable's side there was a distaste for Laughton's homosexuality.  gable did not hide his dislike for gays, but the intensity of his feelings against them may have been due to a homosexual experience in his own past.  According to a biography of director George Cukor, it was well known among Cukor's gay friends that Gable had had a one-night stand with William Haines in the 1920s, when the still undiscovered star was working as an extra in a Haines movie.  Haines was a lifelong friend of Cukor.  If true, the episode was almost certainly the macho actor's only foray into gay sex, but the fact that other homosexuals might know about it (which apparently some did), and the consequent fear of what it would do to his image, and even his career, if they went public with that knowledge, could further explain why Gable was so obviously aggressive and uncomfortable in their company.  Laughton had a good-looking young masseur with him on the island, and the two were intensely devoted.  Seeing them together, Gable would turn away in disgust - and, unhappy about his costar, he became quarrelsome and uncooperative, arguing with Lloyd, the crew and the rest of the cast.
Soon all three were complaining to Thalberg about one another, and he again crossed over to the island to investigate.  He found tempers raging; and after listening to charges and countercharges from Gable, Laughton, and Lloyd, and the independent testimony of Franchot Tone, he told Gable to stop complaining and follow Lloyd's directions (but sweetened the pill by giving Gable the weekend off).  Then he took Laughton aside and warned him to stop avoiding eye contact with gable in their scenes together.  Privately, though, Thalberg was not as bothered by the existing tension as he pretended to be.  The footage already filmed held the promise of a powerful drama; the scens e between Laughton and Gable that the had screen were electric.  To Thalberg that was more important than harmony among the actors.  If the tension filled atmosphere on Catalina improved the picture, he was not too anxious to restore peace on the set.
But the atmosphere did not change, and neither did the quality of the footage.  Mutiny on the Bounty was a spectacular critically and commercial success.  The film won the Academy Award for Best Pictures of 1935, plus Oscar nominations for Laughton, Gable, and Tone.  It lives on as one of Hollywood's all-time greats.