GABLE ARTICLES

The girl in Clark Gable's Life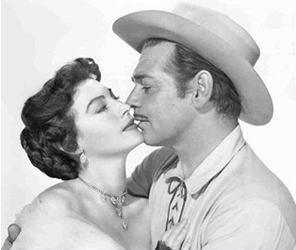 By Elza Schallert

Photoplay June 1944, Page 29

Just about a year ago Kay Williams, one of the younger payers on the Metro lot - blonde, pretty and gay - was having a serious debate with herself about an invitation to a party.

It had come from a high executive of the studio to which she belonged. It was the kind of invitation that should make a girl swoon, if it didn't also cause her veritably to reel around in circles for hours after receiving it.

Kay Williams - an almost unknown recruit to motion pictures, an exmodel who originally had gone to New York from a farm - was bidden to a dinner at which she was to be the partner of Capt. Gable, none other than the stellarly famous Clark Gable, of the Air Corps, and on the verge of departing for overseas service in Europe.

Technically speaking, it was a blind date with the bells bonging. Socially, in the film town, it was an event to compare with a "command performance."

Kay's life was in turmoil at the time. She was hopelessly involved in her turbulent marriage with the right Argentinian playboy, Martin de Alzaga Unzue, popularly known in New York and Hollywood café society as Macoco. It was a distressing on-again-off-again affair and Kay's life was wildly unsettled.

She never knew from day to day what she wanted to do, and so she was turning down everything of a social nature, because she didn't want to inflict the disturbed, depressed mood of her domestic perplexities upon anybody - least of all, she said to herself, a brilliant star and fine, purposeful officer such as Gable. Above all, she certainly didn't want their first meeting to have that sort of aura.

Though she felt she all but took her studio life in her hands when she did this, she actually summoned the courage to beg off from the party and because the executive seemed understanding of her problems, she was granted a deferment, as it were, and her apology for not attending was accepted at its full face value.

Kay was consoled, if not altogether happy. While she didn't know Gable, she admired him, and she was anxious, indeed, to make his acquaintance - but under more favorable auspices. She hoped such auspices would arise in the not-too-distant future.

It was thus negatively, and on the downbeat, that the romance between Clark and Kay Williams was preluded.

Fate played its part in a peculiar, reiterant way. Whereas Kay begged out of the first invitation to become the dinner partner of Clark, she accepted with enthusiasm a second of almost similar character about six months later. This was after she secured her interlocutory decree of divorce, and felt free and calm again after the tempestuous days of her marriage. Fate was thus emphatically insistent that she and Gable should meet and what's happened since then has had the gossipers of Hollywood doing nip-ups.

Yes, there is a romance between the two. Kay and Clark have been an item ever since last Nov, and conjecture runs so rampant as to forecast that they may someday arrive at the altar. Yet with Clark's uncertain status in the war picture - there have been rumors that he may be leaving active duty which in turn have been hotly denied - it may turn out to be one o those fleeting things which are so often typical of Hollywood.

There are two attributes, however, which distinguish the duet of clark and Kay and that make it seem utterly different, and prophetic of the future. First, it was a very persistent fate, indeed, that brought them together. Second, Kay is the first young woman either in or out of Hollywood who has had the concentrated attention of Clark for any appreciable time since the death more than two years ago of Carole Lombard.

Clark and she have been seen together almost constantly, are often glimpsed at the more secluded and quieter night spots like Dave Chasens, recently were observed at a dinner-dance at the Uplifters Club in the company of other Air Corps and Army officers, have been party guests as lady and escort on various occasions and seem to be warmly and happily devoted.

Wartime romances are perhaps the most unpredictable of all romances that have bespangled the spectacular life of moviedom. Witness, for instance, how Greer Garson and Richard Ney arrived almost at the verge of marriage once, then hesitated, and how later surprisingly they decided to proceed with the ceremony, using a license they had obtained weeks previously. Witness, too, how many feminine stars have vowed and declared they wouldn't marry until the world was at peace again, and then as drastically changed their minds and become the wife of the main in the service, whose absence had definitely to all intents and purposes made the heart grow fonder.

Clark had become a fascinating figure in the war before he met Kay Williams. He had taken part in missions of aircraft over Europe, dangerous missions that required the sort of courage Gable's friends always surmised he possessed and that he had now actually proven. He was one of the comparatively few prominent stars of Hollywood thus engaged in the battle areas. The part he had played in bombing expeditions had been officially publicized.

This had mostly occurred, oddly enough, during that interim between Kay's first chance to meet Gable and the second. This too, had a kind of a fateful significance, for it was assuredly something to capture the imagination of a young girl, and provide added reasons why she might idolized him readily and speedily when destiny chose, after a curious delay, to ring them together. That Clark lived up to all her expectations goes without saying. She found him to be just the swell guy she thought he'd be when they chatted that first evening.

There is a legend that Clark was interested in meeting Kay before their actual encounter; that he had seen her at MGM studio and that she had attracted him. Maybe he even had something to do with her being extended a second invitation, but all of that seems to be a kind of "military secret," as is everything pertaining to Gable, romantically or otherwise, during his sojourns in Hollywood. At least, he will not discuss either his present life or his activities for the very good reason that he wants to safeguard the integrity of his connection with the armed forces. Above all, he neither seeks nor wants anything that might savor of publicity.

Nevertheless, there is no quieting Hollywood itself, where eyes and ears of observers are alert and impressions are quickly relayed from what are often reliable and authentic sources of information. From such sources it is learned that Clark and Kay like each other first for the oldest and best reason in the world, the basis of every fine friendship - they enjoy being together. They are sympatico in a joyous, natural sort of way. They derive fun out of each other's company. There are lots of laughs when they meet.

Moreover, neither places any demands, directly or by innuendo, upon the other; consequently there is never any strain upon their pleasant, merry, warm-spirited companionship. Nothing is set and definite and as a result all the nice things that happen seem to spring into being on the wings of sudden inspiration and carry the air of excitement… the little dinners, the completely informal meetings, or even the more formal function they attend. These formal affairs necessarily have to have an impromptu character too, because Gable is always subject to call and nothing social can be to premeditated.

Clark disdains flubdub of any sort - so does Kay. He spent his youth in a rich, productive Pennsylvania farming community and she passed her girlhood on a farm - also in Pennsylvania. Both have fond memories of that period of their lives and enjoy discussing this, especially since Gable again dedicated himself so completely to the rural pleasure when he attained fame in California.

In a way perhaps this is the greatest tie between them - their vigorous vital love for the soil, which was their natural heritage. Only Gable, to whom this means so much, would perhaps have reawakened those impulses in the young girl, who had acquired a sophisticated veneer that concealed her native fealties and inclination.

Once Kay said about herself, "It's probably difficult to associate a model and someone who was practically a resident of El Morocoo and several other New York night Club with a gal from the farm, but that's what I am - a farm girl. I love the earth and I love a home. I can't say that I am happy in the artificial atmosphere in which I spent my time before coming to Hollywood. It was fun, of course, and I like fun and excitement. But out here I've been more contented, in spite of my unhappy marriage, because I have a home that I can call my own. It ahs taken me back to my freer and more normal younger years.

"I love this place where I live because its garden as much as anything else. I love the smell of the morning dew on the grass. I love the wind that sweeps in from the sea in the late afternoon. I feel like racing to meet it when I come home from the studio. I'd rather watch a beautiful golden sunset than the best act in the best night club in the world."

When Kay talks her eyes dance and sparkle and she never strains for fancy words to express herself. She tosses thing off with a gesture of the hand, a smile or a slangy phrase. She admits her "personal charm " by saying, "Every girl has to have her own bag of tricks." Above everything else she wouldn't attempt to compete with Gable's cherished memory of Carole, but would give a thoughtful, attentive and respectful ear if he ever made any reference to the woman he loved so much who was taken from him by sudden and violent death. Kay Williams, above all else, is a young woman of discretion, tact and good judgement.

Kay is smart in matters of dress, looks glamorous in evening clothes. With her light coloring, she is particularly striking in black and in pure white gowns, which, strangely enough, was also true of Carole Lombard. She has a stunning figure in such costumes and looks very chic, too, in her simple soft-tailored street suits. She seems just the type that a Gable would approve and appreciate, because there is no chi-chi about her and gable fundamentally has always been a man of simple tastes, and reacts favorably to anything and anybody devoid of affectation.

Kay's family, also, probably intrigues Gable. While he never had brothers or sisters, he is keen for family life. His Pennsylvania-Dutch forebears have given him the heritage of strength and solidity. Home and family life spell the integration of those elements. Consequently Kay, her kid sister, her mother and brother, who is at present in the service, constitutes a family group whom Clark enjoys.

The sister is a beautiful sixteen-year-old who wears bobby socks and so we hear - one of Gables sweater of pre-war days. It probably was one of his favorites when he went hunting and it is doubtless her definite favorite for every day.

Despite her extreme wariness of telling about Clark, Kay says this: "Clark is a wonderful person - a fine, gallant, clean, inspiring man who makes you feel glad an d happy and grateful that you're alive in the world that he lives in. Even despite this dreadful war and the sad and hopeless picture it paints, you somehow feel that the world isn't in such a forlorn state when you know a man like him."

Pressed on the romantic question, she counters, " Oh, shucks, I'm not in a position to talk about marriage or engagement to anyone. I haven't even got my final decree. I think the best policy right now, with all the uncertainties that exist, is to live as you best can, have fun while you can, and if you have a fine companionship or friendship make the most of it, and don't ask too many questions about the future. I've never been so happy in my life and I'm working and studying hard in hope that Leo the Lion will roar for me sometimes, too."

So far Leo has only rumbled lightly for Kay. She had small parts in "Du Barry was a Lady," "Girl Crazy," and "Two Girls and a Sailor," but her contract at Metro has been continued and the prediction are that she will win a real break in the near future. If her animated personality is captured she's more than likely to triumph. She has a brisk breezy quality that should entitle her to victories in light comedy. Furthermore, no girl in Hollywood has more distinguishing attributes of beauty. Especially is this true of her eyes, which are a strange light blue, with what might almost be called a black-penciled outline around the iris and a sort of golden iridescence that comes and goes.

What's more, she has had the wisdom not to allow anyone to capitalize on her friendship with Gable. Be it said the girls who are in Kay's set have been pretty sporting about the whole thing. They don't barge up to her when she's out with the Captain; in fact, they hold back in awe. However, in the dressing room on the lot it's another story. They bombard her with their pleas. "Come on, Kay. Just let me touch you for luck."

"I know," Kay laughs and winks mischievously," You want to touch the hand that Gable touched."

Naturally there have been other women who have been jealous of Kay Williams during this Gable interlude. But whatever manifestations there are along that line they won't deter the progress of the romance. In fact, they are very likely to give it additional impetus, because, if there is one attitude that Gable has toward women he admires, it is summed up in the word gallant.

Should there seem to be opposition to his marrying Kay Williams or anything that savored of intrigue against her, Clark might up and marry her with a suddenness that would leave everybody breathless. He can be very peremptory if he thinks that an injustice is being done to anyone to whom he is devoted.

At the same time, he's probably cool-headed enough to consider that the marital state is one that is best enjoyed when the men in the service really come home to stay.