Frankly, We gave a Damn!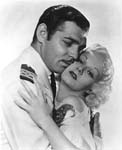 THIRTY-TWO YEARS AGO, HOLLYWOOD'S ROYAL COURT LOST ONE OF ITS GREATEST by Tim Purtell
He was the virile King of Hollywood, the star who embodied the dash of Rhett Butler and the glamour of the movies, at once a man's man and a lady- killer whose personal style became the beau ideal of his generation. And, even if he was past his prime, it came as a shock when he died of a heart attack on Nov. 16, 1960, at the age of 59.
Though he never considered himself an actor ("I can't emote worth a damn"), Gable parlayed his rugged looks and crooked grin into a 30-year reign over Hollywood. The King (a title he won in a 1938 newspaper poll) made his share of classics, including 1934's It Happened One Night (for which he won an Oscar), 1935's Mutiny on the Bounty, and 1939's Gone With the Wind. In November 1960, Gable had just finished shooting his 67th film, The Misfits, with Marilyn Monroe, and the production had taken its toll on him. Monroe's habitual lateness kept cast and crew waiting in the 110-degree Nevada heat. Even more damaging was his insistence on doing most of his own stunts, getting dragged by a truck for one scene and roping wild mustangs in another.
At the time, Gable was looking forward to fatherhood with his fifth wife, Kay Spreckels, 42. Sadly, he never saw his child. On Nov. 6, suffering from chest pains, Gable was rushed to Hollywood Presbyterian Hospital. He died 10 days later. He was buried in Forest Lawn Memorial Park in Glendale, Calif., next to his third wife, actress Carole Lombard, who had died in a 1942 plane crash.
Gable's widow lashed out at the Misfits production, particularly at Monroe: "He'd get so angry waiting that he'd just do anything to keep occupied. That's why he did those awful horse scenes." Monroe was so overcome with guilt that she reportedly considered suicide.
The Misfits opened in February 1961 to mixed reviews. A month later, Spreckels gave birth to a son, John Clark. In a gesture of forgiveness, Monroe was invited to the child's christening-where she held Gable's son for so long that she unnerved the other guests.
Now 31, John Clark Gable is the father of two children (one named Clark). Protected by his mother-who died in 1983-the sometime actor has shied away from the spotlight, preferring to pursue car racing and the occasional film (1989's Bad Jim). Young Gable remarked once that "it's strange having a father that you've never met." John came to know his father, and all the qualities that made him the screen's King through his movies. Just like the rest of us.