TOMORROW IS ANOTHER YAWN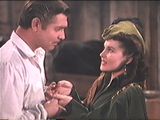 An eight-hour sequel to Gone With the Wind, the mini-series Scarlett is twice as long and not half as compelling
BY GINIA BELLAFANTE
Sequels, like blind dates, inspire a certain terror. We fear they will be losers; we suspect they will never measure up to past loves - and often intuition proves true. The world, after all, really did not need book and movie versions of Oliver's Story or the films The Godfather III and Police Academy II through VII. Nor did the world hold its breath for the onset, in 1991, of Scarlett, romance writer Alexandra Ripley's 823-page follow-up to Gone With the Wind. Columnist Molly Ivins spoke for most reviewers when she wrote, "I have nothing against trashy books - I like good trash - but this is dreadful."
Despite all the harsh assessments, Scarlett was a commercial success; it has sold 20 million copies worldwide and was on the New York Times best-seller list for 34 weeks. Now CBS plans to capitalize on - or, rather, re-inflict - Scarlett fever with an eight-hour, four-part mini-series based on Ripley's sequel.
Starring Joanne Whalley-Kilmer in the title role, Timothy Dalton as Rhett Butler and 2,000 extras, Scarlett is a prodigal $45 million production - the most expensive mini-series ever made. Rights to the book cost a record $9 million; history professors were marshaled to advise on the proper period china and silverware. And CBS, hoping that the show will help carry it to first place in the November Nielsen sweeps, is promoting the epic accordingly. In addition to launching a multimillion-dollar advertising campaign, aimed largely at young women, the network will hold online computer discussions and offer tie-in giveaways, and some CBS affiliates will even give Scarlett look-alike parties.
As the book did, the TV movie whisks us along on Scarlett O'Hara's unsuspenseful journey to self-actualization. As it happens, this requires stops in no fewer than 53 locations. Scarlett moves about from Atlanta to Charleston, from Savannah to Ireland, chasing Rhett, making a fortune in real estate, succoring rebel peasants and raising a child. Predictably a postfeminist heroine, she is self-sufficient and sexually assertive yet at the same time sweetly vulnerable. Ultimately, she gets her man, all the while remaining kind, politically concerned and mesmerizingly thin.
"My Scarlett is very different from the character that Vivien Leigh played," explains executive producer Robert Halmi Sr., who originated the project and put up the money for it. "This is a mature lady. At the end of Gone With the Wind, she winds up with no friends, just money. What kind of ending is that? I had to create somebody who starts there. Vivien Leigh started gorgeous and young and perky and ended up completely broken. I had to find somebody who could start out broken and end up being gorgeous and fulfilled and in love."
The role of Scarlett might easily have been cast with a quick phone call to Susan Lucci, but instead Halmi conducted a worldwide search, which took six months and cost $1 million. He claims he auditioned 1,000 women before happening upon British actress Whalley-Kilmer one evening while watching television. "She is that determined little girl who knows exactly what she wants," says Halmi. "She can also manipulate people: she's bitchy, she's smart, she's lovable."
Best known for her performance in the 1989 film Scandal, Whalley-Kilmer brings an unnecessary sophistication to a role that requires her to do little more than kiss in midsentence and appear alternately tortured and feisty. In fact, many cast members - including Sir John Gielgud (Scarlett's grandfather) and Julie Harris (Rhett's mother) - seem wasted on a story without much of a plot and a script devoid of sharp dialogue. Dalton is a sufficiently handsome Rhett, although he lacks the intelligence and wit of Gone With the Wind's Clark Gable. What's more, Dalton is not given resonant lines like the movie's "All we've got is cotton and slaves and arrogance." Instead he is obliged to say things like "You're trying to pass yourself off as a lady - you couldn't fool a blind deaf-mute."
Scarlett the telefilm is slightly more salacious than Scarlett the tome but ultimately no more compelling or fun. Margaret Mitchell's estate stipulated that a sequel to her 1936 novel not contain any explicit sex. The TV producers, spared this constraint, show Scarlett and Rhett disrobing each other frantically in a fisherman's hut. Moreover, the character of Lord Fenton (Sean Bean), with whom Scarlett has an affair, is given far more prominence than he enjoyed in the book. He is a secret rapist-murderer who beats Scarlett when she dismisses him. "I am not accustomed to sudden onsets of chastity!" he yells while groping and slapping her.
The tawdrier scenes are so strangely earnest that they fail to imbue this interminably long spectacle with the campiness it desperately needs. No one expected Scarlett to be comparable with David O. Selznick's Gone With the Wind, the recipient of nine Academy Awards.But it might at least have tried to measure up to Melrose Place.