A Real Steel Magnolia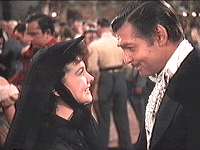 Kenneth Turan, Times Staff Writer
Wednesday, June 24, 1998
Forget "Titanic." (As if.) With an adjusted domestic gross estimated by Variety at $1.2 billion, roughly twice what the James Cameron film has managed within this country, "Gone With the Wind" is without serious rivals as America's most popular film. And it's back.
Starting Friday, "Gone With the Wind" will be seen in three dozen Southern California theaters, 200-plus nationwide. The film has been periodically re-released since its 1939 debut, the last time in 1989, but this version is special. For one thing, it's being shown in its original negative size, not the weird wide-screen bastardizations of recent years that eliminated one-third of the frame. Also, while a vivid modern approximation of the three-strip process the film was shot in is not exactly the "original Technicolor glory" the ads promise, it does give a much better sense of the hues 1939 audiences were exposed to.
What makes "Gone With the Wind" so durable? What about it left such a memorable impact that, as was related at a recent screening, a young man's mother felt as recently as the 1950s that it was worth driving five hours so her son could experience it? Part of the answer is size, part of it is "Gone With the Wind's" singular place in American cultural history, but a major part is that, as portrayed by two perfectly cast performers, this is simply one of the damnedest love stories ever put on film.
It's a measure, in fact, of how strong, how perplexing, how maddeningly unrequited a love story "Gone With the Wind" is that the film retains its fascination despite having to overcome the considerable allowances that modern audiences must make for its racism, its sexism and any other ism you care to name.
"Gone With the Wind" was a film enormous in every way, from its three-hour and 42-minute length (not counting intermission) to the size of its largest-ever-built Atlanta set, with 53 full-sized buildings and two miles of streets. Its 50-plus speaking parts (including TV's future "Superman," George Reeves, as one of the Tarleton boys) were also a record, and it used so many extras that the Southern-born studio executive Y. Frank Freeman kidded producer David O. Selznick on Oscar night (when the film took home eight of 13 nominations, both records), "Believe me, if the Confederate Army had that many, we would have licked you damn Yankees."
Preeminently a producer's picture, "Gone With the Wind" was a triumph for the Hollywood factory system in general and producer Selznick, who obsessed over the tiniest details, in particular. At least 11 writers worked on the script (Sidney Howard was awarded the Oscar) and four directors (Victor Fleming, George Cukor, Sam Wood and William Cameron Menzies, who received a special Oscar for using color for "the enhancement of the overall mood") shot footage used in the film. Fleming, the director of record, was so irked at Selznick's relentless self-publicizing that he boycotted the Oscar ceremony, claiming to be ill.
It's important to remember that while books and movies becoming nationwide phenomena are now an everyday thing, in the context of the 1930s this kind of mania was unprecedented. It began with the furor over Margaret Mitchell's Pulitzer Prize-winning Civil War romance when it was published in 1936: The book sold more than 300,000 copies in a matter of months, an unbelievable 1.4 million in its first year and, according to Ronald Haver's "David O. Selznick's Hollywood," "two printing plants were working on the book in three eight-hour shifts a day, and entire freight cars were filled with copies to be delivered all over the country."
Selznick bought the book without reading it (some things in Hollywood never change) largely on the pleadings of his trusted New York representative Kay Brown and against the advice of her West Coast counterpart (and future director) Val Lewton, who called it "ponderous trash." And the public interest in who would play dashing Rhett Butler and glistening Scarlett O'Hara was so intense that when radio gossip columnist Jimmie Fidler asked listeners who should play Scarlett, some 70,000 people took the time to write letters of advice.
Not so anxious to see the film made were representatives of what was called "the Negro press." The NAACP led a campaign to boycott the film because of its potential for offensive stereotypes, which were not surprising, given that novelist Mitchell was a fan of Thomas Dixon, whose "The Clansman" was the basis of "The Birth of a Nation."
It would be nice to say that all these worries turned out to be unfounded, but they didn't. Though Hattie McDaniel's Mammy (the first performance by an African American to win an Oscar) is a person of strength and integrity, in general the film's rosy view of slavery and its depiction of individual blacks like Prissy (a character Mitchell said she wished she could play herself) as feeble and childlike, though very much of their time, are painful and embarrassing to watch today.
Also problematic to modern viewers is something 1939's audiences liked, the elephantine nature of the production. While set pieces like the burning of Atlanta (actually the burning of the Metro back lot, including the giant gate from "King Kong") and the unprecedented 35-foot crane shot showing that city's Confederate wounded are still impressive, much of "Gone With the Wind" feels as posed as a religious tableau.
Few films have been as self-conscious of their epic qualities, or have such a noticeable lack of spontaneity that watching the historical re-creations feels like a stroll through colonial Williamsburg. It would take powerful personalities to break though this stiffness, and powerful personalities are what Selznick provided.
Though Mitchell was fond of insisting her choices to play "coarse and conceited" Rhett Butler, a gunrunner and all-around rogue with "the most terrible reputation," were Groucho Marx or Donald Duck, everyone else in America knew it had to be Clark Gable, the classic cocky masculine presence of his generation.
Everyone, that is, except Gable, who was not the most confident of actors and felt the pressure of the role intensely (and whose insecurities were a factor in Fleming's replacing Cukor as director). He used his $50,000 signing bonus to pay for a divorce so he could marry actress Carole Lombard, and ended up bringing to life improbable lines like "You should be kissed often and by someone who knows how" as well as the classic "Frankly, my dear, I don't give a damn," which had to be bludgeoned past industry censors.
As for Katie Scarlett O'Hara (as her father liked to address her), Selznick considered almost everyone in Hollywood, running the gamut from Tallulah Bankhead and Lana Turner to Lucille Ball. Legend has it that he was introduced to the 26-year-old British actress (who was represented by his brother Myron Selznick and was involved in a hush-hush affair with Laurence Olivier) on the night of the staging of the burning of Atlanta. (Second-unit filming had begun before the role was cast.) "Here is your Scarlett," Myron supposedly said, and the words went straight from his lips to God's ear.
Vivien Leigh's performance (in which modern audiences can hear echoes of the accent she used decades later in "A Streetcar Named Desire") is the heart of the picture and its continual appeal. Willful before she is anything else except beautiful, Scarlett complains about a young girl's having to be silly to catch a husband, but she proves to be the most adroit flirt, unthinking and headstrong, willing even to marry on a whim.
But though we're half-horrified by Scarlett's shenanigans, we can't help being awed by her strength and determination, can't help agreeing with her self-sacrificing rival, Melanie (a majestic Olivia De Havilland), when she says admiringly that "Scarlett has so much life."
The horrors of the war make Scarlett truly indomitable, a study in pure selfish will who couldn't be more serious when she says, "If I have to lie, cheat, steal or kill, as God is my witness, I'll never be hungry again."
The man who understands her completely ("You're a heartless creature, but that's part of your charm") but loves her for being herself is, of course, Rhett Butler. Yes, he says things like "You'll never be anything but misery to any man" and "Heaven help the man who really loves you," but he knows she is the only woman for him.
What Rhett sees in Scarlett is that they are both moderns: ambitious, unsentimental, realistic progenitors of 20th century people who have no time for the fake politeness of this fatally genteel world. They are the future, they are us, and they have all our problems, especially when it comes to romance.
For one of the shrewdest elements of Mitchell's plot is that Rhett and Scarlet are frequently in love with each other, but never at the same time. It's still astonishing to see how consistently at cross-purposes these two are, pigheadedly passing each other like the proverbial ships in the night, not once but repeatedly, as Scarlett, infatuated with the completely unsuitable Ashley Wilkes (Leslie Howard), insists on "throwing away happiness with both hands." Only Scarlett's abiding love for her Tara plantation keeps her sane when the inevitable finally happens.
Despite winning all those Oscars, "Gone With the Wind" didn't capture some that seem unquestionably deserving today. Max Steiner's original score, with its monumental Tara theme, lost to "The Wizard of Oz." And, in an early example of the academy's infatuation with all things British, Gable lost the best actor Oscar to Robert Donat in "Goodbye, Mr. Chips."
According to "Inside Oscar" by Mason Wiley and Damien Bona, Gable was so distraught over losing that even new bride Lombard had trouble cheering him up. "I just know we'll bring one home next year," she told him, with Gable responding, "No, we won't. This was it. This was my last chance. I'm never gonna go to one of these things again."
"Not you, you self-centered bastard," Lombard replied. "I mean me."