An Era Remembered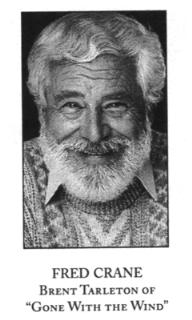 The Times Leader 12-22-1999
Clark Gable and the era in which he lived are gone with the wind although the Clark Gable Foundation in Cadiz continues annually to stir up a fresh breeze to honor the man, who earned the title of the King of Hollywood.
A Celebration held in conjunction with the 99th anniversary of Gable's birth is planned Jan 28-29 in Harrison County.
The famed actor was born Feb 1. 1901, in Cadiz, and his growing-up years were spent in Hopedale.
Y2K was unheard of when Gable was alive, but this year's activities are being known as the foundation's Y2K Gable birthday Celebration.
Gable's most famous role was as Rhett Butler in GWTW, and reminders of that film, which was produced in 1939, will be evident at this year's fete.
Fred Crane, who portrayed Brent Tarleton and spoke the first words in the award-winning Civil War film, will be a guest at this year's celebration.
The theme for this year's party will be Putting on the Ritz with Fred Crane.
A slide presentation, the making of GWTW will be shown by Crane the morning of Jan. 29.
Crane, who was the foundation's first connection with Hollywood and GWTW has made several appearance at foundation galas over the years with others linked to the famous film.
Scenes from GWTW may be viewed in a signed serigraph at the Clark Gable Birthplace Gift Shop and Museum in Cadiz. It was designed by Charles Fazzino of Rochelle. NY. He and the Dick Kleinman Fine Art Gallery of Cleveland donated the week valued at $1,450.
If you like to read more on the Y2K celebration, visit http://www.gable.org and http://www.scarlett.org. Kathleen has a detail account on what happened in the gala/dance.
Many thanks to Kathleen who mailed me this article!