The Party of the Century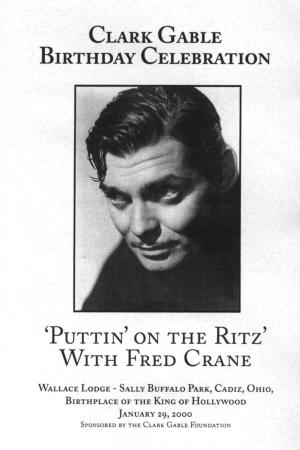 Clark Gable Foundation Celebrates 'King's' 99th Year
Wheeling News-Register 1/16/2000
By Jennifer Compston
It will be the party of a century.... almost.
The Clark Gable Foundation will celebrate the 99th birthday of Clark Gable. "The King of Hollywood," this month with a two-day affair in Cadiz, Gable's birthplace.
Gable was born Feb 1, 1901, in the upstairs apartment of a house on Charleston Street in Cadiz. Gable resided in that house with his parents, Bill and Adeline Gable, for six or seven months after his birth. Gable's parents had recently moved to Cadiz from Meadville, Pa., and it was not long before they returned to their hometown.
Gable's mother was very ill, so ill that the local doctor did not expect her to survive his birth. She did survive, however, and Gable's father soon discovered that caring for his sick wife and infant son was more than he could handle while holding down a job to support his family. Therefore, Adeline and her son returned to Meadville, Pa., where she received care from her own mother. Adeline passed away Nov. 14, 1901, when Gable was just 9 months old.
Work in the Cadiz area was plentiful in the early 1900s, so it was not long before Bill Gable and his young son returned. Upon his return to the region, Bill met and married Jennie Dunlap in 1903 and establish a new home in Hopedale. Clark Gable was raised in Hopedale, and he received all 10 years of his formal education in Hopedale schools.
At the tender age of 16, Gable struck out on his own and moved to Akron, Ohio, where he took a job with Miller Railroad Company, later known as Firestone. It was in Akron that he got his first taste of acting as a "call boy" at the Music Hall.
According to members of the Clark Gable Foundation, Gable left Akron when his father "took him in hand' and the two moved to Oklahoma to work on the oilrigs there. Gable reportedly hated this work and stayed in Oklahoma for only two years. He left after arguing bitterly with his father, and the two did not speak for the next 10 years.
Gable then moved to Oregon where he met his first wife, drama coach Josephine Dillion. Gable played the stocks in Oregon and worked as a necktie sales man and as a cook to help support his wife, who was much older than he.
After working as a stage actor for several years, Gable finally made it to Hollywood. He made his film debut as an extra in the silent film "Forbidden Paradise" in 1924. He worked as an extra in four other films during 1920s. Gable then played the role of a cowboy in "The Painted Desert" in 1931. He had made 67 films by 1960, when he died of a heart attack after completion of his last film, "The Misfits."
Ironically, Gable once again portrayed a cowboy in this movie. In addition to being Gable's last film, "The Misfits" was also the last film made by each of his two co-star, Marilyn Monroe and Montgomery Clift.
Gable married five times, but did not live to see the birth of his only child, John Clark Gable, who was born March 20, 1961, four months after his father's death. John Clark Gable has visited Cadiz to celebrate his father's birthday with members of the foundation. He had two children of his own prior to his 1991 divorce.
gable's most famous role was that of Rhett Butler in the blockbuster hit "Gone With The Wind." Gable starred opposite Vivien Leigh who portrayed Scarlett O'Hara, a spoiled but irresistible southern belle. The film was based on a 1936 novel by Margaret Mitchell. The book was a huge sensation, selling more than a million copies in its first year of publication.
The book and the movie told Scarlett's story. She was a headstrong southern girl surrounded by loved ones during and after the civil war. The book was fictional, but it was based on factual stories heard by the author as a little girl growing up in early 20th-century Atlanta, Ga. Mitchell believed that this was the basis of the story's appeal. She gave her readers realistic characters in realistic situations. This led readers to care about what happened in the story.
Scarlett was a triumphant survivor who would not allow death or war or poverty to bring her down. Rhett Butler was her hero.
Likewise, Gable became the hero of generations of American who watched "Gone With The Wind."
In order to pay homage to their hometown people, a group of Cadiz area residents formed the Clark Gable Foundation in 1985. The foundation immediately began working to raise funds to reconstruct the home that Gable was born in. The house had been torn down in 1960 to make way for a flower garden for a neighboring home.
According to Nan Mattern, executive director of the foundation, funding for the project began to accumulate after a local woman donated some money upon her death. This month was wisely invested, and after 10 years the reconstruction project began in earnest.
"Our architect did a lot of research to make sure that the house would be as close to the original design as possible, while still meeting modern building codes," Mattern said.
She explained that the plans for construction of the house had been meticulously detailed. She also said special tools had to be ordered to make the woodwork and floors appear authentic.
In addition, Mattern said she received decorative advice from Ohio Historical Society.
The house was rebuilt in 1997. The gift shop on the lower level opened March 1, 1999. This was followed by the opening of the museum on April 6, 1999, as it hosted its first bus tour of about 50 people. The foundation hopes to add an elevator to the facility in the near future.
The foundation currently has 19 committee members; it also mails its newsletter to approximately 300 Gable fans throughout Ohio and the U.S. The cost to receive the newsletter is $12 per year in Ohio and $18 per year out of state. The mailing list is constantly growing, and committee members are always surprised at the large number of young people interested in Gable and "Gone with the wind."
For information on Clark Gable, the Clark Gable Foundation, contact the Clark Gable Birthplace at 138 Charleston St., Cadiz, OH 43907 or call (740)-942-4989 or (740) 942-GWTW