The Last Belle Of 'GWTW'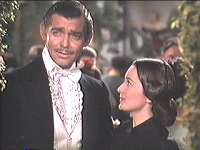 Olivia de Havilland Fetes The Classic Film's 60th By Charles Trueheart
Washington Post, Tuesday, December 28, 1999
PARIS—The prospect of sitting through "Gone With the Wind" again might have wearied anyone else, but Olivia de Havilland was enthusiastic. To get an idea, picture Melanie Wilkes declaring, convincingly: "I love this film so much. It still means to me just what it did that night. I love it in the same way."
On the 60th anniversary of "that night"--the premiere of "Gone With the Wind" in Atlanta on Dec. 15, 1939--de Havilland was pumping hands and receiving kisses in the back of a screening room, greeting guests with mellifluous purrs of familiarity.
De Havilland was among her American friends in Paris, where she has lived for 45 years. They leased a limousine for her, got a print of the film airlifted across the Atlantic, and put on a spread of Southern cuisine in a gallery at UNESCO headquarters upstairs from the screening room.
"We are not alone tonight," she told them at the end of the intermission, when she took the microphone for a few moments. "We have company."
Sturdy and commanding, her voice deep and honeyed, she named her fabled co-stars Clark Gable and Vivien Leigh, her producer, David O. Selznick, and "the whole cast that has gone before us to the great plantation in the sky. They have assembled on the great veranda for a mint julep, and they are raising their glasses to you."
She remembered 1939. The 23-year-old actress was seeing the movie for the first time with a real audience and on its most fateful night. The titanic investment in the movie and the huge expectations of its actors were now in the hands of Southerners most likely to be displeased. Each of the main actors had a career riding on its success.
What she didn't need to say next was that the South and the whole Union that night embraced the film, just as it had Margaret Mitchell's novel. And that no one in the movie was better loved than de Havilland's Melanie, the sweet-tempered, saintly foil to Leigh's hot-tempered, scheming Scarlett O'Hara, both American archetypes now.
Leigh is gone and the whole host of Tara with her. But de Havilland survives.
"It's ironic, isn't it?" she says, sitting forward on her plush banquette by a roaring little fire the day after the celebration. "Melanie dies . . . and I didn't die. I haven't, and I don't intend to." An elegant belly laugh wells up inside her.
Fleeing to France
Although it has been more than a decade since her last screen appearance--as Wallis Simpson's aunt in "The Woman He Loved" on television--de Havilland still is the picture of white-haired vitality, her face and mind seemingly as alive as ever. She sits up straight and plays with the hem of her skirt, pulled up to her knees, while she talks. She was perfectly happy to pose for a photographer until, a few days after the celebration, she took a spill and bumped her head. With "two big black bruises around my eyes," she begs to be excused.
De Havilland hasn't given up performing entirely. She still reads the Bible lesson at the American Cathedral in Paris on Christmas Eve and will do so on the first day of the new millennium. Edward Tipton, the cathedral's music director, noted the other night that de Havilland is a thorough professional. "She arrives early, finds her seat, practices the walk from her seat to her lectern, tests the microphone, its volume and placement, and practices the return to her seat," Tipton said.
Paris has been home to de Havilland since the mid-1950s, when a combination of factors drove her from Hollywood and one in particular lured her here: Pierre Galante, a Paris Match editor who first materialized at her side during a visit to the Cannes Film Festival and began following her around. "He never said anything, he never smiled, and he didn't even kiss my hand, despite his name," she exclaims. They were married in 1955.
In 1956 she bought and refurbished this cozy town house in the 16th Arrondissement of Paris. It looks out onto a tiny Georgetown-style garden. Here the working actress raised her two children--her son, Benjamin, from her first marriage, to Marcus Goodrich, and her daughter, Gisele Galante.
She took to French life easily, she says, out of a certain disillusionment with the United States and a sense in the '50s that the movie industry, stunned by the advent of television, was in a steep decline.
"The gloom! You've no idea," she says. In the early 1950s she remembers being struck by two things: a hillside of low-income housing along the Coronado coast south of Los Angeles, every roof with a TV antenna. And the decision of Darryl Zanuck to resign as head of 20th Century-Fox and move to Europe to make films. "A man who loved power as much as he did to decide as he did--it was an extraordinary thing. A civilization was dying," de Havilland declares.
She'd also been hassled by U.S. authorities on charges that she was a Communist, charges she was happy to deny with a one-liner. Dressed in an out-of-season red wool suit to comfort a raging cold, she told a judge: "I want to assure your honor that the color of my suit in no way reflects my political opinions."
Born in Tokyo to British parents and raised in Los Angeles, de Havilland had become a U.S. citizen on Nov. 28, 1941, nine days before Pearl Harbor. One facet of her remarkable agility is her steel trap for all significant dates.
France was a vibrant, fertile place to be. "It was eight years after the conclusion of the war," de Havilland recalls. "The French were still feeling humiliated by the defeat and the Occupation. This great civilization was just stirring again, beginning to rise again--like the South." De Havilland is always on theme.
"There was hope here, and I know our world was decaying, and whatever replaced it wouldn't be as good. And that was true."
The French smote her with their erudition. "Every French person knew the difference between a Louis XV chair leg and a Louis XVI. They all knew the difference. Just to be able to meet them on any level was an achievement."
She isn't often tempted to revise her prediction of decline in Hollywood. She says "Elizabeth" is one of the best films she's seen lately--except that the French were made to look like "buffoons--an unforgivable error not only of history but of judgment and taste."
In general, in current film, "the Brits have come to the rescue, haven't they?" She worships James Ivory: "He's held fast to the flag, and kept it flying."
The rest? "A desert. Dreadful, dreadful. The f-word and the s-word spoken so monotonously in American films--there's no excuse for it."
De Havilland is wistful about better expressions. "People used to say 'Oh, that's balderdash!' or 'Gadzooks.' Splendid-sounding things, and a lot of variety, too. In those days, the forbidden word was 'bloody'--which comes from 'by our lady,' I'm told."
De Havilland and Galante were divorced in 1979, but only barely. They remained friends--and neighbors, for he took a flat across the street on Rue Benouville, a swank corner of the city. A few doors down from de Havilland dwells former president Valery Giscard d'Estaing.
Melanie Wilkes may seem a caricature to many, but her spirit has shadowed de Havilland. She's had suffering in her life commensurate with Melanie's: a bitter professional rivalry with her sister, Joan Fontaine, that estranged them for decades; the death of her son, a mathematician, at 42 after an illness; and the sad decline of Galante.
On Feb. 19, 1998, Galante was diagnosed with lung cancer. ("And he didn't smoke!") The next day de Havilland invited him to live out his days in her bedroom, their old bedroom, where she looked after him to the end. "We could sit in the garden while it lasted," she recalls. He died on Sept. 20, 1998.
Immortality on Film
Melanie Wilkes was never the best Olivia de Havilland had to offer. "I did do more difficult and complex work," she admits with a frown. Twice she won Best Actress Oscars for later, more mature and risky roles in "To Each His Own" and "The Heiress." But none for "Gone With the Wind," whose Best Supporting Actress Oscar went instead to Hattie McDaniel, the equally unforgettable incarnation of Mammy. It is usually reported that de Havilland has never gotten over the fact.
To hear de Havilland recount that night in Atlanta 60 years ago, "Clark had everything to lose. The whole world had read the book. Everyone had an idea of Rhett Butler. He didn't know if he could fulfill public perception. And, of course, he did," she concludes.
"Vivien was unknown in the United States. Would she go back to England or become an extraordinary actress? Well, she did succeed."
As for her?
"What was most important to me was this: When I was very young, 18 when I began my career in 'Midsummer Night's Dream,' the maxim in the industry was that a film had only a year to live, if that long. Some were even burned. How sad that it is the only art form that doesn't endure. . . .
"But I sensed that 'Gone With the Wind' would live much longer than any other film made to date. Yet I never dared imagine that it would last for 60 years and still be going on strong."
She glances down into her lap, then resumes.
"Last night, that wish and hope and dream of mine was confirmed. It lives."