CAMMIE KING CONLON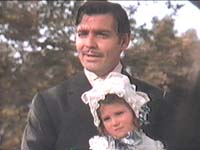 Source: People, 1/22/96, Vol. 45 Issue 3, p88, 1p, 1c, 1bw
AFTER ONE FILM, CAMMIE KING CONLON WAS GONE WITH THE WIND
EVEN 57 YEARS LATER, CAMMIE King Conlon's movie debut is an indelible part of screen history.
Cast as Bonnie Blue Butler, Clark Gable and Vivien Leigh's daughter in Gone with the Wind, Conlon had moviegoers grabbing for hankies with her memorable death scene in the epic 1939 film.
Memorable, that is, except to Conlon, who was just 4 at the time and recalls little about the experience except for Gable's upper lip.
"I told my mother's friends that his mustache scratched," she says, "and they would swoon."
Now 61 and a marketing coordinator for the chamber of commerce in Fort Bragg, Calif., Conlon never acted professionally again. She lost a second role when she came down with chicken pox; then she began outgrowing kid parts (by age 12, she was 5' 8").
In time, she did her best to leave GWTW behind. "I didn't hold on to it," she says. "My whole childhood, I was so embarrassed by it. I just wanted to be like everybody else." Which is how she had begun--as Eleanore Cammack King, the second daughter of Winfred Cammack (hence her nickname Cammie), a chemical engineer, and his wife, Eleanore, who later became a Los Angeles Examiner columnist. Hollywood folklore holds that Conlon replaced her older sister Diane in GWTW when Diane grew too tall for the role.
In fact, their mother arranged for young Eleanore's audition through a friend at MGM, then "made up this fairy tale," says Conlon, to prevent sibling jealousy. As the years passed, Conlon went to college (Smith, then USC), married and adopted two children (Matt, now 33 and an actor in Chicago with the stage name Cullen Reilley, and Katie, 31, a Colorado mother of three) and was widowed. She remarried and divorced. Having survived a 1987 bout with lung cancer, Conlon lives alone in a two-bedroom, Fort Bragg condo, where she still receives several fan letters a week. She rarely mentions her days in the movies.
After all, says Conlon good-naturedly, "it's terrible to be known only for something you don't remember doing."
"I peaked at 4," jokes Conlon.