Gable Oscar Sells for $600,000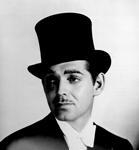 Clark Gable's Only Oscar Sells for More Than $600,000;
Auctions: Academy Award for 'It Happened One Night' breaks record set when Vivien Leigh's 'Gone With the Wind' statuette was on the block.
Home Edition The Los Angeles Times
Call it an expensive case of being star-struck.
On Sunday, during still another auction of Hollywood memorabilia, an unidentified buyer shelled out more than $850,000 for Clark Gable's only Academy Award and a copy of the script that "The King of Hollywood" consulted in the making of "Gone With the Wind."
Gable's 12-inch-tall gold-plated Oscar for his leading role as a wisecracking newspaper reporter in 1934's best picture, "It Happened One Night," went for $607,500. His leather-bound copy of the script for the 1939 best picture, "Gone With the Wind," summoned $244,500.
Gable "is still the leading man for many people," said Vredy Lytsman, a spokeswoman for Christie's auction house office in Los Angeles, which oversaw the bidding. Apparently true; even Gable's old passport fetched $10,000. All of the items were sold by Gable's estate as part of a daylong auction of Hollywood artifacts at the Pacific Design Center that raised more than $1.8 million.
The winning bid for Gable's Oscar was two to three times the pre-sale estimates, Lytsman said, and it far surpassed the record auction price paid for another Academy Award put on the block. In 1993, a bidder paid $510,000 for the gold-plated statuette given to Vivien Leigh.
Both she and Gable were nominated for their performances in leading roles in "Gone With the Wind"; she won, he didn't. The Academy of Motion Picture Arts and Sciences had sued to keep Gable's Oscar off the auction block, but a judge Friday ruled that the academy did not give proper notice of the hearing to Christie's and did not notify Gable's son, John, also named as a defendant.
The academy claims that, two years before his death in 1960, Gable signed a standard contract giving it first right to buy the statuette for $10 if it was ever sold. Christie's claims the signature on the agreement was a fake. Ursula Hermacinski, the Christie's vice president who took the winning bids for both the Oscar and the script over the telephone, declined to identify the victorious bidder. "I think the buyer is thrilled--pretty, pretty thrilled," she said. The $607,500 included a "hammer price" of $550,000 plus the auction house commission.