It's a Funny Colbert and Gable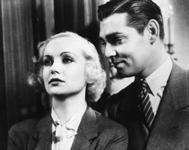 HOME VIDEO; Digital Media; Clearly, It's a Funny Colbert and Gable;
Crisp DVD of 'One Night' restores look and sound of the Frank Capra classic.
[Home Edition] The Los Angeles Times
A few months ago, Columbia TriStar Home Video released a sumptuous DVD of the restored 1937 Frank Capra classic "Lost Horizon." Now Columbia has given the star treatment to an equally enjoyable Capra film, the Oscar-winning 1934 comedy "It Happened One Night" ($25).
Beautifully restored and remastered, this romantic farce starring Claudette Colbert as a runaway heiress traveling to New York on a bus and Clark Gable as the newspaper reporter who wants her story has never looked or sounded better. The comedy, which won Oscars not only for best film but for best director, actor, actress and screenplay (Robert Riskin), probably hasn't looked this crisp and clear since it was originally released nearly 70 years ago.
Some scenes, including the one in which Gable carries Colbert across the river, are so beautiful they look as if they were shot on velvet. Thankfully, the comedy is just as funny and romantic as it was back in '34. Gable's famous sequence without an undershirt, as well as the hitchhiking scene, are still wonderful bits of comedy.
The collector's edition includes vintage advertising materials from the movie, a trailer and the original Lux Radio Theatre broadcast from 1939 featuring Gable and Colbert repeating their roles, as well as the movie's original co-stars Walter Connelly and Roscoe Karns.
Frank Capra Jr. provides the commentary and is also featured in a short documentary about the film. Capra discusses how his father read a short story in a magazine called "Night Bus" and asked Columbia Studios to buy it for him. The director and Riskin set about working on the script. At first, Columbia wasn't impressed, so Capra enlisted writer Marc Connelly to help out. Connelly suggested some changes in Colbert's heiress that would make her more likable and turned Gable's character into a newspaper reporter.
Colbert didn't want to do the movie because she was ready to start a month's vacation. So Columbia head Harry Cohn told Capra he had a month to make the film in order to accommodate Colbert. Cohn also doubled Colbert's usual salary of $25,000 to $50,000. The film itself cost just $325,000. Though Colbert complained during the entire shoot and thought the film was going to be a disaster, Capra Jr. says Gable had a wonderful time doing a comedy. Gable ended up doing the picture because Louis B. Mayer loaned him out to Columbia after he balked at doing a picture at MGM.