Hammering down Clark Gable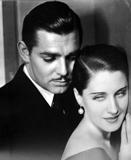 Source: Esquire, August 1994 v122 n2 p128(1).
Title: Hammering down Clark Gable. (actor's personal effects)
Author: Julie Baumgold
A collection of books. This is the first item in the Clark Gable estate," said the woman in the peach suit at Christie's East. What would you know about this man, Gable, dead and on the block?
That he liked monograms and brown leather. That he was a sportsman and a man who traveled a lot. That he used his things hard and he lived with a certain strength. That he was fond of his past even if his son was not.
He had good taste; he liked simple things, except for the fur golf-club covers probably given to him by some woman. He hunted and fished and played golf, and he liked cases to hold his equipment.
You can almost smell the cigar smoke pluming. If he had a middle initial, he did not like it or bother with it. There were his personal checks. Big, deep-yellow, manly checks, typed out. I think I remember reading once that he was a bit tight with his money There's $21.60 to the Beverly Hills Club, $8.36 to K. C. Moore, $1.20 to Frigid Food Bank, $9.14 to Live Oak Nursery, $2.58 to Pickwick Bookshop, $72 to the Automobile Club of Southern California, all rocketing into posterity instead of the trash.
He paid Emma Dunk $45 for who knows what. He belonged to the Book-of-the-Month Club and paid it $1. He owned Man and Superman, by George Bernard Shaw, and It Can't Happen Here, by Sinclair Lewis. He had books by Somerset Maugham, Joseph Conrad, Elizabeth Bowen, as well as Christmas with Ed Sullivan.
These books had the bookplate KATHLEEN AND CLARK GABLE with a crest. There was another crest on the books plated for just plain CLARK GABLE - a shield with a boar's head atop a knight's helmet. And all this takes on another dimension because it says Clark Gable was here, Gable shot with me, Gable cooked on me, Gable prayed with me and tied me around his waist and, more to the point, untied me.
In a glass case with the books were his tape player and record-album case, which had gotten wet on the bottom at some point in its history, a small pieta statue and a planter in the shape of a rhinoceros. The cast from 7he Misfits had signed a photograph. "Fondly from a Friend, Monty," signed Montgomery Clift. "From One Method Actor to Another," wrote Eli Wallach. I think it was Monroe who signed to Gable "with so much admiration."
There were brown leather-bound scripts for Lone Star, Adventure, Key to the City, Any Number Can Play, and a photograph of Gable looking swell and wind-ruffled with John Barrymore at target practice in the Hollywood Hills. UP on a carpeted platform were all his camping things - four hurricane lamps, his first-aid kit, pots and pans and spoons.
Off to the side was a giant silver chafing dish that says Big Hollywood Party - lanterns in the trees, slim women in satin dresses cut on the bias, drifting past the pool, trying not to stare at themselves and the little tough moguls.
Parties with Loretta, Ava, Rita, Claudette, Kate. But, for now, it's camping out. Picnic hampers, Carole Lombard on a blanket when they snuck off together. A metal-lined cooler. He liked to drink. Mess kits, spike and stake kits to pitch a tent, and Gable crouched to light his camping stove. No children in sight, for he was childless until after his death (though now it is being said that a baby girl Loretta Young "adopted" was his love child, as it was called then).
I haven't even come to the sports equipment, the lonely luggage. No more trips. The fishing basket with that waist strap where the pole was inserted like a flag in a parade. He was a gamesman. I would bet this was not his best gaming case, for the leather is cheap, stamped to look like alligator, as though it were from early on in his career. It has a miniature roulette wheel and dice and chess pieces and dominoes and poker chips.
Here is Gable, the famous crinkly-eyed grin at the poker table, his fist wrapped around a tumbler full of dark liquor, holding his cards close, entertaining his buddies and never, never cheating. He is loading a horse or an old wooden station wagon. in a trench coat, he is hoisting the luggage from the train onto a platform, into the back of a car.
He is sleeping with Claudette Colbert in a haystack. His hat is cocked on his head; his smile is crooked. He has grown into his ears. The smile on Vivien Leigh's face the next morning - that's what they are selling at Christie's East. There are three alligator bags, two good and one not so good, maybe from earlier times, like when he was leaving Ohio with his ears sticking out too much. The luggage is scarred, worn, distressed, in the language of catalogs, heavily used.
He traveled and he traveled hard. He fished and shot and liked cases for everything and his initials on the cases. Like Edward Ashburnham of Ford Madox Ford's The Good Soldier: "There were guncases, and collar cases, and shirt cases, and leather cases ... and hat cases and helmet cases. It must have needed a whole herd of Gadarene swine to make up his outfit. And if I ever penetrated into his private room ... he would have a slightly reflective air and he would be just opening one kind of case and just closing another."
Gable's white silk Sulka robe is understated. On the dummy, it shows a man a woman would like to hold, a considerable man, with girth but not fat, just solid. A man who would, and did, duplicate again and again the gift of a woman he loved and lost when the small plane went down. What you know from his roles is that he was tough and tender, a man who didn't wear undershirts and rolled up his sleeves and had a man-knowing-women rogue's smile. He was always "nice" to the "little people."
For Rhett Butler, Gable was paid $4,500 per week. He has been dead for thirty-four years, and the son who never knew him says he is selling this stuff here so it won't disappear when California falls into the Pacific Ocean. There are pieces of other stars in the Christie's East exhibition rooms. Shoes and movie clothes and letters and signed pictures - all the detritus of fame.
Cary Grant's tie tack, Ava Gardner's bag, Laurence Olivier's contract showing he made $694.44 per day for Rebecca. F. Scott Fitzgerald's overcoat. Vincent Price's horror awards. After a while, the atmosphere in the room becomes a little too dense. There are all those raging spirits who, when they were alive, wanted to hide and be loved by the world at the same time. Now they are having their things bid for, things they gave to people they loved or pretended they loved (they were all actors), and those people died or sold them for money. Their heirs felt crowded by dead things. Remember me/Leave me alone, these things say.
Don't pick over my glamorous bones, leave me on the screen. This is a room of the dead, but these dead were once the world's most beautiful and cherished. They held all the fantasies. "I am sorry but for the moment I can speak to no one," Greta Garbo writes. She signs her letters "Harry" or "Harry Boy." "In memory of those thousands of rotten hours in rotten rehearsal halls," Fred Astaire writes to his choreographer, Hermes Pan, along with a single white, rather high-heeled rehearsal shoe, entwined with one of Ginger's. Natalie Wood, in a large sloppy hand, signs herself "The Madame of the House." Did she mean for you to read this?
Did you know she had a slightly deformed wrist and wore a bracelet in every movie to cover it? The dead clothes stand on the dummies. A tiny tweed Norfolk jacket was James Dean's in East of Eden. His yearbook picture shows him in the debate club: "Jim Dean won first place in the NFL state contest," where he read "Madman," by Charles Dickens. And Joan Crawford won the "Best Mommy" plaque from an agency for her greatest role, as an adoptive mother. "I am panicky," Greta Garbo writes to her hairdresser. Me, too, often. Remember me, leave me alone, love me, who would want this piece of me, how dare you sell this - I gave it to your father/mother - at any price. The ghost voices fill the room.
How much did you get? How much was I worth? Really? For some of these things, there will be little interest. It's like not being asked to dance in high school, unpopular even in death. If everyone keeps everything, there is no room for life. We are crowded in by this past, and who am I to judge, with Diana Vreeland's chandelier overhead, Truman Capote's snake in the dining room, and the possessions of other dead all around me? The ashes of a dog named Robert Mitchum sit in my closet. I can't let go of pasts that are not even mine.
But Gable, at least as I understood him, was above all that, way beyond. And how could he be alive now? "Frankly, my dear, I don't give a fuck." Well, how does that sound?