John Clark Gable finally races out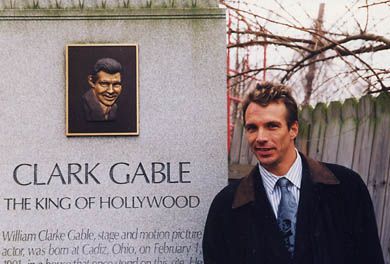 Source: People Weekly, Feb 6, 1984 v21 p88(3).
Title: With his father's drive and his mother's looks, John Clark Gable finally races out of hiding.
Author: Michael Small
In 1960, after playing rugged Casanovas in 67 films, Clark Gable prepared for a new and bigger role: He was about to become a father. His fifth wife, Kay, a former actess and ex-wife of San Francisco sugar mogul Adolph Spreckels II, had miscarried earlier that year, leaving both Gables heartbroken.
But this time the 42-year-old mother-to-be knew it would be different. "It will be a boy. I guarantee it," she said. With revived hope, Clark even helped design the yellow floral nursery for his first child. "This is the dividend that has come to me late in life," he said. "I want to be there when the baby is born, and for a long time after." The wish never came true.
That November, three months short of his 60th birthday, Gable suffered a heart attack and died 10 days later. He had survived four months longer, he would have welcomed John Clark Gable, eight pounds. (Kay didn't use Clark as a first name because "Pa thought that name was a handicap for a child to bear.")
When she first saw her child, Mrs. Gable exclaimed, " What a handsome boy! Just what Clark wanted!" Pa would have agreed. Though John, 22, shows no penchant for acting and looks more like his blond, fair-skinned mother, he is, like his father, a hard-driving outdoorsman.
A cycle enthusiast since he saved up his dollar-a-week allowance to buy a Honda 50 minibike at 8, John is turning his need for speed into a career as an Off-road Class 8 truck racer. Last December, in his first official competition, the Score Barstow (California) Classic, John and co-driver Bill Holmes, 20, zoomed 260 miles around the Mojave Desert plains and canyons in Gable's $40,000, custom-made 1980 Ford pickup.
They finished fifth out of nine entrants in spite of a collapsed suspension, broken headlights, a flat tire and an oil-cooler leak. when windshield wipers failed during a downpour, the Gable team smashed out the glass to improve visibility and continued to race wearing goggles. "I was always taught not to be a quitter, and that was why I was so determined to finish," said John.
The King, as Clark came to be called, would surely flash his famous smole at that. Filming The Misfits in the Nevada desert just before his death, John's father took a friend for a 145 mph joyride on the hard sand in a new Mercedes. "i know he shared my passion for cars and motorcycles," says John. "My mother told me he raced sprint cars, which made the studios very nervous."
Until recently, the public has known little about John Gable. Though his birth made international news, including the cover of LIFE, John's strikingly beautiful mother--who died from heart failure of 65, six months ago--always protected her son from publicity. As heir to the combined millions of his parents, John was the near-victim of a kidnapping in his first year, so his mother tightened security. He rarely ventured alone outside the electrically locked gate that sealed the 22-acre Encino, Calif. estate purchased by Clark and the other great love of his life, third wife Carole Lombard.
Sometimes accompnaied by his much older stephsiblings from his mother's previous marriage, John went fishing with the estate gardener or played with the son of a live-in caretaker. On weekends his mother occasionally showed old Gable movies at home. "It's strange having a famous father you've never met," says John. "I have seen all his movies, read books about him and listened to my mother's stories. So I feel I do know him. From what I've been told, my father was a rather private person. I think I take after him in that." Living a sequestered life at his Malibu home, John rarely tells anyone his address, phone number or lineage. Only a handful of his racing friends know who his father was. After a 1981 motorbike accident that tore his knee ligaments, an injury that still makes his leg go numb at times, John switched to trucks. "Motorcycles used to scare my mother," he says. "I knew she would be much happier seeing me race with some metal around me." His other hobby, working in his own pottery studio in Malibu, will consume less time as he pours his energy into new truck equipment.
Though John has dodged fame his entire life, he'll now gather attention on the race course. He doesn't need money, but he wants to solicit sponsors who will advertise their faith in his hereditary winning ability. "I'm very proud of the Gable name," he says. "My father was at the top of his field, and I want to be at the top of mine." As far as Hollywood is concerned, there was only one Gable. But now, racing down the wind over desert sands, there is another. The legend lives on.