The making of Billy Gable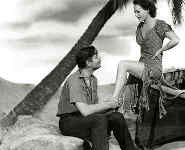 Source: Life, Spring 1989 v12 n5 p53(2).
Author: Jeanne Wolfe
In 1919 William C. Gable, 18 and recently departed from Edinburg High School in Hopedale, Ohio, was working as a clerk for Firestone Steel in nearby Akron when he attended his first play. Enthralled, he vowed that in spite of his squeaky voice, scrawny body and jug ears, he would one day conquer Broadway.
Gable left Ohio to apprentice with stock companies touring small towns in the West, making ends meet by moonlighting as a laborer in coal mines, lumber mills and oil fields. Onstage, the young man was prone to gaffes; debuting with an Oregon troupe, he tripped and fell on his face. But offstage, he had a knack for ingratiating himself to older show-business women willing to share their experience and professional contacts.
In 1924 Gable married Josephine Dillon, an acting coach 17 years his senior. She taught him to deepen his voice, helped him to bulk up his six-foot-one-inch frame and supported him while arranging bit parts in plays and movies such as 1925's The Merry Widow. She also persuaded him to go by his middle name -- Clark.
In 1930, after good notices in a Broadway play that had a short run and a Los Angeles production that didn't, Gable was offered a contract by MGM. Though he was now 29, the studio at first simmered him in potboilers like Dance, Fools Dance; The Secret Six; and Night Nurse.
The grooming paid off: Upon winning the Oscar for 1934's It Happened One Night, he reigned as the hard-living "King" of movies for the next 30 years. Gable was not known as an existentialist -- yet listen to him on his own career: "I'm just a lucky slob from Ohio. You step into Hollywood, you wind yourself into thousands and thousands of chains of accidents. If all of the thousands happen to come out exactly right, then you'll be a star." Were Gable alive today and just starting his acting career, how would he fare in a Hollywood in which personal managers and agents have replaced the benevolent dictatorship of the studios?
LIFE consulted some current industry bigfoots and got mixed reactions. First, would anyone even take a lunch with a no-name who could play Mr. Spock's brother without clip-ons? Hollywood plastic surgeon Mark Mandel advises deflating those wind socks, adding that the Gable kisser could also stand an augmentation: "His upper lip is very thin. These days, of course, full lips are in." Total package: $5,500. Yet in this iconoclastic age, most stars would avoid the big knife.
Explains personal manager Sandy Joseph, who has matched up Mariette Hartley with Polaroid and David Leisure with Isuzu: "I'm a great believer in something different if it's part of you. The ears might work like Streisand's nose."
Producer Jay Bernstein, who masterminded Farrah Fawcett, Lindsay Wagner and Suzanne Somers to stardom, recommends a spin doctor instead. In Gable's era, he explains, "the medium was the movies -- you became what people saw on the screen. Today, the medium is the media -- you are who the media think you are. We want to make certain everything is controlled. If your life isn't what it should be, they rewrite it."
Public relations man Warren Cowan of Rogers & Cowan, whose clients include Paul Newman and Merv Griffin, would position Gable as a jock. "I'd develop a promotion about his male magnetism," says Cowan. "I'd have him sitting at ringside for fights and Laker games. I'd have him go out with someone famous like Brooke Shields."
Gable was more than capable of finding his own dates (among them, starlet Nancy Davis before she met Ronnie Reagan), but Bernstein seconds Cowan's choice: "I want him with Brooke or [Entertainment Tonight's] Mary Hart -- no Mamie Van Dorens or Jayne Mansfields." Ken Kragen holds a contrary view. A TV producer, talent manager (Kenny Rogers, the Smothers Brothers) and architect of 1985's We Are the World project, Kragen says an actor need no longer "go with a certain starlet to a party just to be seen. We've got too many Harvard Business School graduates running things for careers to be made that way."
Nor does he feel Gable's party-animal reputation requires laundering. "From a pure career standpoint, the carousing and the drinking are a plus. What do you tell Clark Gable -- to go out and hit a couple of photographers?"
Enough about image; what about actually getting work? Producer Sherry Lansing believes that an unknown Gable would nevertheless instantly land a major motion picture: "He could do any part." Sid Ganis, head of Paramount's motion picture group, goes even further. "Clark personifies the romantic action-adventure hero. He certainly would have been considered for Indiana Jones in Raiders of the Lost Ark or Eliot Ness in The Untouchables -- the same roles as Harrison Ford, Robert De Niro, Kevin Costner and Tom Selleck would be considered for."
Others who make their living trying to launch new talent disagree. Bernstein would break in Gable with TV one-shots: "You look at any of the old series in reruns and you'll see Stallone, Caan, Eastwood doing guest appearances." Concurs Kragen: "The major exposure is television. You'd try to find a role in a major series. He liked women and women loved him, so I would go for one of the prime-time soaps, maybe Dallas or a sitcom such as Cheers."
Then, says Kragen, it's the talk-show circuit: "There's nothing wrong with The Tonight Show. Or Oprah. Maybe we whisper around town, `Here comes the new Tom Selleck.' This is a town of followers -- the minute something's hot, everyone tries to duplicate it." Sandy Joseph suggests angling for a TV pilot or perhaps an ad. "A straight pitch for a headache remedy, no. But today, commercials are an accepted form of acting unless you dress up like a banana -- though Robin Williams could have dressed up like a banana and been discovered. Clark could have done Ted Danson's Aramis ad well."
Which route to follow? Where would Gable fit in ? Says Charlton Heston: "I'd like to think that someone with his chemistry and charisma would come to the forefront. He'd find the part, and the public would find him."