CLARK GABLE:ACTOR, ADVENTURER, MOTORCYCLIST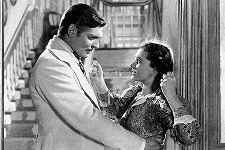 Source: Cycle World, Aug93, Vol. 32 Issue 8, p48, 4p, 2c, 4bw
Author(s): Padgett, Nina
Frankly, my dear, I don't give a damn." Are these the most famous words ever spoken in a motion picture?
Most likely. It was Clark Gable speaking Rhett Butler's final line in the 1939 MGM classic, Gone With the Wind, as he walked away from Vivian Leigh's vixenish Scarlett O'Hara.
Who knows, maybe Rhett really didn't give a damn. But Clark Gable, the actor, most certainly did.
He gave a damn about making pictures. He gave a damn about Carole Lombard, the woman he loved, married and lost. He gave a damn about the effort to win World War II, which he joined following Lombard's untimely death. And he gave a damn about his motorcycles.
Through the 1930s and '40s, Gable was the King of Hollywood, the biggest sensation since Valentino, a macho heart-throb who was the brightest star in the show-business galaxy. He appeared in about 70 films and won an Oscar in 1934 for his role in It Happened One Night.
But Gable wasn't born into the pampered life of a star-far from it. He started out as William Clark Gable, dirt-poor, on a farm in Cadiz, Ohio. And though he eventually shed his first name, he never lost his farm boy's love for tinkering with mechanical objects. Having collected stardom and the rewards that accompanied it, Gable became an avid collector of cars and motorcycles, which he preferred to maintain himself.
His passion for fine equipment outlasted five marriages and consumed the lion's share of Gable's limited personal time. Stuntman Cary Loftin isn't sure when Gable's interest in motorcycles began, but when the two met at Metro-Goldwyn-Mayer Studios in 1941, Gable had just taken delivery of a brand-new Harley-Davidson 61-cubic-inch Knucklehead Twin. Gable was still learning about the machine, but it was a bike Loftin knew well.
Prior to beginning his stunt career in 1936, Loftin-whose film credits include Grand Prix and more recently Days of Thunder-worked for Rich Budelier, Harley-Davidson's West Coast distributor. Gable bought several Harleys from Budelier, including the 1941 Knuckle you see here (now part of the Imperial Palace Auto Collection in Las Vegas, Nevada) which he was trying to coax to life when Loftin walked up. Loftin offered to help, and got the Harley started on the first kick. The two became friends and riding partners, and remained so until the end of Gable's life.
Loftin remembers that his pal Gable had little patience with-out-of-date equipment. He traded his "old" bikes in every year for new models. He was meticulous about the maintenance of his machines, and spent many hours making adjustments and polishing the chrome and paintwork. Then, as now, motorcycles were symbols of Hollywood success.
Gable's pals were successful, and they were motorcycle riders. They included directors William Wellman, Howard Hawks and Victor Fleming; actors Robert Taylor and Andy Devine; and, of course, Loftin. Sundays, the group would congregate at Hawks' home, then head out. Sometimes they rode north through the foothills surrounding Los Angeles towards the southern San Joaquin Valley. Sometimes they would head south towards Mexico. Hawks called the gang the "Moraga Spit and Polish Club"--named for the Beverly Hills street on which he lived--and printed up sweatshirts that proclaimed the club's name.
Sometimes the tiding was easygoing, and sometimes it wasn't. Loftin recalls an incident that occurred fight after he purchased a Rudge Ulster-a 500cc four-valve Single with a strong racing heritage. He, Gable and Fleming were riding through the hills and valleys north of Los Angeles, on their way to meet Hawks. Gable was aboard his 61-inch Harley, Fleming was on a 995cc Ariel Square Four.
Outside the city, in the copious expanses that once surrounded Los Angeles, the threesome hit what Loftin remembers as about 15 miles of isolated highway. "We opened them up, full throttle," Loftin recalls, "Gable and Fleming didn't think that I'd be able to keep up with them on that Ulster. But they were wrong. I sat straight up like a farmer and moved to the head of the pack. As it turned out, my bike could easily go 120, while Clark's Harley could barely break 100."
Had they known about it, Gable's penchant for speed definitely would have added to the gray hair of the studio execs plotting Gable's next box-office hit. One of the Spit and Polish Club's favorite games involved playing tag at speeds up to 90 miles per hour. Though he spent spare time having a blast on his motorcycle, the 1940s brought great turmoil to Gable. Some of this was the result of the incredible success of Gone With The Wind, which was released in an outpouring of critical and popular acclaim, and which received 10 Academy Awards.
In 1939, the same year as GWTW's release, Gable married the love of his life, actress Carole Lombard. Gable and Lombard bought a ranch in then-rural Encino, in Southern California's San Fernando Valley, where they could enjoy their mutual love of country life. In spite of what casual observers believed to be the couple's idyllic pairing, Lombard remained suspicious of her husband's interest in other women.
In 1942, while Lombard was touring the country promoting the sale of War Bonds, Gable was filming Somewhere I'll Find You, with Lana Turner. Lombard's final scheduled appearance was in her native state of Indiana in January. Anxious to return to the homefront, Lombard decided to fly back to Hollywood, rather than drive. It was a decision that ended her life, and changed Gable's.
On January 16, the DC-3 carrying Lombard crashed into a rock cliff high on Potosi Mountain, just outside Las Vegas. There were no survivors. Gable was devastated by Lombard's death. As a way of coping, he enlisted. He was sworn into the Army Air Corps in August, 1942, completed Officer's Candidate School, and was shipped out to England, where his job was to be the making of a recruiting film. But that isn't all he did. A member of the 508th Squadron, 351st Heavy Bombardment Group, 1st Air Division, 8th Air Force, and always the risk-taker, he flew a few bombing missions over occupied Europe.
When the recruiting film was completed in late 1943, Gable was released from active duty and returned home. Back in Hollywood and the familiar warfare of show business, Gable first returned to MGM-the studio that created Hollywood's fabled Star System-and then became an independent, doing several films for Twentieth Century Fox, Paramount Pictures and his own production company.
After a brief marriage to Lady Sylvia Ashley, Gable married an old friend, Kay Spreckels. He died November 16, 1960, at age 59, of a heart attack. His only son, John Clark, was born to Spreckles shortly after his death. When he was riding his motorcycle, Gable liked to be treated like one of the guys, even when that meant being embarrassed in front of more skillful riders. Cary Loftin recalls one afternoon of riding, after Gable had purchased a new Triumph Trophy.
"Clark fell down all afternoon," Loftin says. "I teased him about the way he beat up that new bike, since he was so meticulous about the way he took care of things. And he slowed us down so much that we made sure he bought the hamburgers and beer after the ride. Later that afternoon, Clark said to me, 'I've traveled all over the world. I've been big-game hunting in Africa, fishing, flown airplanes, you name it. But never in my life have I had as much fun as I did today.'"
Long before his fatal coronary, Gable told friends that his epitaph should read, "He was lucky, and he knew it." That line didn't make it onto the stone that marks Gable's grave, which is right beside Lombard's in Glendale, California's Forest Lawn Cemetery. Rather, Gable's epitaph is contained in his films, and in the legend he left behind. It's a legend that proves Clark Gable did indeed give a damn.