Gable's Grandson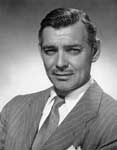 John Gable, who never knew his dashing dad, shows off this king's grandson- the new clark Gable!
From People's Weekly, Nov. 14th 1988
The greatest matinee idol in history has a new heir and namesake. Clark Gable made his debut on Sept. 10, 1988 at a heft 10 lbs. He is the first Clark Gable to grace the family since his grandfather died in Nov. 1960. Purists who think that a famous name -- like, say, Engelbert Huperdinck -- should never be duplicated can console themselves that Clark Gable was a handle in the movies only. The new arrival's full name is Clark James Gable. His suave grandfather was actually christened William Clark Gable 87 years ago. Clark Gable's slick hair, sword-thin mustache and pleasantly smirky smile sent millions of women into orbit during his 35-year career. Sadly, the king, did not live to see his only child. John Clark Gable, months after the actor's death. They didn't call him Clark, Kay once said, because Pa thought that name was a handicap for a child. Clark James is the first son of John and his wife, Tracy, a 26-year-old hairdresser, who decided to carryon the nom de screen.
John, who lives in Malibu, was brought up in heavily protected seclusion after a kidnapping threat when he was about a year old. He shares his father's passion for adventure -- this week he's competing in the grueling Baja 100 off-road race in Mexico -- and has just landed his first movie part, a lead in Bitter Duel, a Western that films in January. Fatherhood fits comfortably into this schedule. "I feed Clark, rock him to sleep and sing to him," he says proudly. Not activities one readily thinks of doing with the original Clark, but John notes that even a given name is not a given. "Clark is a good name," says the new father, " but he can always call himself C.J.