Clark Gable's "Hoosier Tornado"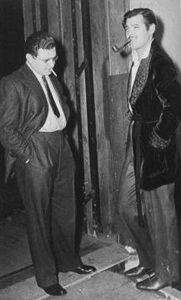 Author: Wes D. Gehring
Source: USA Today (Magazine), Nov 2005 v134 i2726 p69(1)

IN READING ABOUT SCREWBALL comedy actress Carole Lombard of "My Man Godfrey" (1936) and "Nothing Sacred" (1937) fame, it is easy to be drawn to her comic courtship of 1930s box office king Clark Gable. Though they had co-starred together in "No Man of Her Own" (1932), it was not until a zany Valentine's Day girl in 1936 that the sparks really began to ignite.

Lombard had a dilapidated Model-T Ford covered with painted hearts delivered to Gable. The gag worked on several levels. First, thanks in no small part to the antiheroic films of Laurel and Hardy and W.C. Fields, the Model-T was America's favorite joke of a car. Second, Lombard compounded the comedy by giving him an extremely battered example of this automobile. Third, the jalopy spoofed one of Gable's most passionate interests--collecting expensive and stylish automobiles.

Charmed by the girl, Gable immediately drove to Lombard's home and insisted they go for a joyride. The wheezing bucket of bolts somehow managed to deliver the couple to the Trocadero nightclub, and their romance was off and running. Appropriately, the catalyst to the start of their relationship was perpetuated in the frequent gag girls they gave each other. Lombard even had a photo of Gable on a rocking horse blown up to life size and delivered to him--with real horse manure arranged around it. The darkly comic Lombard also occasionally gave Gable a dead car, an idea probably drawn from Mark Twain's The Adventures of Tom Sawyer.

Lombard often seemed to change more for the men in her life than they did for her. This pattern held for Gable, as she took up his twin passions of hunting and fishing. Yet, Lombard was not without her victories. Her new lover had a reputation for frugality. This was most markedly brought home to Lombard at the wrap party for "Love on the Run" (1936). The crew had displayed gifts given by Gable's costars, his former love interest Joan Crawford and her then-husband Franchot Tone. Lombard did some quick research and discovered that her man never gave production presents. Gable blamed it on the no-gift tradition he had observed early in his MGM career; presents never were policy with stars such as Greta Garbo and Wallace Beery. Lombard changed all that, putting herself in charge of all his future wrap-party girls--but billing him for the service!

While Gable always had a healthy sense of humor, Lombard still proved to be a handful. She was an unmerciful kidder and practical joker, from her gift of a ham emblazoned with his picture upon the completion of "No Man of Her Own" (a photographer was on hand to record the gag), to a litany of private jabs at such things as his large ears, false teeth, virility, the greater popularity of Shirley Temple (his major box office rival in the 1930s), and aforementioned stingy tendencies. Gable not only seemed to enjoy such kidding, he often shared her wicked sense of humor with others.

The couple eventually would marry in 1939 and buy a small acreage from director and mutual friend, Raoul Walsh. They euphemistically referred to their new home as the "ranch." The duo played at being "gentleman farmers," too. Gable occasionally plowed with a tractor, and Lombard cared for a large menagerie of animals. Call it her Indiana background or being a Midwesterner at heart, but the actress had kept chickens and ducks even before she and Gable moved to their ranch.

While the couple never approached the rustic life that some press coverage suggested, such as the 1939 article titled, "Carole Lombard Assuming Role of Farmer's Wife and She Rustles Eggs for Gable," they enjoyed their San Fernando Valley getaway, about a 30-minute drive from MGM. Moreover, many of Gable's outdoor interests had long been Lombard habits, such as horseback riding and tennis. When time would not permit hunting and fishing excursions, Lombard joined Gable in skeet shooting. The always athletic actress found she enjoyed taking in an assortment of sporting events with her husband, from college football to professional boxing--which was very popular in pre-war Hollywood.

Gable had removed Lombard from that crazy entourage that often surrounded the actress earlier in her career. There now were smaller dinner parties, versus the rental of entire amusement parks--which the zany blonde had done for an early 1930s party. Though this was more Gable's style, Lombard also was attempting to foster a serious image to match her move to dramatic roles. Their modest ranch, what the press enjoyed punning as "the house of two Gables" (a la Nathaniel Hawthorne), was a genuinely happy home where Hollywood's star couple could unwind, Gable with his glass of scotch and Lombard with her soda.

Lombard was such a quick study that she often surpassed Gable at his own specialties, such as skeet shooting. The bemused actress once confessed to director Garson Kanin, "I've gotten to be so much better than he is that I've got to hold back. I can shoot like a %#&C*@ y'know."

With the possible exception of Douglas Fairbanks and Mary Pickford, Hollywood royalty has yet to surpass the spirited union of Gable and Lombard. Though their time together was cut short by her tragic 1942 plane crash death (following America's first bond rally of World War II), the acknowledged "King" and his "Screwball Girl" remain iconic figures of cinema's Golden Age.

Wes D. Gehring, Associate Mass Media Editor of USA Today, is professor of film, Ball State University, Muncie, Ind., and author of several books, including Carole Lombard: The Hoosier Tornado and Romantic vs. Screwball Comedy: Charting the Difference.