Oriana Fallaci remembers Clark Gable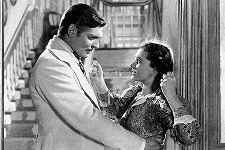 Source: Epoca, November 1960.
Author: Oriana Fallaci
Translated by: Silvia Redford
Memo: Silvia, from Italy, is on a mission to translate foreign magazine and news articles into English. So stay tuned for updates in the future. Many thanks to Silvia for doing this labor intensive work!

The first time I saw him it was in Florence. And because then my eyes weren't misted by the skepticism of this job, and so they had a better sight, that is the meeting that comes to my mind now that he lies near the likes of Tyrone Power, Errol Flynn, Jean Harlow and his beloved Carole Lombard.
This hallucinating list of dead people, more dead than the others, not because they went before their time, but because, alive, they seemed immortal and eternal to me, with a better working heart and an unbreakable body.
The King was in Florence together with a French model, Suzanne Dadolle, he was on vacation.
He was staying at the Excelsior, where always the kings stay, and his was a very peculiar vacation: he spent the whole time in his room with Dadolle; she was just his type, gorgeous, blonde, slim. Sometimes, but rarely, he went out to buy himself a tie or to go to a restaurant and refused to meet any journalist so, when I asked him for an interview, I couldn't understand why he said yes. Maybe he understood, for he was a good hearted man, that for that girl it was important and he had to help her. It was a sacrifice to talk with journalists for him: his tongue wouldn't cooperate and his brain got paralyzed, he couldn't lie or boast himself.
At the time fixed I saw him walking towards me, a giant dressed in blue and it would have been hard to find out who was more embarrassed: the journalist meeting a Hollywood star for the first time, or the star called the King. I was red, he was red too. I had a lump in my throat and he kept clearing his voice, loosening his collar. He said he needed a drink, did I prefer whisky or brandy? I remember being appalled by his voice, it wasn't the baritone voice I expected to hear, it was rather a slight voice, kind of delicate. He was sitting in an armchair, I in another. Then silence fell. He stared at his hands, I stared at his face. It was round and full of dimples. His moustache was grey and he had some grey on his temples too. The eyes were blue like a cloudless sky, a day full of sun. There was like endless love and comprehension in those eyes, it's what I remember the most, the expression of his eyes. He didn't look like the man on the screen. But I wasn't disappointed, I was just in awe.
All of a sudden I asked him
"When were you born Mr Gable?"
Surely it wasn't the best way to pay him homage but he understood and politely answered
"February 1st 1901, mademoiselle"
Then he added, with a smile "And I was registered as a girl"
"What?"
"As a girl. But they found it out and corrected it immediately" he concluded seriously. He wasn't amused by the thing. It had happened, that was all, and he said it.
Silence fell again
Then I asked "Have you been to the Uffizi Gallery, Mr Gable?"
This was even more stupid than the first question but he didn't lose his composure
"Not yet. There is a friend down here lately and he asked me to come over for a while. We go fishing together sometimes"
It didn't seem to me that the blonde woman with him was a fishing companion, so I told him so.
He answered with a guilty tone "No, no that's a friend "
"Is she your fiancé Mr Gable?"
"Oh, No "he was red again
It seemed impossible to me that a Hollywood superstar considered the emblem of masculine virility, with a degree in seduction, would get red in front of foolish girl that could have been his daughter.
"Mr Gable" I asked to overcome the guilty sense about that question on Dadolle "do you like being a myth?"
He answered staring at his shoes, like he were reading the answers on them .
"I've never worked to be a myth; other people have worked for me. I've always worked to be an actor. Sure, I know I'm not that great as an actor and that I always have the same face, but I do what I can" he said it with some sadness and so I thought that he had been playing a part he didn't like for too long, and that he was unhappy, maybe that's why he had always a blonde by his side, so he wouldn't have felt so lonely.
I saw him again in Hollywood, seven years later. Suzanne Dadolle was just a memory in between others. In the meantime he had married Lady Sylvia Ashley, divorced her and married Kay Williams, his fifth. Kay was sick, it was her hearth and he was scared, maybe that's why he looked so much older. His face was less round and with more wrinkles. He looked at me again with those blue eyes full of love and he didn't get red, maybe because I wasn't red as well, maybe because now, thanks to Kay, he didn't feel so lonely anymore. I was surprised he remembered me; I told him that interview had been a lucky passport to me. He seemed happy, he joked "I feel like the godfather of baby who's gonna kick him in the butt"
I answered no one would ever have kicked him. He smiled his ironic smile and asked how I felt that day
"I had a terrible fear" I explained
"How came?" he said "Usually I am the one who's afraid "
And was he still afraid? I asked
"Of journalists? Oh, not that much anymore. Now I am afraid of more serious things, like death"
Did he speak about Kay or himself?
"Are you afraid of dying?" I replied
"Why I shouldn't? Because I'm big?" he grunted. And he added "There was a time in my life when I wanted to die. My wife had died and we…" he trailed off "Well, now that I'm old I like life so much I'm afraid of a cold"
The topic wasn't a happy one, so I asked him about Hollywood. I was doing a reportage on Hollywood and collecting various opinions
"And what do the others say?" he wanted to know
"Very negative things" I told him "Everyone speaks about negative things "
"This outrages me" he said "I don't like people who spit in the plate they eat in. All these people come here to make some money and become someone and then they criticize Hollywood. I love Hollywood because I know I owe everything to her and as long as Hollywood will want me, I'll feel at ease with it and I will consider myself lucky to work here"
It was 1957 when Mario Soldati wrote in "America, first love" "Who's the most beautiful man in the world? Clark Gable. Who makes weak even strong women? Clark Gable. Who teaches men how to dress, walk and woo? Clark Gable "
Thirty years had passed since the male population of the United States had dropped undershirts just because Clark Gable didn't wear them in "It Happened One Night". And yet the king was still a box office hit and Cohn, head of Columbia pictures, told me " My dear, who brings money here is not Marilyn Monroe or Marlon Brando, are old guys like Clark Gable, because he can sincerely express himself, people like him constitute the backbone of our industry. That cad called Clark Gable can eat up all those actor studio's kids"
Who writes here has never met that "cad called Clark Gable". Both in Rome and in New York and then in Los Angeles and other meetings I had with him, he always seemed to me a reserved gentleman, so simple to be boring, well behaved and in love with the memory of wife gone really too early. Like once Frank Capra told me there was nothing impudent about him but the smile, which was fake, as he sincerely admitted. There was nothing brutal besides the height and the broad shoulders. As a matter of fact he never got into fights but once when a thief sneaked into his Encino ranch, he hit him and called the police.
"I had to" he explained to me "I asked him if he regretted it and he said: no way, you have a lot of money. And I was not going to share my money with thieves"
The man I got to know was a simple human being whose charm was a sort of childish innocence that had transformed him into a symbol of what America is for us Europeans.
Modern day America is not Clark Gable anymore.
It was moving to me the way he learned to appreciate beauty in things, in life. He did it through his beautiful women. Ria Langham his second wife taught him to wear white shirt and grey suits. She was rich, sophisticated and always wore the right hat, drank the right wine and had the right answer.
The 3rd Carole Lombard was a paradox of sophistication, so unconventional to shock the fools by asking "Have I left my nightgown at your house yesterday night, dear?"
Everybody knows the rest of the story, Carole and that crash on the Table rock mountain, the endless desperation that followed, his death wish in the war. Then there was Silvya Ashley, Lady Ashley that looked like an older Carole. He had brought her in his Encino ranch and she had tried to change everything "I don't want ghosts in this house" was her motto. She fooled herself thinking she was an intellectual because she had some European paintings. That divorce and the following marriage demonstrate that he wasn't a tough man, he was a hopeless romantic. When he married Kay, she already had two children and wasn't so young. But if Lady Silvya had married a man that didn't exist, the Hollywood star, wise Kay married a man she knew and accepted. She accepted his excessive respect for money, his adoration toward a dead wife, accepted Clark Gable the human being; his exaggerate worry for her and her illness. They led a simple life, walking and spending time with the children.
Kay was expecting a child when Clark died, and I know that in the world thousand of these tragedies happen, but Clark wore our tragedies and our feelings on his face, and through him I also cried for myself and for the others. Because we need to cry for this man, a man who loved truly, who gave us entertainment and illusions. And in that hallucinating list of dead people who seemed unbreakable to me, in my heart I know he was the best.