Gable took Atlantans by Storm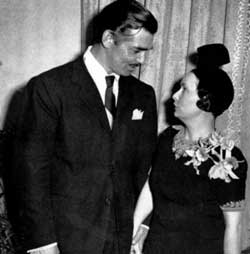 By Bill Pope
Source: Atlanta Constitution. Nov 18th, 1960
"I'm no actor and I never have been," Clark Gable once told an interviewer. "What people see on the screen is me."
But some of Gable's co-workers in the film business disagreed. "I'd rate Gable with that master, Charles Laughton," director George Seaton once said. "Both of them know what to do with eyes, facial muscles, and combine them with the delivery of the line to get the most punch."
DIDN"T SWELL HEAD
Gable didn't let the acclaim for his role of Rhett Butler, swell his head, either. Said he in Atlanta during the 1939 premiere of "Gone With The Wind": "For me to pose as a Southern hero would be inviting trouble. I'm just the guy who was assigned to play a very difficult role in a picture everybody has very pronounced ideas about."
But his portrayal - and the man himself - won over the author of GWTW, the late Margaret Mitchell, as well as other local observers. "Clark Gable was the character in my story as I wrote it," commented Miss Mitchell after she saw the picture. "He seemed to grow as the story progressed. At the end he was a mature character, not too cynical, no longer impetuous."
ROARING WELCOME
"A bronze and debonair Gable - a very 'Rhett Butler' of a man - came into Atlanta to the largest, most spontaneous, often hysterical demonstration which Atlanta has ever seen," said the Constitution in commenting on Gable's arrival for the premiere.
It was Gable all through, this time ... truly Gable has something ... he was the special object of solicitudes ... the crowd (estimated at 300,000 by newsmen and 3 million by Gable) was friendly, orderly, profoundly happy.
Other reactions during the premiere was less esoteric, but they summed up the Gable magic. "He's the handsomest man I ever saw," said one youngster after she had rushed up to meet Gable and his wife, Carole Lombard.
LAUGHED WITH BOY
Aided and abetted by Mr. and Mrs. Gable, one 13-year-old boy clambered through police lines to meet his hero. Gable held up the proceedings while he laughed and exchanged greetings with the youngster.
Gable was undoubtedly his own best public relations man as far as Atlanta was concerned. "It's the most amazing thing I ever saw," he said of the Cyclorama in Grant Park. And for lunch one day, it is recorded, he ate turnip greens and cornbread.