Clark Gable in the eighth Air Force
Credit: Air Power History; Washington; Spring 1999; Steven Agoratus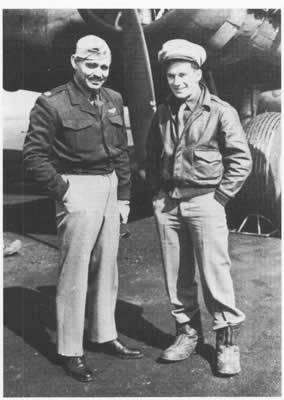 World War II abruptly interrupted Hollywood's "Golden Age" of the 1930s, sweeping up the actors and actresses who had entertained the public during that time. One star who typifies those years is Clark Gable. Gable served in the U.S. Army Air Forces during World War II. Earning a commission, he produced a motion picture, Combat America, which focused on the role of the aerial gunners who defended longrange heavy bombers from enemy fighter attack. Possessed of an earnest vitality and freshness that still grip viewers decades later, Combat America, one of many wartime training films that sank into obscurity soon after the war, is a window into the world of the Eighth Air Force over Nazi Germany. The film, and Gable's service career, revealed much about him untold in previous biographies that focused on his career in show business.
By 1941, after years of struggle, the highly popular Gable had achieved financial security with Metro-Goldwyn-Mayer (MGM) studios, earning $30,000 a month. He was happily married to Carole Lombard, a popular actress. He was an unassuming, modest man, but at over six feet tall, muscular, and impecably dressed, he stood out in a crowd. Gable lived on a ranch and enjoyed hunting, fishing, skeet, motorcycles, and cars. He preferred action-adventure scripts and directors who could exploit his outdoor personality. Protecting its investment, MGM quietly handled many of his needs and difficulties. The studio so successfully crafted for Gable a bold, wry, masculine screen image that female fans followed his every move, sometimes mobbing him on the street. Men emulated his mustache, clothes, and mannerisms. At one point, to his discomfort, the press crowned him the "King of Hollywood."
Upon hearing of Pearl Harbor, Gable and Lombard offered their services to the White House, which suggested they continue to make movies. Gable seemed satisfied to do so, but his strongly patriotic wife suggested that he enlist in the army and earn a commission. Still hesitant, he agreed to follow MGM's advice, but Lombard, disdaining the studio's offer of an appointive commission, proposed they go on a war bond tour. Gable refused this, but agreed to consider enlistment. Trailed by an MGM publicist, he went to Washington, D.C., to meet a friend, the head of the Army Air Forces (AAF), Gen. Henry H. Arnold. Carole started the tour on January 12, 1942.
General Arnold's pioneering efforts to promote air power had long included movies. He appeared as a pilot in two films as far back as 1911. In 1942, he was building up the AAF to fight a world war.
The centerpiece of this buildup was high-altitude daylight precision strategic bombardment. Such a campaign was built upon the long-range heavy bomber, defended against enemy fighter attacks by .50 caliber machine guns. To bring maximum force upon the enemy and replace combat losses, thousands of such bombers would be needed, each requiring a crew that included aerial gunners. Fighter escorts of range sufficient to accompany the bombers were under development, but the air offensive would not await them.
Just before the U.S. became involved in the war, the War Department planned to mobilize civilians. Millions of men would have to be trained quickly and efficiently as combat-ready officers, pilots, aerial gunners, and other specialists. Understanding film's ability to effectively educate, persuade, and inspire, as well as to entertain, Arnold asked Warner Brothers studios to make training films for the AAF. After some successes with Warner, the AAF formalized the operation by drafting Hal Roach Studios in its entirety as the First Motion Picture Unit. Seasoned on- and off-screen talent, brought into uniform straight from Hollywood studios, staffed and ran the First. Intended for military, not public viewing, the First's products-covering basic but essential areas like aircraft recognition, navigation, gunnery, ditching, safety, medical treatment, interrogation by the enemy, and survival-were intended to bring home the realities of war to recruits. Famous directors, such as Frank Capra, who directed the famous Why We Fight series; John Huston, of The Battle of San Pietro; and William Wyler, of Memphis Belle, worked for the First. Eventually, the First turned out about 300 standard length films, and many "shorts," among them movies intended to recruit men for such specialized aircrew positions and tasks in a modern air force as bombardier, navigator, reconnaissance pilot, and aerial gunner. The First itself turned out many such recruiting films. Arnold selected Gable to produce the one on aerial gunnery. He also hoped Gable would inspire men to become combat-ready officers through Officers' Candidate School (OCS).
It is likely Arnold and Gable first met in 1938, when, as the commanding officer of March Field, California, Arnold lent YIB-17s of the famed 2d Bomb Group for Test Pilot. Taken aback at the publicist's insistence that he appoint Gable a captain, Arnold explained that Gable should start at the bottom and earn a commission through OCS. Defying MGM's help, Gable called Arnold and said, "I've been thinking of what you told me and I agree. I should start as a private." However, he did not enlist immediately. Devoted to his profession, Gable went home to start a previously scheduled film. Lombard, her tour successful, wired, "Hey Pappy. You better get into this man's Army." Impatient to return home, she flew instead of taking the train as planned. The airliner, a TWA DC3, crashed into Table Mountain, near Las Vegas, on January 16, 1942. There were no survivors.
Distraught, Gable told the press that he would retire from acting, sell the ranch, and join the AAF, concluding, "There is nothing left for me in Hollywood now. I cannot stay there." President Franklin D. Roosevelt decorated Lombard posthumously and offered a military funeral, but Gable had a private service, in accordance with her wishes. MGM halted filming, and Gable went hunting to escape his grief.
Apparently hearing of his remarks, the alert Arnold sent Gable a telegram in care of MGM the day after the funeral. It offered him a "specific and highly important assignment" in the AAF. Having lost other stars to the draft, the studio now did not want to let him go. Instead of forwarding the telegrams to Gable, MGM advised Arnold that he was in mourning and unavailable. Undiscouraged, Arnold apparently planned another means of contacting Gable. Meanwhile, he ordered Col. Ira C. Eaker to begin building up the Eighth Air Force, for which he hoped to have Gable's help in recruiting aerial gunners.
Gable returned from hunting to roam the ranch, bathed in memories of Lombard. Disconsolate, he drank heavily, and spoke again of selling the ranch. At times he raced madly about on his motorcycle, mournfully telling friends, "I am not trying to kill myself; I just don't care if I go on living." Much to MGM's relief, he finished the film, but reminders of his wife in the press and some even from MGM, increased his gloom. He was drawn to enlistment.