Basic Gable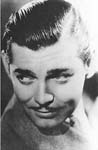 Billy Gable was an unknown stage actor in 1930, but in the following year he appeared in an incredible 12 films, costarring with the likes of Crawford, Garbo, and Stanwyck. By December '31 the hip put-down was, "Who do you think you are-Clark Gable?" He was far more than, say, the Mel Gibson of his day: To see his '30s films-even toss-offs like Cain and Mabel or Wife vs. Secretary-is to watch a brash man's man and nonchalant ladies' man at play. His magnetism was unaffected, the envy of "serious" peers like Spencer Tracy. That Gable would play Rhett Butler was never questioned by anyone but Gable himself: It , wasn't casting; it was a coronation.
In reality, Gable was an insecure star, despite an early Oscar for It Happened One Night. His first two wives were much older women who carefully guided his career. By contrast, third wife Carole Lombard was his peer in age and celebrity. Their legendary three-year marriage must have been paradise: Gable never recovered from her 1942 death. He drank heavily through the '40s and '50s; wrinkles ravaged the broad, grinning brow. The movies suffered too, but audiences stayed on, a loyalty Gable privately professed not to understand. Perhaps he knew in his heart that his was a limited talent. How sad, though, that he never understood its potency.
MUST-SEES
It Happened One Night (1934) As a cocky reporter on the road with heiress Claudette Colbert, he is the early-'30s idea of manly perfection.
Gone With the Wind (1939) "My reaction to Rhett," said Gable, "was immediate and enthusiastic. 'What a part for Ronald Colman.'"
The Misfits (1961) In this flawed anti-Western, his last performance, Gable finally stretches -and reaches.
Bruce Willis and Burt Reynolds aren't the only ones who've risked their machismo movie images and lost as often as won. Even after Gone With the Wind firmly entrenched him as the man among Hollywood's he-men, Clark Gable bounced from peaks to plateaus to a few unequivocal pits. That's evident in eight post-GWTW new-to-video Gable releases from MGM/UA (priced at $19.98 each). While these are no match for such previously released classics as China Seas and Mutiny on the Bounty, most are slickly made if uneven examples of what keeps Gable a cult fave nearly a quarter of a century after his death.
The eight films team him with some of the most charismatic leading ladies of his career. These costars may vary, but Gable himself always plays essentially the same character: a swaggering, two-fisted, no-nonsense guy with the warmest of hearts for the right dame.
There are shades of Rhett Butler in the lively LONE STAR (1952). Gable's pre- Civil War soldier of fortune tries to help Sam Houston bring Texas into the Union while stealing luscious Ava Gardner away from anti-Union intriguer Broderick Crawford. For all the pseudo-historical trimmings, this one's just a good, old-fashioned Western with a rip-roaring shoot-out finale.
There's a different kind of old-style action-auto racing-in the enjoyable but mistitled To Please a Lady (1950). Video makes it easy to tell where driver Gable was filmed against stock background footage for the otherwise exciting race scenes. What gives this one its snap and crackle is the love- hate repartee between Gable and equally crusty Barbara Stanwyck (as a precursor of a Hard Copy- type expose reporter). The chemistry between the two stars makes you wish they'd been teamed more often.
Comrade X (1940) and Never Let Me Go (1953) make a fascinating double bill. In each, Gable plays an American correspondent trying to get his Russian wife (Hedy Lamarr and Gene Tierney, respectively) out of the Soviet Union. The similarities end there. Comrade X mocks the prewar Soviets with some modestly funny slapstick (including a wild tank chase finale), whereas Never Let Me Go is an unabashedly propagandistic but suspenseful early-Cold War escape melodrama.
They Met in Bombay (1941) starts out as a breezy caper movie, with Gable and Rosalind Russell as dapperly competing jewel thieves. But midway through, when Gable and Russell flee Bombay on the lam, that's your cue to press the rewind button to avoid the movie's unbelievably hokey second half.
The remaining trio are even more skippable. Any Number Can Play (1949) and Key to the City (1950) boast charming costars (Alexis Smith and Loretta Young, respectively) but little more. As for Adventure (1945), it's hard to tell which is worse: the leaden, unadventurous script or the mismatching of Gable with the primly arch Greer Garson. Lone Star: B To Please a Lady: B Comrade X: C+ Never Let Me Go: C+ They Met in Bombay: C Any Number Can Play: C- Key to the City: D+ Adventure: D-