Gable Fever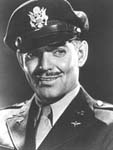 Perhaps the reason why David Selznick never managed to acquire the service of Cooper or Flynn or Coleman as Rhett Bulter was that he secretly suspected that no one but Gable could play the role.
Certainly this view was held by millions of Americans. Since Gable first appeared on the flickering screen he had been galvanizing audiences with his mixture of machismo and charm.
Rumor had it that Margaret Mitchell had created the character of Rhett Butler with Clark Gable in mind. This was the most arrant nonsense. When Miss Mitchell created the character of Rhett on her battered Underwood, Clark "Billy'' Cable was an unknown extra in a sea of anonymous Hollywood hopefuls.
In the years before Gone With the Wind crowned his career, Gable went through the years of struggle that seem a prerequisite of stardom. Born in Cadiz, Ohio, to on oil driller and his delicate wife, Gable's German descent would later be kept a dose secretly MGM's publicity department especially since his family name had been anglicized from ''Goebel," a name uncomfortably close to that of Hitler's propaganda chief, Dr Joseph Goebbels. After two years of high school, young Clark moved to Akron and joined a local theatre group. He appeared in various stock company! and landed in Hollywood in the midst of the silent era. He appeared as an extra in a few MGM films, but it was the stage that finally brought him to Hollywood's attention. His riveting performance as the doomed gangster in the last mile on the Los Angeles stage impressed Lionel Barrymore who brought Gable to the attention of the Metro brass.
For a relative newcomer, Gable began traveling in some high-powered cinematic company. Within a year, the jug-eared actor appeared with Joan Crawford in Possessed, Greta Garbo in Susan Lenox, and Norma shearer in A Free Soul. His broadshouldered performance opposite the elegant Miss Shearer galvanized female audiences across the country.
When sound arrived in Hollywood, Gable made the transition easily. His distinctive voice captured the hearts of female audiences as much as his leering good looks.
Few of Gable's films have been cited as examples of great film achievement, yet Gable amassed a huge following. In films like Call of the Wild, Test Pilot, San Francisco, and Idiot's Delight, Gable continued to delight the moviegoer. He conveyed a cynical manliness that appealed to men and women alike.
It was probably beyond Gable to achieve the subtlety of a fine artist who can play many different roles. Oscar Willed observed that people like an artist who keeps painting the same pictures because they can immediately recognize his work and therefore feel like connoisseurs. In much the same way, movie audiences enjoyed seeing Gable play virtually the same role year after year.
Shy and self-conscious, Gable knew agonies on the set. His self-doubts, had they been widely known, would have damaged his box-office potential, so MGM's publicity department had the task of hiding his uncertainties, just as Metro's creative people had the task of providing him with roles that would not tax his talents.
Gable found support for his macho image in director Victor Fleming, who would later guide him through GWTW. In his rapid rise to stardom in the early thirties, when Gable was costarred with Jean Harlow in Red Dust, director Fleming was there to present his friend as a new breed of actor, in the image of Fleming himself.
The thirties were busy for Gable. After winning an Oscar for It happened one night, Gable was starred in Mutiny on the Bounty, then cast opposite Rosalind Russell in China Seas, and loaned to Darryl Zanuck for Jack London's Call of the Wild.
By the time David Selznick had bought the rights to Margaret Mitchell's bestseller, he was to find that only Clark could play Rhett Butler. The public would not be denied. If the motorcycle-riding, cigar-chewing, hunting, loving , fighting, daring actor was not precisely the blockade-running rogue that Margaret Mitchell had created, the public saw them as one. A long chain of films, supported by the MGM publicity mill, had done its work. Gable was Rhett and Rhett was Gable and that was that.
Credit: Pictorial History of GWTW by Gerald Gardner and Harriet Modell Gardner