Gable Anecdotes III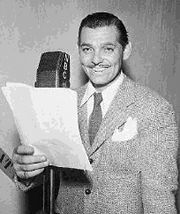 1944: "there you are, girlie."
Source: Yankee, June 1999 v63 i6 p80(2)
Author: Mary Deware.
A 77-year-old woman recounts the time in 1944 when famous actor Clark Gable released her shoe which got stuck in a sidewalk grating. She remembers his famous grin, his ears which stick out and how she stared at him until he was out of sight.
Clark Gable
Source: Entertainment Weekly, Fall 1996, p31(1)
Author: Ty Burr
THEY CALLED HIM the King; they needed one just then. If Shirley Temple reassured Depression audiences that innocence still existed, Gable gave them proof of ongoing male strength. In fact, he was a one-man revolution in masculinity: After the playful decadence of the Roaring '20s - the Valentinos with their powder puffs - Hollywood had filled the newly talking screen with wooden tenors and twee Broadway boys. Gable came from the stage too, but his dangerous sexuality was made for the intimacy of film. After an incredible 12 movies in 1931, his first year at MGM, he was so pervasive that the hip put-down was "Who do you think you are - Clark Gable?"
His status as Hollywood's own Jove was sealed with Gone With the Wind (1939), and both Rhett's marital rape of Scarlett and his don't-give-a-damn adieu still pack a transgressive shock. But Gable seems never to have gotten over the death of his third wife, Carole Lombard, in a 1942 plane crash, and his postwar roles show uncertainty peeping out from behind that dimpled ease. Still, the legend held until the last. On starring with him in his last movie, The Misfits (1961), Marilyn Monroe said, "Can you imagine what being kissed by him meant to me?"