Hollywood in Polebrook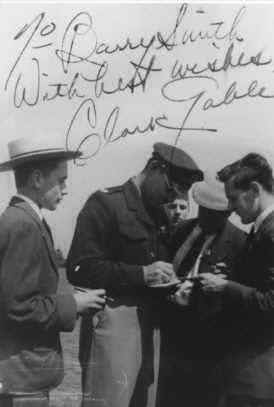 Source: Extracts from Oundle's War by Michael Downes

One of the notable Americans based at Polebrook and still remembered by many Oundle residents was the film-star Clark Gable, celebrated for his role in the film Gone with the Wind. His posting at Polebrook gave that particular base a glamour all of its own.[1]
After the death of his wife Carole Lombard on January 16 1942, Clark Gable was described as 'inconsolable' and 'unapproachable.' She died in a plane crash on Potosi Mountain a few minutes out of Las Vegas, Nevada whilst on a War Bonds campaign. Rumours spread around Hollywood that he was contemplating quitting the movies and enlisting. This prompted an approach from H.H. Arnold, Lieutenant General Chief of the Army Air Forces.
On August 12 1942, filmstar Clark Gable enlisted at the Los Angeles recruiting office and was sworn into the Air Corps as a private. Private Gable 19125741 applied for admission to Officers' Candidate School and became Corporal Gable, assigned to Miami Beach.
On 15 August, Clark Gable and an MGM cameraman Andrew McIntyre were inducted. Then followed a 13-week course of gruelling 18-hour days, seven days a week. He tackled the job with great dedication and enthusiasm, and on October 27 Corporal Gable was discharged to accept his commission. Second Lieutenant Gable 0565390 then learned that General Arnold required his services to make a propaganda film in order to boost aerial gunner recruitment, which was flagging due to heavy casualties. Along with Andy McIntyre he proceeded via Gunnery School at Tyndall Field, Florida to Fort Wright, Spokane where they underwent aerial gunnery and photographic training.
Captain Gable became a familiar visitor to the local villages which he toured on his small motorcycle, which was perhaps the only privilege he allowed himself. He drank in the local pubs and took an active part in the Group's social activities; he was a keen softball player. [3]
Although officially a Group Operations Officer, he was allowed to pursue film making for the greater part of his time. He was also called upon to give morale boosting appearances at many bases. His combat participation was indeed a great fillip to the men, and Gable's posting gave Polebrook in particular a somewhat glamorous aura.
Princess Alice, in an interview with two Oundle School pupils in 1988 recalled how her husband had flown back on a surprise visit to Polebrook, where the Americans were unable to decode the message announcing his imminent arrival. In the ensuing excitement, the rumour spread that Prince Henry's plane was in fact carrying either Clark Gable or Cary Grant, and by the time he touched down, there were hordes of pressmen and locals waiting for this 'celebrity'. Despite his own eminence, Prince Henry was received with groans! Rather a surprising welcome for her husband, who would have been Prince Regent had the King died, reflected the Princess.
A few months later and with the additional assistance of MGM's top editor Blanche Sewell, Mahin and Gable completed their task. Air Gunner recruitment had picked up, so the theme of the film was changed. It highlighted the general appeal and successes of the Army Air Force and the daytime strategic bombing policy.
On 15 February 1945 the results of some of Clark Gable's work were shown in the Mess at Polebrook in the shape of the film entitled Combat America.
Another film which involved local acting talent as well as Gable himself was Friends in Wartime, featuring two girls from Warmington, Delma Northen and Mavis Pollard.
After going back to Polebrook for a few hours to check on the safe return of a mission, Gable returned to the house with quite a party, including Major Richardson, Colonel Burns and some of the nurses from the American hospital at Lilford. 'There was a shortage of booze in those days, so we took Clark along to the George here on the corner,' Lorna Sloan recalled. 'We had a great big enamel jug and went to fill it up - and poor old Mrs Marriott who kept the pub opened the hatch, saw Clark Gable there and nearly passed out. So then they spent a considerable time here.'
In spite of the entry in her diary, both Lorna Sloan and her friend Pauline Ashby, whose family farmed at Armston, remembered Gable as a 'very quiet, retiring sort of a chap.' Even though he was already a well known star 'he didn't want to be recognised at all.' [5]
However not everyone he met recognised the star. Elizabeth Berridge believed that her main claim to fame in wartime Oundle was that, as young Elizabeth Cole, she was the only girl who met Clark Gable who had never heard of him. Her father was chaplain at Oundle School and housemaster at the Berrystead boarding-house. 'I'd led a sheltered life,' she explained. On the same occasion, at a dance at Polebrook Airfield, she met Gable's fellow film star James Stewart. For her, and for many other Oundle girls at the time, life changed with the arrival of the Americans in that summer of 1942.
''There was much more hope. They seemed to be so rich and I felt very sorry for our soldiers. The Americans always had a lot of money and gave us presents. I had my very first pair of silk stockings from an American soldier. Make-up was rationed, but Americans were loaded with it - it was wonderful. I think we thought the money was perhaps going to buy us victory.'
Not all Oundle people welcomed the arrival of the Americans. 'Over-paid, over-sexed, and over here' soon became a common complaint among some of their hosts. It was true that the Americans had rations and wages which were far superior to those of the British, and jobs at local airfields were consequently highly prized.
In December they went on Christmas leave. On 28 January 1943, after further training, they were assigned to the 508th Bomb Squadron of the 351st Bomb Group which was based at Pueblo, Colorado. The film was to be made around the Group's activities, and to aid the project Gable enlisted the assistance of Johnny Mahin as his writer. Mahin was in Intelligence, teaching aircraft identification. Colonel Hatcher personally flew Gable to fetch Mahin, who was based in New Mexico. Gable, Mahin and McIntyre together with two cameramen, went to England with the vanguard of the 351st. 'The Little Hollywood Group,' as they were known, set about preparing for their role.
The 'little group' was initially thought of as the glamour or glory boys, but it soon proved its worth. Lieutenant Gable, although offered special facilities, stayed in the Officers' Quarters and ate in the Officers' Mess. He went on to complete five combat missions. He participated in the raids on Antwerp, Courtrai, Gelsenkirchen, Heroya and Nantes. His first mission was flown on 4 May 1943 with the 303rd Bomb Group based at Molesworth; he flew with Captain Calhoun in the B17 'Eight Ball'.
Promoted to Captain, Clark Gable managed to secure certain concessions from the Group Commanders. Colonel Hatcher at Polebrook gave every assistance with regard to camera installation in the 351st aircraft, and allowed crew members to operate cameras to supplement the work of the two official cameramen. Permission was also given for prepared sequences to be shot in the hangars.
It took some time for local people to get used to the idea of meeting a famous Hollywood actor in the streets of a quiet market town like Oundle. But they evidently found him affable and obliging. Signing his autograph for Oundle School boys, or for the Market Place tailor who had sewn back a button on his jacket, was a gesture which the star was glad to make.
Clark Gable's periods of leave were usually spent in London, where he was in great demand. He was invited to attend functions, dinners, and all kinds of activities by the press, the military, dignitaries, other celebrities, the English aristocracy and even royalty. It was difficult for him to relax. His most restful days were spent with David Niven at his Windsor country home, or in the countryside around Polebrook.
Prior to returning to the States, Captain Gable was awarded the Air Medal. The 'little group' had shot some 50,000 feet of film, so they gathered together the material which had been accumulated over nine months with the 351st and returned to California.
When he was not involved in shooting films and German aircraft it seems that the local rooks on nearby farmland were a favourite target of the Hollywood star. Miriam Rothschild remembered him as 'an extremely good shot.'
Lorna Sloan remembered clearly the moment when Clark Gable and his friends dropped in for tea, recording the event in her diary.
'We were sitting out on the terrace minding our own business - we'd already met his scriptwriter John Mahin and he'd said he would bring him down - and we heard a car roll up, and peeped round the corner, and saw Clark getting out of the car, and we shot back and sat down as though nothing had happened at all, and round the corner came Clark with all his buddies, the scriptwriter and the photographer from Gone with the Wind. '