Actor Clark Gable attended gunnery school at Tyndall AFB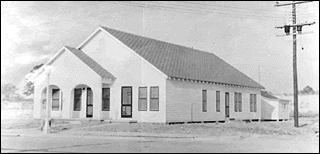 (Photo: The restaurant Mattie's Tavern was located on Beck Avenue and 12th Street in St. Andrews. Among its specialties were chicken, steak, seafood and hush puppies. Clark Gable dined here when he attended gunnery school at Tyndall in December 1942. Photo courtesy of Bay County Public Library.)

Source: The News Herald, Sunday, December 14, 1997
Author: MARLENE WOMACK

Movie fans remember Clark Gable for his portrayal of Rhett Butler in Gone with the Wind and as one of the great legends of the silver screen. But 55 years ago this holiday season, Gable created a sensation in Bay County when he attended the Army Air Force's Flexible Gunnery School at Tyndall Field.

Born on Feb. 1, 1901, Gable was the son of a wildcat oilman. After his mother died, he was raised by relatives. Gable's birthplace was always confusing to him. Both Cadiz, Ohio, and Meadville, Pa., 120 miles away, had records of his birth.

At the beginning of World War II, Gable had been in the movies for several years. This period was an especially hard time for him, however. He was still suffering from the loss of his great love, Carole Lombard. By entering the service, "The King," as he was affectionately called, hoped to find the anonymity he had sought for several years.

Gable enlisted in California on Aug. 12, 1942, with the statement to the news media: "There is a war to win, and I consider it my right to fight."

The famous movie star was ordered to Miami for basic training.

The press wasted no time covering Gable's entry into the Armed Forces. The Panama City News-Herald of Aug. 13, 1942, reported that Gable would request training as an aerial gunner. If he was accepted for gunnery training, local authorities considered it likely that Gable would be assigned to Tyndall Field since Tyndall was the nearest gunnery school to Miami.

Gable made it clear that he did not want to be a captain or a major, however, because he didn't "know beans about the Army."

In Miami Beach, Gable suffered through one of the hottest summers on record while he attended officer candidate school. Temperatures reached 100 degrees daily.

But Gable fought hard to succeed and be liked, even though he was almost twice the age of most of the other men. While he was in training, Gable shaved off his famous mustache, making it hard for the many fans who followed him everywhere to recognize him. His movie Somewhere I'll Find You made the round at various theaters.

On Oct. 27, 1942, Gable was commissioned a second lieutenant. He was issued serial number 056-5390 and transferred to Tyndall Field.

The staff at the Panama City News-Herald was aware of Gable's arrival. But Col. W.A. Maxwell, commander of the gunnery school, made it clear to the newspaper's publisher Braden L. Ball that he did not want the movie star's presence widely promoted since it might cause all manner of problems.

Ball knew he could not entirely overlook the news opportunity so he placed a small 1-inch squib in the personals column that stated Gable was staying at the Dixie Sherman Hotel.

Hank Greenberg, the Detroit Tigers' famous first baseman, arrived at Tyndall about the same time as Gable. His picture and an article concerning his assignment in physical training appeared on the front page.

But word of Gable's arrival spread quickly throughout Panama City. He was beseiged by followers whenever he left the base.

During his training, Gable fired on many of the Tyndall ranges using rifles and .30- and .50-caliber machine guns. He also shot from an airplane at cloth targets simulating an enemy ship.

Although Gable did well in all his classes he had trouble with the "blinker code," that used message transmission when radios were unusable. Like most other students, he spent long hours learning the code. After lights were turned out, he studied in the latrine with others so he could pass the test.

When Gable left the base to come into town, one of his favorite dining places was Mattie'sTavern, located then at 12th Street and Beck Avenue in St. Andrews. Mattie's was famous for its hush puppies, fried chicken, steaks and seafood.

Lillian Masker Welch of St. Andrews remembered when Gable came into her Aunt Mattie's restaurant for dinner. Welch's mother, Annie Mae Masker, worked for Mattie Campbell. Welch and a friend helped in the well-known eatery.

"We knew he was coming. I don't think I was old enough to wait on tables then," she said. "But I cleared them off for my mother because she was a waitress. We earned money by helping the waitresses so we could go to the Saturday matinee.

"Clark Gable was dressed in uniform when he came in. We didn't think to get his autograph then. We just stood there with our mouths open. He came in with a bunch of other guys. He was real good-looking and I still think he was. I like to look at his old movies."

While attending school, Gable also visited the Cove Hotel, which stood near the present Cove Condominiums, and the Dixie Sherman Hotel, located until 1970 at the corner of Fifth Street and Jenks Avenue.

Wherever Gable went he created excitement. Fans asked for his autograph, and one local woman even bought his dinner check as a souvenir.

On base, Gable and the other students of class 43-1 were continually drilled on identification of enemy aircraft. Miniature planes were mounted in conspicuous places all over the base. Models and silhouettes of Messerschmitts, Meinkels, Junkers, Zeros and other enemy aircraft hung in every squadron's day room.

Similar planes also were suspended from the ceilings in the mess halls and washrooms. While eating or shaving, soldiers were never allowed to forget that the United States was at war.

Once training was completed, it was time for graduation and the awarding of the prized silver wings. As he stood in the slow-moving procession that Wednesday morning, Jan. 6, 1943, Gable appeared nervous while he watched the other men receive their insignias.

Gable was dressed in an immaculately tailored uniform and alternated between pulling on his coat tails, folding his hands and then dropping them to his sides, as the line inched toward the platform.

Col. Maxwell pinned on Gable's silver wings, making him a full-fledged aerial gunner and congratulated him. Gable accepted with a snappy salute as background photographers covered the event on news reel.

After the ceremony, Gable agreed to his first interview since he left the Hollywood studios. Those present were Deputy Sheriff F.D. Nixon; Capt. Ammon McClelland, head of Tyndall Field's public relations department; and Jean Bosworth, a newspaper reporter.

The group talked first about hunting in Florida, then the fact that Gable intended to continue his contracts in Hollywood once the war was over.

"I have enjoyed every minute of Army life. It's a good change from Hollywood," Gable said. "I was in California a short time ago but returned to Tyndall Field to spend Christmas with my fellow officers here."

When Bosworth commented about his natural appearance, Gable replied: "I guess it's because I never wear makeup. I don't like the damned stuff and never use it except in technicolor pictures." Gable admitted that he wanted combat duty.

"I want to see action as soon as possible," he said. "I am proud of the wings I won here and what they signify. The aerial gunners will make a mark for themselves - they have already done it."

Gable's story appeared on the front page of the News-Herald on Jan. 7, 1943. He was transferred to Spokane, Wash., and Panama City residents returned to the daily hustle of the wartime years.