The Private Affairs of A married man - Mr. C. Gable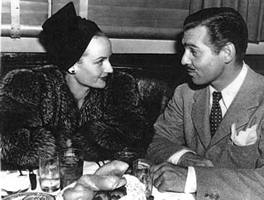 Source: Movie Mirror, 10/1939, pg 26-27, 75-76

The Gables ordered "No marriage stories!" Where did we get this scoop? Straight from the private notebook of Clark's private secretary

Clark Gable has a secretary, and the secretary has a notebook, and in that notebook, should you be able to read shorthand, you would find a complete outline of Clark Gable's activities today - the people to whom he write letters and makes telephone calls, the things about which he wants to be reminded. Sometimes, because the secretary's pencil is quick, some side remarks slip into the notes. That's what makes the following reproduction of that notebook, over a period of a few weeks, so vital and interesting. Here, then, is a true series of notations on the Gable way and life.

A letter to
Miss Miriam Sparks, Cadiz Ohio.
Dear Aunt Miriam:
Well, you always were sentimental, weren't you - and now you want a picture of Carole and myself for that fancy mantelpiece of yours … by the way, am I still up there as a baby? You know, that picture with the lace collar and the curl that you so carefully arranged?

Incidentally, Carole has a copy of that picture and it's the only picture of me she has displayed on her dressing table.

She trots it out for visitors just like used to do.

In rereading your letter I note that you want a photo of us, with Carole carrying her wedding bouquet. Well, I have to disappoint you about the bouquet, because what she carried wasn't exactly a bouquet. I didn't dare risk ordering her one, or having anyone else order one, either, because out here florists always check up on wedding bouquets - whom they're for, etc, - and we wanted to keep our elopement a secret. I did buy her a rose, with a couple of sprigs of lily of the valley, though, from a sidewalk vendor as we left Hollywood. We had hoped to preserve the bouquet until the ceremony by placing it in the glove compartment of the car, but the desert heat got at it and it was a sorry sight when we brought it to light at Kingman - not at all photogenic. But Carole has pressed the rose and if you ever come out this way, Aunt Miriam, she'll be glad to let you have a whiff of it.

Anyway, I'm sending you one of our favorite pictures - Carole and me at The Farm. From it you can get sort of an idea of where we live, too.

Thanks again for writing, and Carole sends along her best wishes, too.

Your devoted nephew, CLARK
Note:
Call the Farmers' Carton Company and have them make up sample egg cartons and submit with prices, etc. Ask them to please print up several styles and get them to work in "The Farm" somehow and the name of Mr. And Mrs. Clark Gable at the bottom - something not too commercial, because we're going to give the eggs away to friends and neighbors.

I don't know exactly how many we'll need, but they ought to be able to figure a half year's supply from the fact that we now have five hundred chicks and about a hundred of the red leghorn hens have begun laying.
Notes:
Call Mr. Price at Holden's and ask him to pick up Carole's convertible at the RKO lot this morning. Tell him I want it turned in on a new sedan. He can phone me about a possible deal over on the set. Make it plain to him that I don't want anything but a sedan… no more convertibles for her. A Convertible is too dangerous. And if Carole phones, don't say anything about it… she might object, but I'm her safety director from now on. Tell Price I think she'd prefer black.

Notes:

A MESSAGE to Bob Taylor; if you him, try Barbara-and tell him that we're sorry but we have to cancel our dinner date for Friday, because it's Carole's mother's birthday and she's coming over.
That reminds me: you'd better start a little section in your notebook devoted to in-laws' birthdays. Put Mrs. Peters' birthday down, so I won't forget it again; also Carole's brothers'; that kid niece of hers, too. And any other dates you think I shouldn't forget-Mothers' Day and dates like that.

Notes:

PLEASE call the store where we bought our porch furniture and ask them to send someone out to refinish the chairs along the front rungs. Mrs. Gable says she's always catching her stockings on them.

And that reminds me-now that I've got Mrs. Gable's car changed, I want to begin working on her horse. She never told me that that animal was a bad actor… I found it out myself this morning when I tried to ride him over to Andy's. He nearly threw me! Buck Jones said he had a Palamino he might sell me … I think the horse was called Pavo, or some Spanish name like that. Then call that company that rents horses for pictures . . . I forget the name . . . but tell them that I have a wild pinto that they can have cheap. They use those pintos mostly in Indian fights and those Indians are the people who can ride him. I don't think Carole will really mind, because from the sample I had of that horse this morning he's no fun-all work and no play. She's just been trying to be brave, that's all.

Speaking of horses, will you phone Andy or Mrs. Devine and ask when little Tad's birthday is. I think it's this month and I heard him say, he wanted a pony. He's still got Scarlett, that donkey I gave Carole, but I'm sure he's got his heart set on a pony now. Find out for sure, though.

Letter to:
Sears, Roebuck and Co.,
Chicago, Illinois.

DEAR Sirs:
Will you please send me, at the above address, your latest catalogue.

Sincerely yours,
Clark Gable

Another one:
Department of Agriculture, Federal Building, Los Angeles, Cal.

DEAR Sirs:
When the government appraiser in the grape division comes out from Washington, as I understand he will shortly, will it be possible for him to appraise my vines in the San Fernando Valley? If you will let me know when an appointment may be made, I will be glad to arrange it at his convenience.
Sincerely yours,
Clark Gable.

And another:
Refrigeration De Luxe,
San Francisco, California

DEAR Sirs:
Some time ago you delivered a special game refrigerator to me, but I believe that lit needs some sort of adjustment or repair, because, just recently, I have discovered that the venison does not seem to be ageing properly. Will you please let me know whom I can call for this service, or will it be necessary for you to send someone down?

As a matter of fact, if you will let me know exactly what sort of repair is necessary, I may be able to do it myself. The only fault I can find with it is this one compartment. The other sections are functioning perfectly.
Sincerely yours,
Clark Gable.

TO attend to:
Look, here's an outline - of some publicity plans that the publicity department submitted. I want it returned and will you please take a note to add to it:

Dear S. L: Sorry I can't drop in with this myself and talk it over with you personally, but as you know I've got a pretty tough schedule over here on the Gone with the Wind set. Anyway, I'm sure you're going to understand when I say that Carole and I have talked it over and have finally decided against giving out any routine marriage stories, especially those double-truck stories that usually appear under the titles of "My Wife," by the husband, and "My Husband," by the wife. It's awfully difficult talking about each other publicly and, in sheer defense of our privacy, we've come to this decision. In the same way, we've decided to allow pictures of the exterior of The Farm, but are turning down requests for interiors . . . and, what's more, I think you'll understand. Maybe we might do it later, but not now. Thanks for giving me a chance to look over these requests and I hope I'll be able to get in in a day or so.
Clark.

A letter to
John Cromwell,
RKO Ranch

DEAR John:
Just to let you know that that cow which you planted on our front lawn before we returned from Kingman has since borne a calf . . . and so we are doubly grateful and consider it one of our very nicest wedding presents. Carole says we'll save the christening until you come over, so be sure and give us a call.

By the way, it really looked like it had rained cats and dogs, sheep and goats, cows and what not when we returned. There were four-legged wedding presents all over the front yard and not a silver platter among them. We had open house all day and looked for your bright mug hourly, but no sign of you. Come on over soon, will ya?
Best from both of us,
Gabe.

NOTE:
If Jimmie Fidler calls, tell him that that report about our going to Europe on our belated honeymoon is a lot of baloney. You can tell him, though, that Metro has postponed "The Great Canadian" for a while to give us a decent break and that I'm going to have two months' vacation, but we think we'll stick pretty close to home, because there is a lot to look after around the farm. We'll probably take just some short trips, hunting up north and fishing down south. By the way, will you please call some travel agency and get us a folder on Mazatlan and Acapulco.

Make a note:
DEMIND me to order some turpentine. Last time I whitewashed the fence I got it in my hair and couldn't get it out. We need some around the place, anyway. Oh, and will you find out how much electric clippers for horses are? They charge two-fifty over at the stable just to clip one horse and I think I can probably save money by buying the clippers. If they're under twenty-five dollars, have them send out a pair. And will you call Mrs. Gable on the "In Name Only" set and tell her I'll be late in picking her up tonight, because I've got to stop at the Tractor Supply Company before it closes and pick up a part. I just talked to her now, but, of course, I forgot to tell her about that. She spent the whole time talking to me about curtains!

TO DO::

CALL the phone company and request a new unlisted number. Mrs. Gable and I were awakened four times last night by somebody who just thought he was being funny. Those workmen around the place must have picked up the number from the phone, and I guess they've been handing it out to their friends. I don't mind except that we've been working so hard lately we really do need our sleep.

Call Mike over at the barber shop and tell him never mind about coming over to give me a haircut. I thought I could get rid of this mop, this week, but we ye still got some more scenes to do

A letter to:
Pete Elmo, The Duck Club, Lakeport, California

Dear Mr. Elmo:

MRS. GABLE has asked me to request membership for her in the club, but I'm just wondering if my membership isn't a family one and sufficient? Will you please let me know about this and, at the same time, I'm enclosing my quarterly dues. Incidentally, that advice you sent us about packing freshly killed ducks in lard, when no ice was available, worked out fine.
Best regards,
Clark Gable.

A letter to
General Hospital, Los Angeles, California

DEAR Sirs:
Just today the government expert has estimated that my grape crop this fall will be around two and a half tons. I would like to donate the entire crop to your institution, so am letting you know now, in order that you may make provision for it. If you will let know how you - can best use it, whether for wines or jellies, I will have it prepared accordingly.
Sincerely yours,
Clark Gable.

Letter to
Acme Oil Leases,
San Bernardino, Cal.

Dear Sirs:

HAVE turned over your letter concerning The Hardrock Land Co. to the treasurer of this company, Mrs. Clark Gable, who has asked me to reply that it is the decision of the board that nothing be done at present about granting oil leases.

We purchased this land solely for our own personal use, as a hunting and fishing retreat, and we are not interested in promoting it commercially. Thanking you for your interest, however,
Yours truly,
Clark Gable.

Note:
WILL you please phone a book store and order "Grapes of Wrath" for Mrs. Gable. And while you're phoning you, might as well ask them to send along a new-edition dictionary. Mrs. Gable and I are always arguing about the pronunciation of some word last night it was p-r-e-c-e-d-e-n-c-e. She insists the accent comes on the second syllable. . She's probably right, but in the future I want to know I'm right before I start arguing!

A letter to
Mr. Spike Grimes,
Rocky Mountain, Arizona

THANKS for writing me, Spike, about the new camping equipment, but I'm afraid I'm not going to get down there this year-and a part of me kind of hates to say that. But, as you may have heard, I've married recently and I don't think I'd like to take my wife on the trail of a wildcat, though I expect she could handle one if she had to. She's heard so much about my hunting experiences down there with you that she'd like to come along, but I think we'll just stick to deer and duck this year. Say hello to the boys, though, will you? And if things do get too tame for us (you can't tell) we might show up. But I thought I'd better let you know not to count on it.

I think I'm going to be able to send you another customer, though, Victor Fleming, a swell director and a swell guy. He may write you and if he does, prepare the best for him and thus oblige your old pal,
Gable.

Note:

WILL you please call Bob Taylor and tell him that I'm sorry but we can't have them over for dinner this Friday either, because I have some night shooting to do. I guess we'd just better not make any more social engagements at all until we're both cleared up with our pictures.

And, while I think of it, near that little section in your notebook, where you've got birthdays, etc., to be remembered, put down this: gloves, size 6¼; stockings. size 9; lingerie, size 32. I think those are the sizes she gave me this morning. Anyway, I want them written down, in case I go birthday shopping.

Oh, and the most important thing and date of, all to remember! Don't let me forget this! Put it down somewhere in big letters: March 29, 1940. First year's anniversary! And don't let me forget among other things that I want to get her then, I want to be sure to buy her one limp pink rose with two feeble sprays of lily of the valley.