Gable Anecdotes II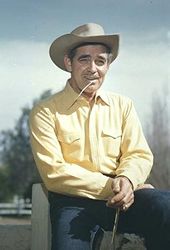 Source: Movie Anecdotes
Author: Peter Hay
Great Rejections
Clark Gable was still trying for a career on the stage, even after he had moved to Los Angeles.  Discouraged with occasional work as a bit player or extra, Gable told the talent scout who first offered him a screen test:
"Why waste my time and your money?  I've tried movie work often enough to know I have nothing Hollywood wants."
With the revolution brought about by talkies, stage actors were suddenly in demand.  Gable liked to tell the story how Lionel Barrymore, for whom he had worked in the theater, suggested that he make a test for a film Barrymore was directing at MGM.  As soon as Gable reported on the lot, hairdressers curled his hair, he as stripped and given a G-string, a prop man stuck a knife into it and put a hibiscus behind his ear.  Barrymore told him to creep through some bushes, as if looking for a girl.  There were no lines to speak.  When Irving Thalberg viewed the test he called the director and said:
"You can't put this man in a picture.  Look at him."  Lionel Barrymore tried to stick up for his protege.
"He's young, but he'll be all right."
"Not for my money, he won't.  Look at his big, batlike ears."
A little later Clark Gable was tested at Warner by Mervyn LeRoy, and overheard Jack Warner yell at him:
"Why do you throw away five hundred dollars of our money on a test for that big ape?  Didn't you see those big ears when you talked to him?  And those big feet and hands, not to mention that ugly face of his?"
Within a year the Hollywood Reporter announced to its readers that a new star was born.  "Never have we seen audiences work themselves into such enthusiasm, as when Gable walks on the screen."

There are more things in heaven and earth
Along with every other female star in the world, Katharine Hepburn coveted the role of Scarlett O'Hara.  David O. Selznick terminated their interview quickly, telling the angular star:
"I can't imagine Clark Gable chasing you for ten years!"
Wanted - Dead or Alive
Burt Reynolds was approached repeatedly to play Clark Gable in Gable and Lombard (1976).  He kept turning the producers down.  Finally he told them:
"I'll play Tom Mix, because Tom Mix is dead.  I only play dead people.  But at night, when I turn on the television and I see Gable - he's alive."
The Road to Ruin
Clark Gable felt such solidarity with ordinary workers that he often engineered for a scene to break or to be postponed so that extras and non-contract players would get paid another day's wages.  In his final years he had ironclad contracts stating that he would work only eight hours a day, 9 to 5.  Lilli Palmer, acting with him on But Not for Me(1959), was impressed by Gable's total professionalism.  The King would appear on the set at the stroke of nine, with all his lines memorized.  He took direction without questioning or challenge.  Just before the eight hours were up, he would look at his watch and call, "Five more minutes, boys!"  At five o'clock exactly, even in the middle of a take, Clark Gable simply got up and left.  Lilli Palmer once begged him to stay so that they could finish their scene.
"If I stayed on for a couple of minutes just one single time," he told her, "that would be the thin end of the wedge."
Mutual Admiration
William Faulkner was invited by Howard Hawks to a hunting party with Clark Gable.  During a lull, Gable asked who were the best contemporary writers.
"Hemingway, Willa Cather, Thomas Mann, John Dos Passos, and myself."
"Do you write for a living?" Gable asked in surprise.
"Yes," Faulker confessed, "and what do you do?"
Lead Balloon
During the war, Clark Gable was in an aviation picture, being shot at an old flying field in Texas.  One morning as he arrived on location, the star saw the director planning to shoot a scene in which two aces were about to make a test flight.  Gable glanced at the dialogue in the script and asked:
"Do you mean to send those boys up in this script?"
Balls
Clark Gable was a man's man, and in Carole Lombard he finally found more than his match.  When he was courting her, the outspoken actress kidded reporters about one of the most desired men in the world:
"God knows, I love Clark, but he's a lousy lay."
The reporters took the quote back to Gable for comment, who laughed:
"Guess I'll have to do a lotta practicin'."
At ceremonies to crown Clark Gable as the official King of Hollywood, Carole Lombard was overheard telling friends in a stage whisper:
"If Clark had an inch less he'd be called Queen of Hollywood."