Gable Anecdotes I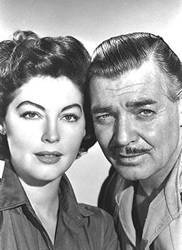 Source: Hollywood Anecdotes 
By: Paul F. Boller, Jr.
Looking ahead

Hollywood, as someone said once, is the world's biggest crap game - nothing's certain. Clark Gable received his MGM contract on the strength of his performance in The Secret Six (1931), which featured Jean Harlow, Wallace Beery, and Ralph Bellamy. One evening Bellamy was eating along in a Hollywood restaurant when Gable walked in and asked to join him. "What do you think this thing out here?" Gable finally asked. "I don't know," Bellamy replied, "I've just come out, and this is the first thing I've done." "I just got here myself," Gable said, "I just got paid eleven thousand dollars for playing a heavy in a Bill Boyd Western. Eleven thousand dollars - no actor's worth that!" He paused thoughtfully, then added, "I've got myself a room at the Castle Argyle up at the head of Vine Street; I've bought a secondhand Ford. But I'm not buying anything you can't put on the Santa Fe Chief because this isn't going to last."

Dirty Trick

In the 1930s Mickey Rooney's great idol was Clark Gable. When Gable wore loose wool sport coats and vest sweaters, so did Rooney; and when Gable took to wearing a felt hat with the brim turned back, Rooney soon acquired one too. He also adopted the Gable swagger, the Gable pipe, and the Gable way of addressing waitresses as "Honey" and "Toots." Someday I'll play a dirt trick on that kid," cried Gable when he saw Rooney driving a smart green roadster like his own. "I'll start wearing a sarong and driving around in a hearse!"