HE MADE HER LOVE HIM . . .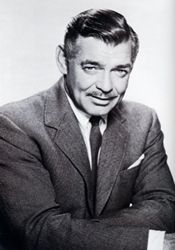 Source: SAN JOSE MERCURY NEWS
DATE: Thursday, June 5, 1997
Section: Celebrations Edition: Zone 4 Page: 1E
Author: CHRISTI WELTER
IMAGINE WHAT it was like to be a young journalist at Ohio State University in 1958 and to be offered the opportunity to interview Clark Gable. At that time, there was only one ''king'' in entertainment, and that was Gable. He had just finished filming his 64th movie, ''Teacher's Pet,'' with Doris Day playing his leading lady. It was now time for him to publicize the project.
My fiance and I, editors at the Ohio State newspaper, the Lantern, were invited to join journalists from around the state for a press conference and reception in Cleveland. Everyone wanted a scoop, and I was no different. Little did I know that instead, I'd be offered the opportunity of a lifetime.
Thrilled to have a shot at a big story for the Lantern, I meticulously did my research. I wanted to know more about the ''Gone With the Wind'' star who could steal women's hearts with a single look.
At the crowded reception, the room was buzzing. Journalists were getting nervous. Would Clark really show up? Would he be on time? I was trying to stay cool and focused, but I was excited, too.
Clark Gable was the ultimate movie hero/lover, the real-life Rhett Butler who, it was said, had even caused women to riot at public appearances right before the release of ''Mutiny on the Bounty'' in 1935. I worked hard to appear as a totally self-assured female reporter. However, underneath I was still a shy young Southern girl.
Then William Perlberg, the producer of ''Teacher's Pet,'' entered the room. He immediately asked for the Ohio State students, then headed straight toward me!
There I was, a determined young journalist, pad in hand, ready for my big story. When Perlberg came up to me, he stopped and stared. Immediately he started talking about Jean Peters, a well-known star from the early 1950s whom he had ''discovered.''
I didn't even flinch when he said she had been another ''Ohio State coed.'' Then he looked me straight in the eye. I gasped at his next words: ''Christi, you could be the next Jean Peters.''
Around me there were sudden exclamations, muffled comments, rustling papers. People pushed forward to meet me. Seconds later, Perlberg offered me the opportunity to come to Hollywood for a screen test.
He began to introduce me as a campus queen and the next Jean Peters.
''I want to be a journalist, not an actress!'' I blurted, suddenly shy and embarrassed.
It was at this moment that the King arrived. Clark Gable entered the room, saw what was happening and came over. He took my hand, pulled me close to him and smiled down at me.
Watching me with his dark, unforgettable eyes he began to ask me questions. Mr. Perlberg had stationed himself on my other side, but it was as if Clark and I were the only two people in the room. All the while flashbulbs were popping.
After a few minutes, he leaned closer and looked at me intently. ''Are you sure you don't want to come to Hollywood? You'd like it.''
I looked at him and his eyes were kind. The rough rogue of filmdom I'd read about wasn't present that day. At my age, he seemed an older man, but still handsome and charismatic, someone with whom I felt safe. I knew immediately why women fell in love with him!
''I really want to be a reporter,'' I explained, but softly this time.
''You're an egghead,'' he almost whispered. Startled, I wondered if he were making fun of me. Seeing my look, he smiled and whispered again. ''See the movie. You'll understand.''
Later I did. It was a defining word in ''Teacher's Pet.'' Clark Gable played a hard-nosed, cynical newspaperman who succumbed to the charm, ethics and commitment of a journalism professor, Doris Day, his ''egghead'' in the movie.
The invitation for me to come to Hollywood was repeated later in the evening, when my fiance and I were invited to dinner with Clark, his wife, Kay Spreckels, producer Perlberg and a few media people.
When Perlberg got up to speak, he introduced me as the prettiest girl at Ohio State. Of course, I blushed. From time to time I caught Clark watching me from his end of the table, perhaps wondering why I would turn down a screen test.
Back at our college paper, the Lantern, the stories by my fiance and me wound up on the front page. Inside was a two-page photo spread, and a centerfold headline that read, ''Gable Meets Galvin,'' my maiden name.
I never saw Clark again. I received a Christmas card from him that year, but driven by my youthful desire to be another Brenda Starr, girl reporter, I did not respond. I wish I had. Sadly, two years later he died, while Kay Spreckels was pregnant with his son. He had just finished filming ''The Misfits'' with Marilyn Monroe.
I have since been told that the real love of Clark's life was Carole Lombard, who died in a plane crash in 1942. She was fun-loving and independent, with a strong sense of self that he found refreshing after all the adulation. Did my youthful sense of self and independence remind him of her? I will never know what prompted his personal attention.
Now, years later, finding again the photos of Clark Gable and me, and reminiscing, I wonder what might have happened had I accepted that screen test invitation to Hollywood! Over the years I have worked with governors, senators, congressmen and mayors, but only one ''king''!